PBA
:

Caguioa named Best Player, Cornley Best Import of Governors' Cup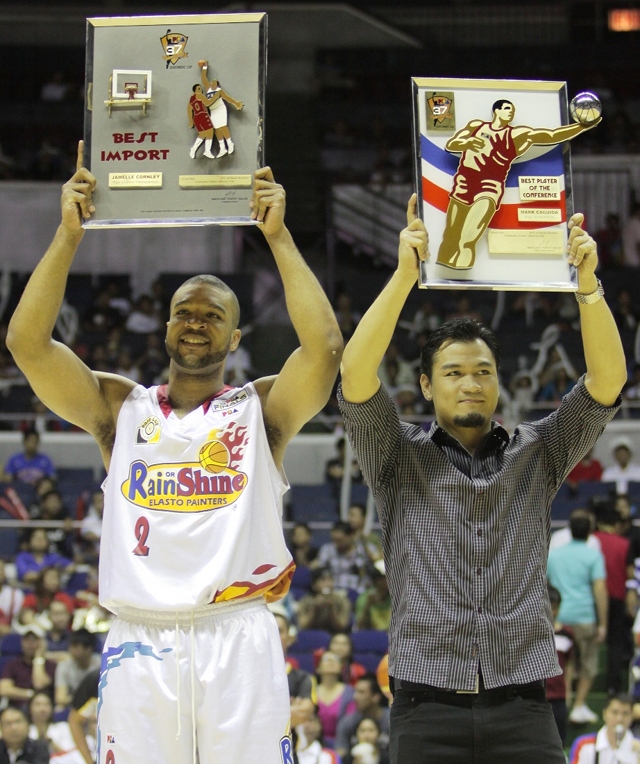 (from left to right)
Jamelle Cornley and Mark Caguioa lift their individual awards.
Jeff Venancio
Barangay Ginebra King Mark Caguioa snagged back-to-back Best Player of the Conference plumes after earning that honor once again in the 2012 Governors' Cup, while Rain or Shine Elasto Painters import Jamelle Cornley was named Best Import.
BPC, Best Import results tally... twitter.com/thepbaologist/…

— D'PBAologist-uknowme (@thepbaologist) July 25, 2012


Caguioa, who was also the Best Player of the Commissioner's Cup, averaged 17.93 points on 43.83 percent field goal shooting, along with 4.33 rebounds, 2.27 assists and 0.93 steals in 15 games for the Kings.
Ginebra came a game short of making the Finals, getting eliminated by the B-MEG Llamados in a playoff for the other Finals spot.
In the race for the award, the spitfire shooting guard tallied a whopping 1121 points, coming in second in the statistical category (419), first in the media vote (482), second in the players vote (70) and first with the league vote (150).
Rookie sensation Paul Lee of the Rain or Shine Elasto Painters finished second with 694 points, followed by the B-MEG duo of Marc Pingris (586) and James Yap (537). Powerade Tiger Gary David brought up the rear with 528 points.
Cornley on the other hand was a big reason for the Elasto Painters coming out on top of the standings and booking the franchise's first trip to a conference Finals.
The import normed 23.14 points on 49.39 percent shooting, 10.79 rebounds, 2.86 assists, and 0.93 steals.
When it came to deciding who won the award, Cornley finished with 1033 points, while his counterpart on the Llamados, Marqus Blakely, came in second with 886, followed by BGK's Cedric Bozeman (553), Meralco Bolt Mario West (384), Talk 'N Text Tropang Texter Paul Harris (360), and Petron Blaze Booster Marcus Faison (205).
- AMD, GMA News