Love in all its ugly splendor in 'Mysterious Diseases'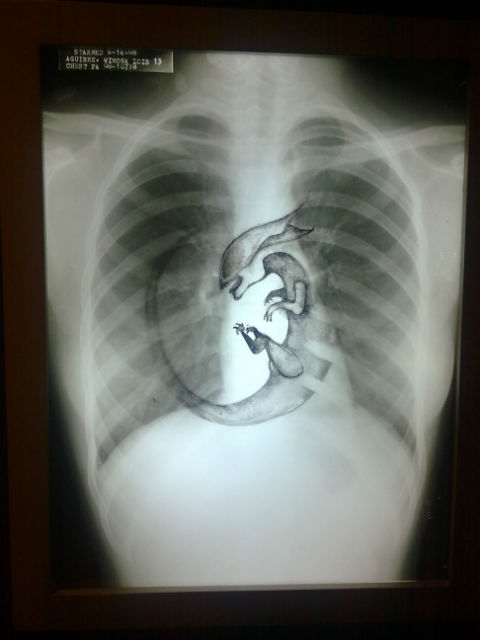 Igan D'Bayan is fascinated with strange experiments.
In a quiet residential neighborhood in Makati, one house almost never sleeps. Since it opened back in 2004, Saguijo Cafe + Bar has been a second home to insomniacs and music lovers of all kinds of persuasions, from the energetic mosh pit crowd to solitary shoegazers.

The scene is generally the same, the smokers outside, people clutching their cold bottles of beer while swaying to the music in the dim room. But upstairs is a different world. As you climb the steps, the music gets softer and the silence louder. You go through the door and discover The Pocket Universe Art Collective, a tiny space filled with big ideas.

This month until August 4, this tiny space lends itself to Igan D'Bayan's "Mysterious Diseases," a solo exhibit which he describes as his "sort-of love letter to horror/ sci-fi movies where strange experiments (the sources of much, much dread) are usually going on and which spell doom for the protagonists."

No surprise there, as D'Bayan is not known for sunshine and rainbows. Far from it, as this artist believes art itself is a strange experiment, and a wellspring of despair.

"I won't explain to you the strategy for my current exhibition...or the arse, er ars poetica behind these shadowy paintings. Let these suckers explain themselves," writes D'Bayan in his essay "Why I Am Not An Artist," which is posted next to his paintings, one of which features Hitler as a zombie.

There are chest x-rays that reveal monstrous creatures where the heart might be, or a fetus, a caged skeleton, a bloody pigheaded man, faces in various states of decay.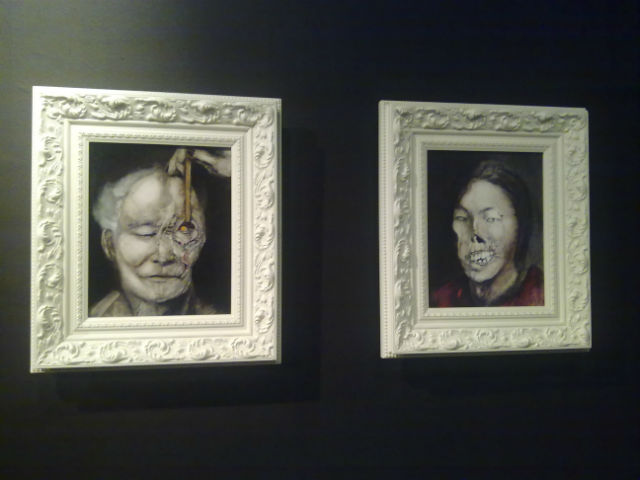 The corruption of the flesh in D'Bayans recent paintings are just symptoms of a deeper, more mysterious kind of disease.
A pleasant experience it is not, and D'Bayan wouldn't have it any other way.

"'The True, the Good and The Beautiful' is something that got stuck in Imelda Marcos' pompadour. Artists used to be consumed by this concept. It worked for them. But for me the opposite is way more interesting; give me lies, evil and ugliness any day. They are more compelling," he says.

He admits that he doesn't have the technical skills to paint beautiful pictures of "folks harvesting crops, fruits popping with colors, landscapes galore." "But if you asked me to paint a boy with elephantiasis… Reminds me of what Bright Eyes sings in 'Road to Joy': 'Well I could've been a famous singer if I had somebody else's voice/ But failures always sounded better/ Let's fuck it up, boys, make some noise.' You could see it in my art — the desire to fuck things up," he says.

He shares that he is preoccupied with concepts that are constant in history, such as disease.

"The corruption of the flesh in my recent paintings are just symptoms of a deeper, more mysterious kind of disease. The urge to create art is a disease. If I were one happy bastard, I wouldn't be painting. I would be busy skipping over meadows," says D'Bayan, who actually seems to be happy despite indications that he isn't.

After all, his art, despite or perhaps because of its gloom, does attract certain collectors, who D'Bayan describes as "cool." "They make it a point to mount my work. They even send me pictures," he says, adding that one painting (of a devil suspended from a tree) hangs in a bar in one collector's home, while another painting (a portrait of a girl with orange hair) is in a restaurant at Bonifacio High Street.

Not for everybody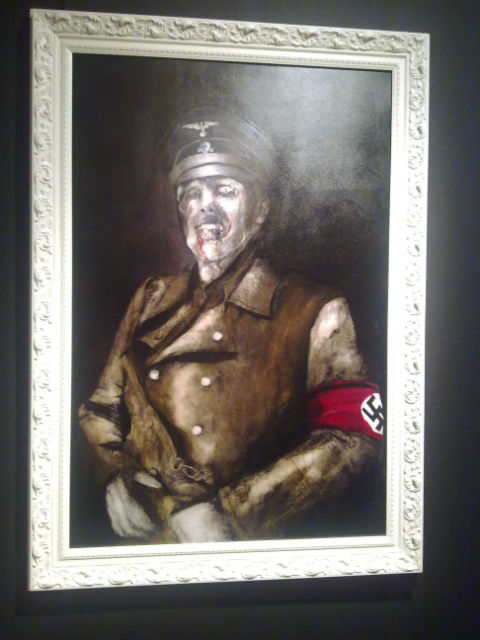 In Mysterious Diseases, Hitler is a zombie.
"My art is not for everybody, which is stating the obvious," says D'Bayan, who also explores different techniques, but still no sunshine and rainbows.

"My art is not stagnant; it is always changing. I don't want to paint skulls all my life, since everybody else is doing it and the skull has become the new still life. Now I am obsessed with the Renaissance technique (chiaroscuro, glazing, etc.). Maybe tomorrow I'll paint scary-looking, haphazardly-applied acrylic abstracts, or — just like in an episode of the 'Dilbert' TV series — a cute blue duck," he says.

At the exhibit opening last July 10, guests wandered from painting to painting, some looking confused. "It's... well... it's different," one guest said hesitantly.

As it turns out, D'Bayan considers this to be the ultimate compliment. "I would answer back, 'I fervently hope so.' Otherwise I'd just be doing something else. Like managing a sewer," he says.

Strange as it may seem, this exhibit is really about love. "Mysterious Diseases" features portraits inspired by movies such as "Dead Snow" and "Taxidermia," Bizarre and Rue Morgue magazines, as well as a "really sick clinical atlas of dermatology" by a Filipino doctor. It doesn't sound like love, but for the artist, what one guest found to be "a bit too gothic" is simply what owns his heart.

"That's the second best compliment. Although not everything in my work can be confined to the gothic alone. I love gothic literature, music and art. I love the paintings inside haunted mansions in horror movies, the portraits of dead relatives still trapped among the living. Especially, the ones with the pair of eyes that follow you around, wherever you go. I love things in life that remind us that we are the walking dead. And that the scariest zombie is the one who still believes there is nothing but hope and goodness in this world. If you think that life is all lollipops and rainbows, you are in deep, deep shit," he says. –KG, GMA News
"Mysterious Diseases" is presented by The Pocket Universe Art Collective in cooperation with The Crucible Gallery. The show is on view until Aug. 4. For information, call +63929-8424055 or The Crucible at (02) 635-6061. The Pocket Universe Art Collective is at the second floor of SaGuijo Café + Bar, 7612 Guijo St., San Antonio Village, Makati City.