Ryan Songalia: On writing, tocino, and why he loves the Philippines
When you Google his name, you are bound to find it alongside the name of a former Philippine president.

Last year, Filipino-American boxing analyst and writer Ryan Songalia, 25, made the Pinoy community news in the United States when 83-year-old (now 84) ex-Philippine President Fidel V. Ramos challenged him to a surprise push-up contest. The fit Ramos was then in New Jersey for a speaking engagement.
Ramos beat the hefty Songalia by being the first to complete 50 push-ups.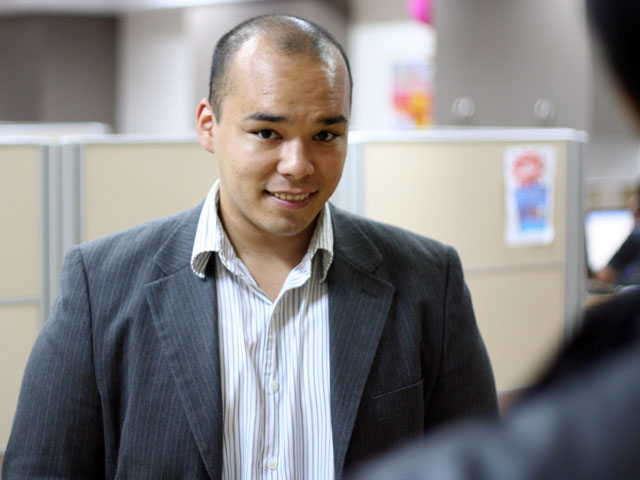 Boxing writer Ryan Songalia found his niche during Philippine boxing's golden age. Photos by Roehl Niño Bautista, GMA News
Now, Songalia has a chance for another kind of fame after he was nominated for "The Outstanding Filipino-Americans (TOFA) New York" award.
Songalia
received the nomination for the "media and publishing" category. He has been a chronicler of Pacquiao's career during Philippine boxing's golden age. He is a contributor to GMA News Online and an occasional guest on FTW, GMA News' online sports talk show.
Aside from Songalia, a member of the Boxing Writers Association, the other notables on the list of this year's nominees are Lorna Schofield, President Obama's nominee for the position of federal district court judge for the Southern District of New York; NYU Dean for Science Michael Purugganan; and Cheryl Ocampo, mother of a special-needs child and founder of the Queens County Parents Autism Coalition.
Songalia is by far the youngest nominee. The voting for the winners of this year's TOFA-Awards is being done via Facebook until October 5.
Humble beginnings
Songalia did not have it easy growing up in the US.
Born to an American-Italian mother and a Filipino father from Leyte, Songalia left home at the age of 17 after graduating from high school to start living on his own. He attended community college but quit at age 18.
"I worked a full-time job at a supermarket. I was in produce, chopping the vegetables," Songalia told GMA News Online on Wednesday.
"I was supporting myself and it just became too much to do both making minimum wage and trying to go to college at the same time," he added.
Songalia, who only had a laptop and his will to survive, then started writing.
"The only thing I had to my name at that point was a laptop and I would write on that laptop in the boxing forums," he said.
To gain the attention of media professionals, he began to format his posts into little stories. Later, he received emails from different boxing websites that wanted his stories.
Sacrifices
"I always loved writing but I never gave thought of becoming a journalist. I never thought this could be my job but I started catching on a lot," Songalia recalled.
When he started writing at his apartment, he did not have Internet access. He had to resort to "extreme measures" to pursue his passion.
"I would go on top of my roof so it's like a little box on top of the roof stealing internet from the air," he said.
"I would go there maybe 10 in the morning and come back down at night, like 8 o'clock or when I had to charge my laptop," he added.
He remembered when he made only $7 an hour, making it a challenge to budget his earnings for rent.
"It was hard because I was supporting myself," Songalia admitted.
Then, his laptop was stolen by drug addicts who broke into his apartment while he was out on his day job.

He then had to go to Internet cafes if he wanted to write. At that time, with his limited budget, he felt like he had to choose between eating and writing.
"I had to say, do I want to go to an Internet café and write or do I want to eat?" he asked himself. Oftentimes, writing won out over eating.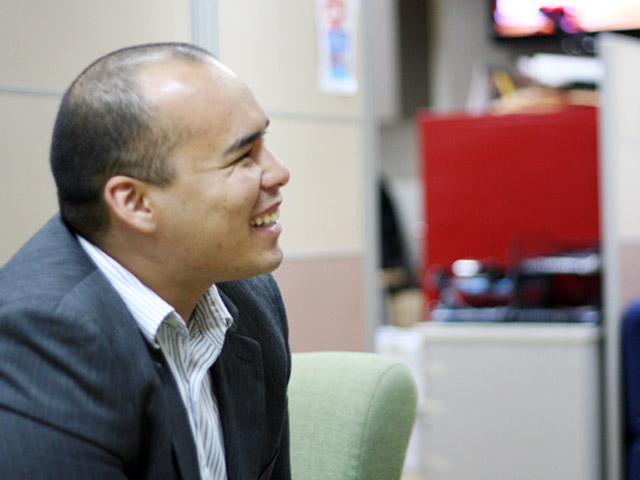 Big break

Songalia explained, "I came from the Internet, I got my break because of the Internet and I'm very grateful for it."
He eventually managed to transition to print media, thanks to his writing stint at the New York Daily News, one of the largest newspapers in the US.
"I got that opportunity at 23 years old but I came from the Internet and I don't have a degree in journalism," he said.
"I was a journalism student but had to leave to work. I got that opportunity because of the Internet," he added.
Songalia also gave credit to his mentors who taught him the foundation of journalism.
"I learned because I had good mentors. My number one mentor was David Greisman who currently writes for the Baltimore Sun," he said.
"He was the guy who took me under his wing and taught me ethics and taught me what's right and wrong,"
"You have to be a fighter because you're out there and the standard of journalism is going down a lot. You have to fight to establish your niche in such a competitive field where there aren't as many opportunities as before," he said.
"You have to be a fighter to be a writer," he added.
"I love to write because it gives me a sense of purpose and accomplishment and I like knowing if I'm doing something good for other people," Songalia said.
On his guiding motto, he quoted H.L. Menken: "The responsibility of the columnist is to comfort the afflicted and afflict the comfortable."

Inspiration
Songalia said his love for boxing and writing saved him.
"I love boxing, I owe my life to it, just as much I owe writing, journalism. This is my self-esteem, I like to write, I like to read and it kept me off the streets," he said.
He said he felt that he contributed to promoting the Philippine boxing scene, in his own little way, by writing for Ring Magazine.
"People who aren't Manny Pacquiao or Nonito Donaire won't get that coverage. I have to kind of advocate for others. I'm the voice of those who don't have a voice," he said.
Songalia plans to expand his portfolio to doing boxing commentaries on radio and television but for now, he is sticking to writing for Ring Magazine.

Among those he credits for helping him in his career is GMA News reporter Chino Trinidad.
Affinity with the Philippines
Songalia said he first visited the Philippines two years ago and stayed for three weeks.

He eventually decided that he wanted to stay longer so he shuttles every now and then between the Philippines and the US.
"Even if I didn't grow up with the culture, I want to learn more about the Philippines," he said.
Songalia loves tocino, lechon Cebu, bibingka, longanisa, bangus, and garlic rice, to name a few.
"Here in the Philippines you can get a home-cooked meal outside of home," he said.
As for the culture, he appreciates the friendliness and "smiles" of Filipinos.
"The people are so friendly here compared to a lot of places I've been in the world. People here are humble, everyone smiles because life is simple here and I find that my life is simple here as a result and I'm more relaxed here," he said.
"Its like everyday's a fiesta, because everyone is just happy and it seems that here every day is a reason to celebrate," he added.
Jose Antonio Vargas and Diet Coke
However, Songalia doesn't see the Philippines through rose-colored glasses.
"Poverty in America is nothing like poverty here," he said.
His father used to tell him as a kid: "In America, if you're homeless, at least you have a walkman or a cell phone but in the Philippines if you're homeless you're really homeless, you have nothing."
"It saddens me because I've never seen poverty like this," Songalia said.
However, he also praised Filipinos for their bravery.
"I just love that spirit, we are a proud people and we stand for what we believe in," he said.
"Right or wrong, we stand up for what we believe in and I always admire that," he added.

Songalia then cited Philippine national hero Dr. Jose Rizal to support his point: "This is a man who was told his writing was dangerous."
Aside from Rizal, he also admires a Fil-Am friend of his,
Jose Antonio Vargas
, whom he described as a man of courage and integrity for pushing the
DREAM Act
. Last year, Vargas, a Pulitzer Prize winner, revealed that he was an illegal immigrant in the US.
"He's a guy who went out there knowing the risks, there was doubt from some people if it was the right thing to do, but he believed in it," Songalia said.
When asked what he wanted to take from the US to the Philippines he immediately said, "Diet Coke."

On a more serious note, he said he wants to start his life in the Philippines and that "I feel like it's home."
"America, of course, will always be special to me because my family is there. I miss a lot of little things from America but I'm here," he said.
"I'm in the Philippines and I have to be in the Philippines, and if I turn my world into America again I kind of lose a part of what makes this the Philippines," he said.
Songalia also urged Filipinos all over the world never to forget their Filipino heritage.
"The Filipino spirit is very strong, remember where you came from and strive to represent the culture. We inspire when we live through example," he said. - VVP/HS, GMA News