Shoot and share: 'Pop Talk' reviews Wi-Fi cameras
For many Filipinos, social networking sites or SNS have become an essential part of daily life. Most online Filipinos check their Facebook profiles several times a day, tweet about the television shows they're watching, and even post photos of their meals on Instagram. While smartphones enable people to share content on the go, their built-in cameras usually don't have great image quality or allow users to fully control settings.
For social media addicts who want to take high quality photos, Wi-Fi cameras are a perfect solution. The GMA News TV program "Pop Talk" recently reviewed the different Wi-Fi cameras available in the Philippine market.
Celeb techie Glaiza de Castro, professional photographer Dail Deri, and Mass Communications student Charles de la Cruz joined "Pop Talk" host Tonipet Gaba as guest reviewers for the episode. Each reviewer was given a set of cameras to test for a day (aren't they the lucky ones?), and weighed in on the pros (Pop) and cons (Flop) of each product.
---
Samsung WB150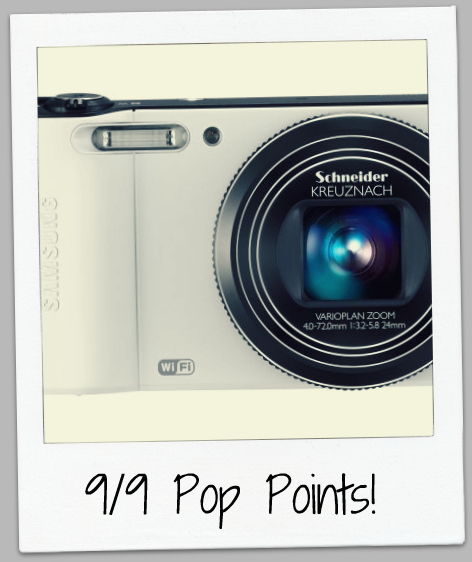 Specifications:
18x optical zoom
14.1 megapixels
Using the "social sharing" option, you can easily share photos to any social media site. No need to connect to another device
Has quiet zoom
Price
: P11,990
What's "Pop!" about it?
Clean, sophisticated design. Charles praised the WB150 for looking more expensive than it actually was, while Glaiza liked how the black and white exteriors reminded her of the movie "Star Wars."
Efficient. The WB150 groups photos into a single album, a feature appreciated by Dail, who say user-friendliness must always be a considered in choosing a camera.
It does not need to connect to another device to upload.
Quiet zoom is smooth and cannot be heard while recording video.
Good image quality, quick focusing, impressive macro mode.
Reasonable price. At P11,990, it is in the same price range as other point-and-shoot digital cameras that do not have Wi-Fi capability.
What's "Flop" about it?
Does not share photos to Twitter.
Final rating:
Features: 3/3
Design: 3/3
Value for money: 3/3
Total Pop Points: 9/9
---
Canon Ixus240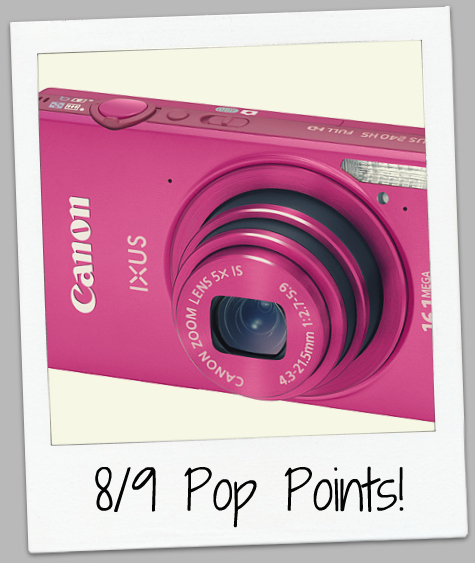 Specifications:
5x optical zoom
16.1 megapixels
Before sharing, you need to pair the camera with a chosen device. This device must download the Camera Window app before it can share pictures online.
Has touchscreen.
Price
: P18,498
What's "Pop!" about it?
Slim design. It fits right into your pocket.
It has very good image quality, as expected from Canon. Dail observed that the Ixus 240 matches up to DSLR standards and is a good point-and-shoot option for the professional photographer.
Can take slow-motion videos.
What's "Flop" about it?
The sharing system on the Ixus 240 is more complicated than others' as it requires you to pair the camera with another device, and then download the Canon Camera Window app on the paired device. If you regularly transfer photos to just one other device, this shouldn't be much of a problem; but if you plan on sharing photos with many different devices, it can be a hassle.
All three reviewers agreed that the Ixus 240's price at P18,498 was a turn-off. Then again, as Charles argued, "You get what you pay for."
Final Rating
Features: 3/3
Design: 3/3
Value for money: 2/3
Total Pop Points: 8/9
---
Pentax Optio VS20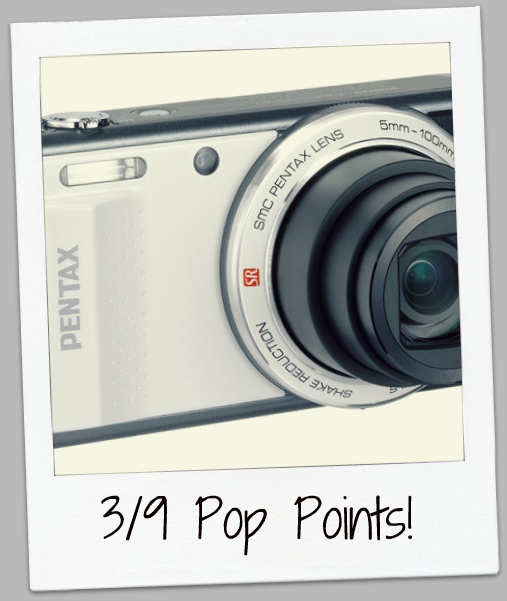 Specifications:
20x optical zoom
16 megapixels
Uses "Eye-Fi" or an SD Card that acts as both memory card and Wi-Fi hotspot. Once the camera is switched on, other devices will detect the wi-fi network named "EZ Share."
Price
: P15,240
What's "Pop!" about it?
Its chunky design and vertically-oriented neck strap give it a retro feel.
All three reviewers agreed that the "Eye-Fi" technology is very easy to use.
What's "Flop" about it?
Mediocre image quality. Even though the camera can take pictures up to 16 megapixels in size, the colors appear dull.
For the price of P15,240, you could easily find a much better quality Wi-Fi camera.
Final Rating


Features: 1/3
Design: 2/3
Value for money: 0/3
Total Pop Points: 3/9