Google kicks off Olympics with archery doodle
As the 2012 Olympics officially got underway on Saturday, search giant Google kicked off its own marathon of Olympic-related doodles.
On Saturday, visitors to Google's website were greeted with a doodle on archery, even as Google hinted at "GoogleDoodle Fun" for the duration of the Games.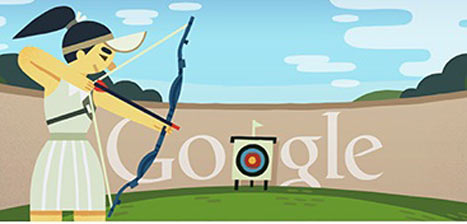 A screenshot of Google's Doodle for the first day of the 2012 London Games, depicting an archer at the Olympics.
"Hooray for sports! Stay tuned over the next 16 days for all the #GoogleDoodle fun," Google had
tweeted
.
The archery doodle depicts a female archer aiming at a target where an "o" in Google is the bulls-eye.
Clicking on Saturday's doodle will take the visitor to a Search Results page on news for "London 2012 archery."
At the right side of the Search Results page are links to Archery in Wikipedia, and the official Archery page for the London 2012 Games.
On Friday, Google had displayed an Olympic-related doodle giving its nod to the start of the 2012 Games, depicting young athletes taking part in various games.
Daily doodle tradition
Meanwhile, a separate article on IBN Live said Google is displaying sport-specific doodles on its home page every day during the Games.
IBN Live noted the
daily Olympic doodle tradition
began in 2000 in the Sydney Olympics, and continued through the 2002 Winter Olympics (Salt Lake City, USA), 2004 Athens Olympics, 2006 Torino Winter Olympics, 2008 Beijing Olympics and 2010 Vancouver Winter Olympics.
— LBG, GMA News