Megadeth land in Manila for one night show
Notoriously outspoken, and as the only founding member left in the band's current line-up, frontman and lead guitarist Dave Mustaine surprised PULP Magazine's Editor-In-Chief Joey Dizon by greeting him at the airport with a firm handshake and genuine politesse.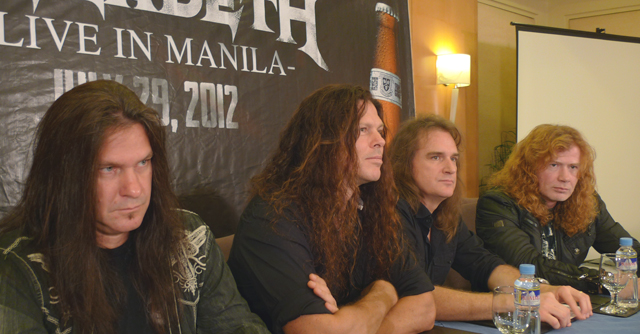 Legendary thrash metal band Megadeth talk to Filipino journalists at Sofitel on Saturday for their Live in Manila concert at World Trade Center on Sunday.
In fact, the rest of Megadeth, as legendary a thrash metal band as it gets, are well-mannered and courteous to the last man. "They had no diva airs at all!" exclaimed PULP Magazine Editor-In-Chief Joey Dizon.
With over 30 million albums sold worldwide, 13 studio albums, nearly 30 hit singles, 32 music videos and 10 Grammy Award nominations under their belt, Megadeth would be well in their rights to cop a rock star attitude, but their courtesy and quiet professionalism speak volumes about their veteran status.
Eventually, as they are transported to their hotel and the waiting music press, Mustaine quietly asks PULP's publisher about the signs he's been spotting on their drive.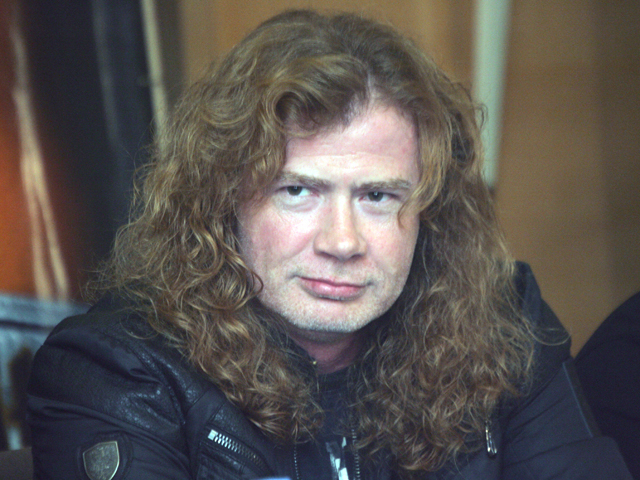 Dave Mustaine of legendary metal thrash band Megadeth: Reading newspapers sometimes inspires me to write songs.
"Dude what's a wangwang?" asked Mustaine.
After explaining it's the local slang for a cop or emergency siren, Mustaine laughs and shakes his blonde locks. He thought the signs were about self-pleasure.
Such easy humor is at odds with the image that the American and global music press has painted of Mustaine as an extremely difficult man. They point to the revolving door of band members, rows with other bands, blunt opinions from politics to religion to sexuality, and the swirl of controversy that has trailed Mustaine's career since the 1980s, as proof.
None the less, Megadeth are one of the biggest groups to come out of the 1980s thrash scene. They are hailed as one of the Big Four of Thrash Metal, alongside Anthrax, Slayer, and long-time rival band Metallica. It was actually after Mustaine left Metallica in 1983, over disagreements with the rest of the band regarding his alcohol and substance abuse, that he formed the metal quartet.
Megadeth's faster tempo, darker, nihilistic lyrical themes and a signature vocal style that was half-mocking, half-sneering, quickly propelled them to fame into many a metal fan's heart.
Today, Megadeth are in town early to play the Manila leg of their Asian tour, in a guaranteed high-octane concert on July 29th, at Hall D of the World Trade Center in Pasay City. The concert is organized by PULP Live World and co-presented by Colt45.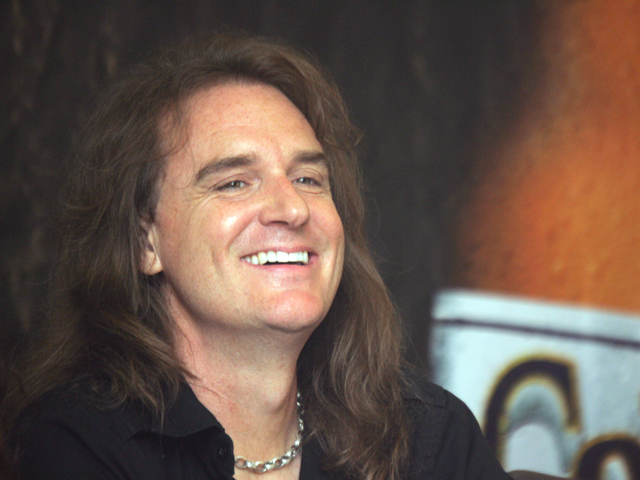 David Ellefson of legendary metal thrash group Megadeth.
At the press conference, current bassist Davied Ellefson explained his mind set when on tour: "We actually like the experience of just being here. We like to be in the moment when we're touring. Besides, it's never the same with what you read and then you see the people in 3D".
The rest of the band, like Shawn Drover (drums) and Chris Broderick (guitars), are content to let the more vocal members field the questions.
The star of course is Mustaine. As band leader and chief songwriter, he is a veritable giant in the realm of thrash. He's worked with an impressive roster through the years, including the late Dimebag Darrell of Pantera and Damageplan, Slayer's Kerry King as one time band mate and the rest of the Megadeth alumni, including guitar wizard Marty Friedman.
Currently touring in support of their latest LP, Th1rt3en, Mustaine was almost upbeat and bitingly comical.
"I think we'll stay on the Bruce Springsteen side of the stream with making albums. We'll be fighting, as long as we keep looking like Bruce," grinned Mustaine, replying to musical longevity and how many albums he thinks they have left in them. "But if we start looking like Keith [Richards, of the Rolling Stones] then it's time to go home."
When asked about their forthcoming work, Mustaine replied that they were in the process of writing a new album.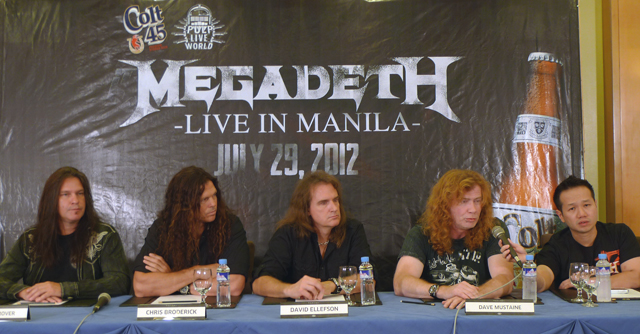 Metal thrash group Megadeth prep fans for their Manila concert on Sunday by holding a press conference on Saturday to drum up interest.
"[It's mostly about] Just life experiences and getting together as musicians. There's just so many things happening in the world whether I watch it on TV or read it in a newspaper and I'll say, hey I'll write a song about that and start on it. And then something else will come up and oh, I'll write a song about that, too."
He added, "The lyrics are a little difficult to write because I kind of raise the bar for myself with them. For sure though you can depend on [the next album] to be totally heavy." — TJD/CGL, GMA News

All photos by Victor D. Sollorano