Deep Cuts
:

One-on-one with The Bladed Hand Director Jay Ignacio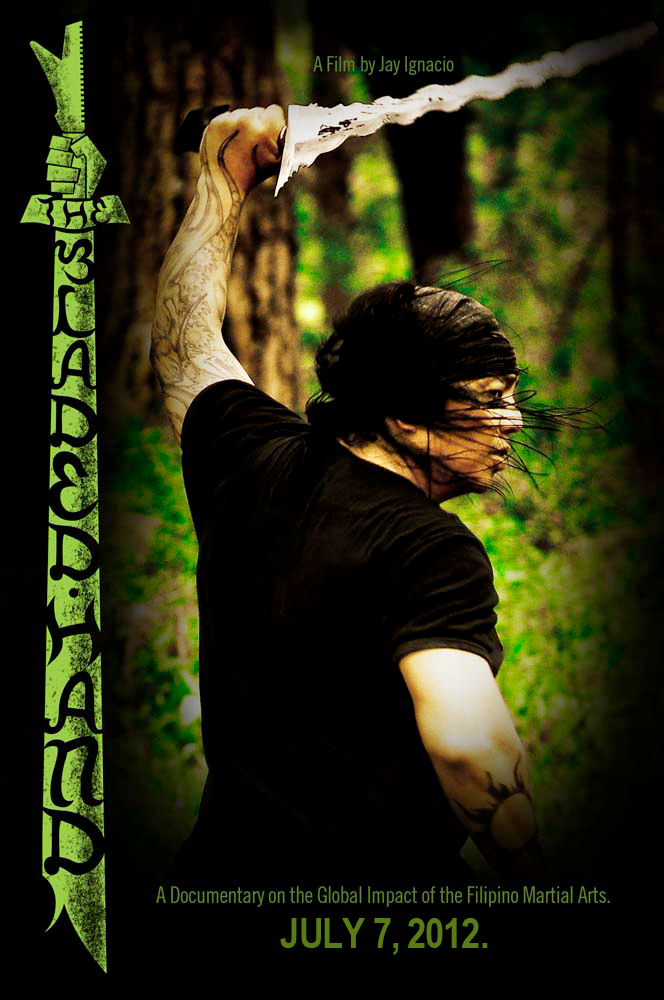 The Bladed Hand logo and movie poster is designed by Isabel Gatuslao. Photo by Kent Vives
Large, jocular, with a smile of a prankish rogue, director Jay Ignacio is ecstatic and nervous. Tonight is the culmination of three years of his hard work. He's crisscrossed the globe and forayed into remote boot camps in local provinces, all in the name of exhaustive research.
"It's like my graduation day," he sighs, laughs and shakes his head.
Ignacio, the former guitarist of now defunct novelty band Da Pulis, has since transitioned into broadcast and directing. The Bladed Hand is the first of what he calls his Pinoy Pride series, a full-length documentary about the global impact of Filipino Martial Arts (FMA), the umbrella term for the combat systems known as Arnis, Eskrima, and Kali.
Exhaustive and extensive are apt bywords. Ignacio's heart was deeply into it, and his own pocket fuelled most, if not all, of the expenses. Clocking in at approximately an hour and 15 minutes, The Bladed Hand mainly tackles how these systems have all become giant since its humble beginnings as, legend has it, a way to combat conquistadors off the shores of Mactan Beach in Cebu.
Hollywood and its fight choreographers have the answer. The various arts have been parlayed by the Western films industry as the system of choice for its own uses: the blinding techniques slowed down for cinematic effect, movements exaggerated to look gritty, and twice as deadly.
If you've seen the fight scenes in recent blockbusters like The Bourne Identity series (including the soon to be shown The Bourne Legacy), The Book of Eli, Lethal Weapon, Payback, Repo Man, Mission: Impossible 3, or Hanna then you've seen FMA in action. They just don't call it that. Of course the prototype of FMA's claim to fame is on the 1973 by Bruce Lee film Enter The Dragon, where Lee learned from, probably the most famous of all FMA grand masters, Dan Inosanto.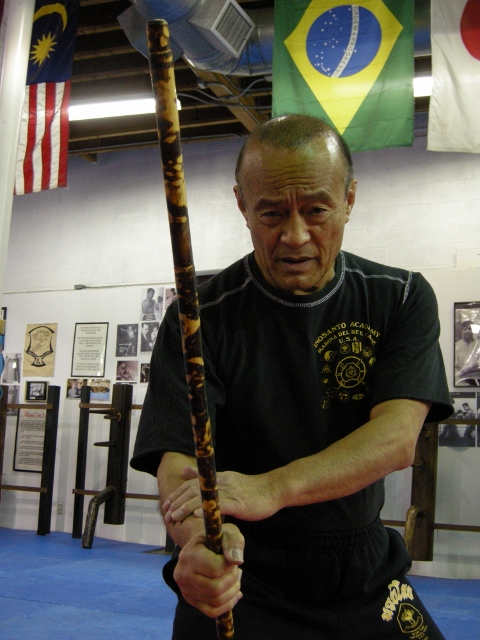 Guro Dan Inosanto at the Inosanto Academy in Marina del Rey California
At the premiere media screening luminaries, grand masters, celebrity students and even a politician populate the film, painting exactly how deep and rich the subject of Pinoy martial arts is.

Spiced up with the inevitable rivalry and occasional infighting among the practitioners that make up the schools like the Doce Pares, Balintawak, Ilustrisimo, and Presas, and you've got material that's ripe to spark off an amazing tale.
While lacking a singular character or ensemble for the audience to follow, it is Ignacio as filmmaker that we ultimately rely on for narrative cohesion. For the FMA fan, or for anyone interested in martial arts, this is a must-see. The completist thrust of it will appeal to them most of all.
One of the most interesting character stories was of Daniel "Mumbakki" Foronda, and how he pioneered the introduction of FMA to Russian Special Forces until it caught on and was fused into their regular training curriculum.
Against the backdrop of how FMA became such a global phenomenon, making its way into the military and law enforcement systems of France, the U.S. and other countries for the last 30 years now, it gains amazing narrative potential. We hope Foronda's tale comes to the fore in the final cut of the film later this year, as well as some fine tuning to the edit and the over all pacing.
We sat down with director Jay Ignacio to talk about the breadth and span of his film.
The Bladed Hand has such deep and exhaustive research, how did you get inspired to do this?

JAY IGNACIO: I used to do karate and I was actually more into that. I didn't have the same regard for Arnis at the time. But because I am an astute student of Pinoy history, plus I love movies, I thought this would be the perfect way to combine my two loves. And then I found out about [how FMA is being used heavily in these action movies], teka muna, I said, there's something here that I'm missing. I didn't need to be a fan. I just needed to be culturally proud. This is something we've had for so long and looked over for so long without even realizing that it's our greatest cultural export. I mean that based on the way the rest of the world sees it.

And it took you three years to finish, travelling to the US and even Russia to film your subjects.

JI: I started in July 2009, I didn't think it'd take three years. It was exhaustive and exhausting. Mag-isa lang ako. I did the shoots and interviews, the post-prod too, funded mostly by me. One man talaga. The biggest surprise was hindi ko akalain na makaka-cover ako ng ganyan kadami mag-isa. I kept posting trailer teasers on Youtube. I think this is the fourth time I've pushed the showing back and now it's finally happening, I still can't believe it!

Well it looks like you're a full fledged documentarist now. You're a guitarist and a professional cook, though. Was it a hard transition to filmmaking?

JI: Filmmaking was my dream since college. At the film schools that I wanted to apply to, part of their requirement was a demo reel. So kung ganun, ano ang story that I am going to tell? It needs to be something Filipino. Teka muna, mayroon pala akong kaibigan [Mumbakki Foronda] na matagal nang nagtuturo ng Arnis and has been, for the last five years, teaching it to the Russian military! Astig `di ba?

But didn't that require high-level security clearance?

JI: I asked [Mumbakki Foronda] pwede ko bang kunan yung ginagawa mo d'yan? Nagpaalam s'ya sa Russians. Pumayag naman. Nag-shoot kami sa Moscow. Nag-snowball s'ya when we were talking na hindi lang sa Russia ito, pati sa military ng ibang bansa. Also for law enforcement. Around that time naririning ko na rin ang gobyerno na ume-effort na gustong i-declare na national martial arts itong Arnis [2009's Republic Act No. 9850, declaring Arnis as the national martial art and sport]. Mukhang it's a story waiting to be told!

It's about time somebody Pinoy made a documentary about our local martial arts, foreign networks like Discovery Channel and the BBC have certainly done theirs.

JI: There was even a French one from the 1950s I think, but nothing that was made by a Pinoy. Mine tackles the current state of the arts. Since Hollywood movies are the biggest promoter of anything, they're becoming the unknowing promoters of Filipino culture. It was also mentioned by Dan Inosanto na ako yung unang Pinoy documentarist na naka-interviw sa kanya.

Tell us about meeting Dan Inosanto, an FMA legend and Bruce Lee's student.

JI: Absolutely a big deal to meet Dan Inosanto, of course. Me being a big fan of Bruce Lee. I had to go to California on personal business so sinadya ko na rin. I came back and was able to shoot for two weeks, all the classes. Nakapskil all around na bawal kumuha ng photo and video sa dojo, but I was given all access.

Was it amazing to hang out with a bonafide icon and friend of the Dragon?

JI: The great thing was, after classes, we'd go eat. There was one restaurant open in the area, a Thai restaurant, and we'd always end up there. That was where he'd tell me tales of Bruce Lee and his time with the man. I didn't record those. Those were our private bonding moments.
The Bladed Hand is slated for a screening tour on Sept 2012. — TJD, GMA News

Photos courtesy of Jay Ignacio