Bergamo: A city with a castle in the clouds
"Would you like to see a medieval city only an hour away?" my husband Alex asked me one morning while we were in Milan, Italy. The invitation was too good and intriguing to refuse. Thus, we found ourselves at the Binaro 17 (Line 17) of the Stazione Centrale of this capital of the Lombardy region of northern Italy, waiting for the 8:46 AM trip to Bergamo.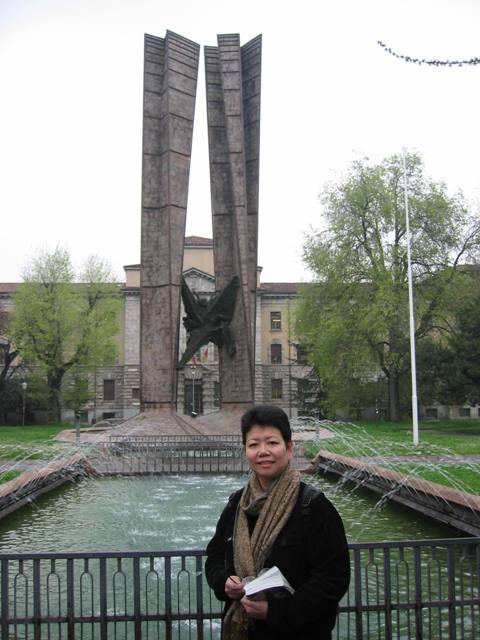 It was early spring and chilly; as we got out of our train coaches our breaths came out in visible puffs. An installation art of a steel butterfly caught between two tall posts
(right)
at the entrance of the station seemed to have set the mood for the day: whimsical, unhurried, with no need to follow strictly any timetable or itinerary.
We set out on foot and discovered a bustling city, the
città bassa
(low city) sprawled across the Po Valley, with its shops and commercial centers, included the famous Galleria dell'Accademia Carrara that is said to contain numerous Renaissance art. But that morning the mood was for exploring the outdoors, and we found exuberant flowers blooming in the parks, in small gardens tucked beside city banks with a bust of Bergamo's beloved son, composer Gaetano Donizetti. Another famous citizen was the former Angelo Giuseppe Roncalli, who later became Pope John XXIII.
From the main road called Viale Papa Giovanni XXIII, we could see from afar how the
città alta
(high city), nestled against the hilly bluff, was composed of countless medieval buildings and a cathedral; they all looked solemn under the gray skies. A stone wall ran several kilometres around the high city, and a castle too, could be limned from among the mists that swirled around the topmost ramparts. Indeed, the whole panorama looked like a fairy tale backdrop of a familiar childhood story.
Alex and I set out from what started as a city street (Viale Vittorio Emmanuele II) and entered an old world ambience as the modern shops and buildings fell away. Residential houses had large gardens and a few had ivy-covered walls. We reached the Funicular Terminal with its quaint stone arched doorways, where cable cars were available for transport to the top of the hill.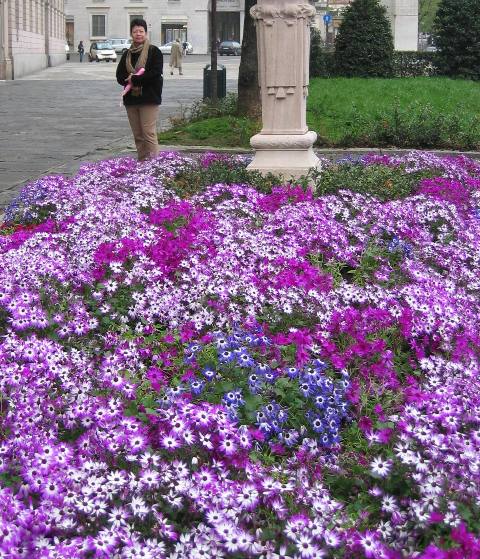 We decided though that it was more fun to walk on the cobblestone roads, and passed through the Porta San Giacomo, one of the old entrances guarding the long walled fortification. All around us were trees and grass, and from time to time we paused to look at the city that we left behind, marvelling at the panoramic views. We reached an area with benches where we could catch our breaths, and realized we had been walking uphill for almost an hour. The coffee and bananas that we took for breakfast had long been digested, so we sat down and enjoyed our homemade lunch of paté and cheese sandwiches, canned juices and bottled water amidst the garden-like atmosphere.
Thus fortified, we continued our way until we reached the heart of the
città alta
: the Piazza Vecchia with its 12
th
century stone fountain, splashing waters glinting against the hazy noonday sun. The fountain was guarded by stone lion figures, parts of which had become shiny and rubbed clean through the millennia. The Torre Civica (Civic Tower) loomed high above the piazza, with its 15
th
century bells. It was said that to commemorate the town's medieval curfew, these bells were still rung 180 times every night at 10 p.m.
There was a big square edifice with a Venetian wingéd lion on its façade (an emblem of St. Mark) and below it, an area with beautiful archways. The building was the Palazzo della Ragione (Court of Justice, in the background below), built in 1199. Below this were arched porticoes, and on the ground were white stone paths with geological markings. At one end was a 300-year-old sundial, flushed on the ground. In one of the walls, too, was the poetry of Torquato Tasso, one of Bergamo's (and Italy's) popular 16
th
century poets.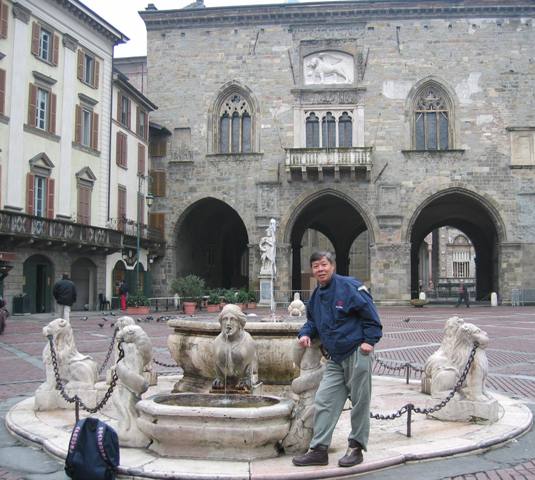 Standing on the archways our eyes were suddenly riveted to a pink, pastel and white marble façade of what looked like a church, complete with a rose window, just beyond the portals. We found out that it was the flamboyant Capella Colleoni, a funerary chapel built for a celebrated local, Bartolomeo Colleoni. The braided and vivid exteriors were so attractive that one almost forgot the 12
th
century Basilica di Santa Maria Maggiore beside it, with its brown and sombre exterior. The basilica's entrance was guarded by white marble loggias containing a Madonna and Child, with several saints, and tall pillars emanating from the backs of two fierce-looking Venetian lions.
What a delightful surprise then, to enter the basilica and catch sight of a bright and ornate Baroque interior. We caught our breaths as we looked up, and beheld the jewel-like iridescence of the basilica's octagonal dome: colorful marble framed countless paintings radiating from its center, as if someone had decorated the ceiling with pearls, diamonds, and other semi-precious stones. Going around the basilica I espied a very ornate confessional box, carved in dark wood. Gaetano Donizetti's tomb was guarded by a marble statue: a mourning young lady with her lyre, and cherubs, one of whom was weeping.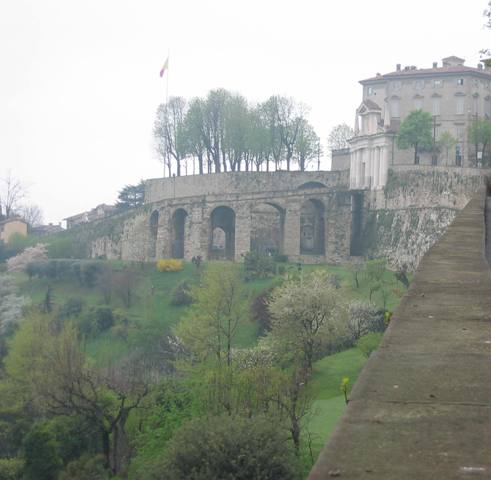 After a little rest at the steps of the Biblioteca Civica, built in 1594 in front of the Civic Tower, Alex and I were ready for the descent on foot. Wanting to look at the sights at the other direction we set off to the road across from where we came up, planning to turn right somewhere to connect with a street that will lead us to the
città bassa
.
A serendipitous decision, indeed, as we came upon a bustling local bakery shop. Many locals, especially children, crowded around the counter, their faces lit up in eager anticipation of the good food. So many more like me stood outside, looking in from the large glass window. The bakery was well-lit, the freshly-baked goodies all the more thrown into focus as the streets were getting dark because of low rain clouds. Alex took photos, which have become some of the more memorable ones of our Italian trips.
We passed by other smaller shops, and the store keepers greeted us with "
Ave!
" as I answered them with a "
Buon giorno!
"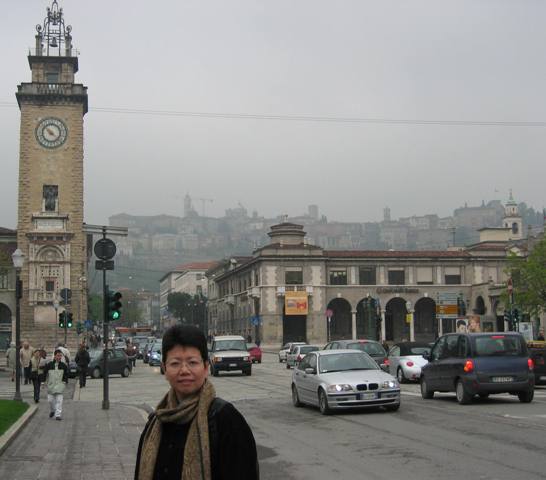 We finally saw the cittadella, or the citadel of Bergamo, and the Rocca, literally "rock" referring to the castle, because its round walls were made of large, impenetrable stones. We had been walking for almost an hour and felt as if we were simply going around in circles, following the wall. A bit worried now, we flipped through our guide book to orient ourselves. A young lady appeared around a bend, cradling her schoolbooks, and we asked her the way to the low city, specifically to the Central Train station. Without hesitation she raised her hand towards our right, and said, "
Dirriti—dirriti—dirriti!!!
" ("Go straight, straight, straight ahead!") and we knew that it would be a long, long walk, indeed!
But walk we did, this time with more determination so as not to miss our train back to Milan. We found another guard house, the Porto Agostino, and with that landmark it was not too difficult to find our location in the guide book. We had thirty minutes to spare for the train trip and decided to take a short rest at a McDonald's in Piazzle Marconi. The wind had risen, and it had become colder. Japanese and Korean tour groups of young men and women were running hither and yon around the piazza. Like us, they too, were eager to explore this beautiful medieval city in northern Italy. –
YA, GMA News