From diet-friendly desserts to organic bacon at Healthy Choices
Going to the grocery can be overwhelming. No matter how firmly you resolve to choose nutritious items, it's hard to resist grabbing some junk food on your way to the checkout counter. We're told that organic is better, but it isn't always available, and when it is, it can be quite expensive.
The team behind healthy-eats restaurant Sugarleaf has opened a new store that features all sorts of products that are good for you, from diet-friendly desserts to organic bacon.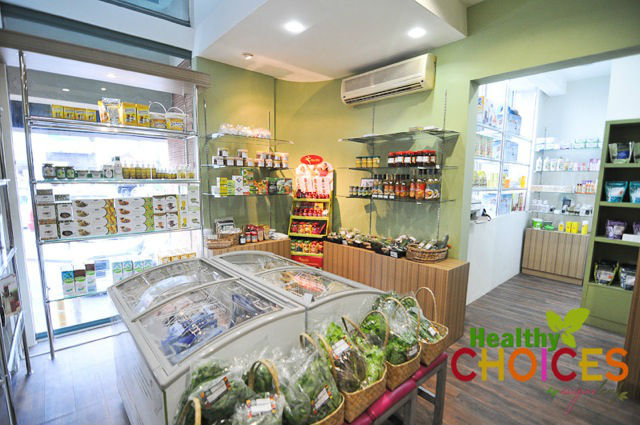 The shelves are stocked with products that are good for you. Photo from Sugarleaf
The small corner shop has stocked its shelves with products like Sta. Maria 100 percent all-natural authentic virgin coconut oil, Forzudo's raw maca and whole chia seeds, GreenLife Organics' moringa capsules, HDI Network, Inc.'s clover honey and Joji's Delight Peanut Butter. Put simply, the idea is to offer healthy choices, which is the shop's name.
But Sugarleaf isn't only concerned about what they can give their customers. "It doesn't only mean healthy food for us, but also livelihood for the communities," said Marian Boquiren of Gana Vida.
A bestseller is Gana Vida's organic bacon and bangus, which come from Davao. "It can be healthy, the bacon is made with organic pork and no nasty chemicals," shared Sugarleaf marketing head Angelo Songco during the ribbon-cutting and blessing ceremony last July 17.

Locally sourced
According to Songco, many of the products sold at Healthy Choices are locally sourced. Sugarleaf products like Healthy Picks organic produce and salad dressing are also available, as well as Goody Kefir.

Songco explained that the kefir is made using raw milk, because this means more health benefits compared to using regular pasteurized or powdered milk. "It becomes a little sour, but because we try to make healthy food delicious at the same time, we mix it with other stuff like raw sugar to make it more palatable even for kids," he said.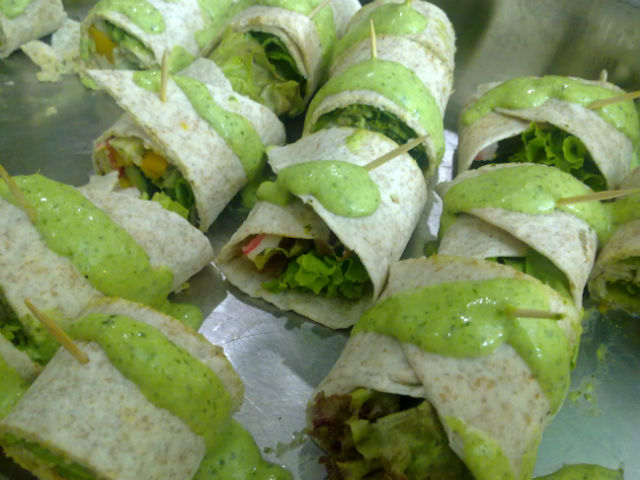 Sugarleaf's Goody Wraps are drizzled with kefir dressing.
A variety of all-natural sweeteners are available, like stevia, the sugarleaf plant which the company is named after.

They also carry HDI Network, Inc.'s clover honey. "It's the purest kind of honey from white clover flower. It dies when the environment around it is polluted. It can only grow in a very clean place. When you extract the honey from there, talagang napaka-pure," said Hasmyn Homeres of HDI Network, Inc.
Also available are Herb's Best pre-mixed ingredients for cooking Filipino favorites like sinigang and ginisa. "We don't use sugar or MSG. We use Tagalog na sibuyas, bawang, all natural tamarind," said Russel Arida of Herb's Best.
There are also ready-to-eat products, like LowCal Cafe's Healthy Carrot Cake, Fudge Chocolate Cake, Tiramisu and Sansrival. All their desserts are made with natural sweeteners like coco sugar. "These natural sweeteners are best for people with diabetes, so they can enjoy our desserts," said LowCal Cafe's Lindy Santiago.

Vegan options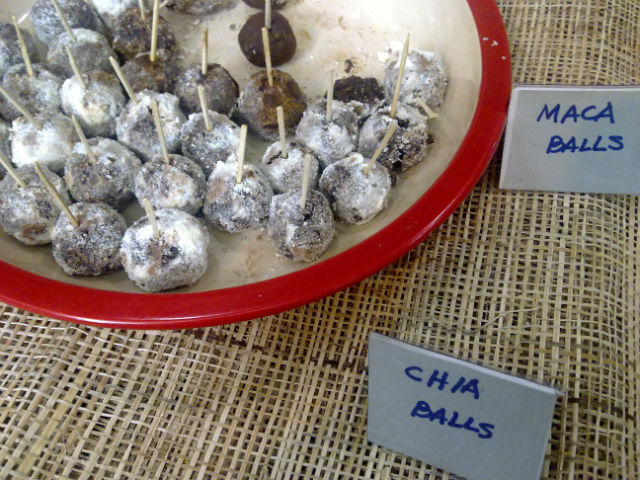 With all-natural ingredients like maca and chia, sweets don't have to be sinful.
They also have vegan desserts like Chocolate Cake, Cinnamon Prune Cake and Carrot Cake. "These are for people who are strict vegan or have egg allergies or are lactose intolerant, because these desserts have no animal products in them," she said.
LowCal's desserts also come with nutrition facts on the packaging. According to Santiago, the nutrition facts are a helpful guide both for diabetics and those on a diet.

"If you are diabetic, and you are on a strict calorie count, you also have to look at the carb content. If we say one slice is so many calories, you can either reduce or eat more," she said.
For many of Sugarleaf's partners, their business isn't just about profit. For Jem Ferrer, it's about sharing part of her childhood. Joji's Delight Peanut Butter is made at the back of their house in Bukidnon.

"It's very yummy. I've been eating it since I was seven. Every morning we eat it with hot bread and butter and we dip it in fresh milk," she shared. The peanut butter is made with coco sugar, and also has malunggay mixed in. "When we were kids, my mom used to make all these homemade pastries," shared Ferrer, whose mom's concoctions were so popular that she would prepare them in bulk and distribute it to the neighbors.
For Rowena Tolentino of Greenlife Organics, it's about helping others get better. "I was a cancer stage three patient, and it was malunggay that got me back on my feet. If you have anybody who is sick, try malunggay," she said.
During the opening ceremony, guests sampled some of Healthy Choices' offerings. Lunch was a spread of Sugarleaf's Goody Wraps, vegan pesto pasta with mango, and Gana Vida's organic bacon and open-sea lemon-herb bangus fillets. Guests munched on Forzudo truffles with chia and maca for dessert, and for refreshments, they sipped freshly slow-juiced fruits and vegetables.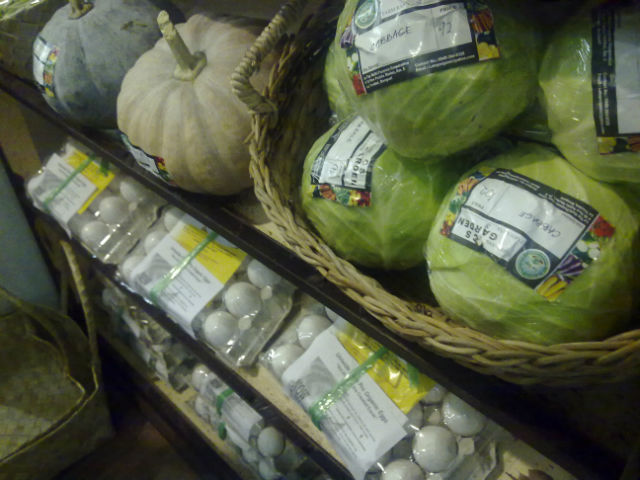 Sugarleaf's Healthy Choices has an assortment of fresh produce from local sources.
Songco explained that it's important to go slow when juicing. "If you use a high speed blender, the friction that the blade creates kind of compromises the heat sensitive enzymes especially in dark green leafy vegetables," he said.
As the guests browsed the shelves at Healthy Choices, Sugarleaf's partners answered questions about their products. Sugarleaf also gave out brochures with information on how to store the products, with tips such as keeping dried items tightly sealed.
Many guests ended up buying an item or two to take home. They seemed quite excited about the new shop, which was aptly opened during Nutrition Month.
"The message of Sugarleaf is very relevant. Who wouldn't want healthy food on their table?" asked Songco. –KG, GMA News

Healthy Choices is located at the ground floor of the Health Cube Building, 226 Wilson Street, West Greenhills (between Hai Kang, BDO and Kink Cakes) and is open from 8 a.m. to 10 p.m. Monday to Saturday and 8 a.m. to 2 p.m. on Sundays.