At 1st Ignatian Festival, Ateneans urged to go back to their roots
It was a particularly bleak and rainy Saturday. The tarpaulins with the "Welcome Alumni" printed on them were soaking wet. Granted, it was not the kind of weather the organizers hoped for.
But class suspension and threats of flood aside, almost 500 Atenean alumni still braved the storm to visit their alma mater.
It was, after all, the first time the university held the Ignatian Festival, a whole day of plenary talks to commemorate the life of St. Ignatius de Loyola. The festival gathered notable Atenean personalities from the fields of media, music, arts and culture, public service and business.
With the theme "Atenista Ako, Kadiwa ni Ignacio," the event held last July 21 served to remind graduates to always go back to their roots and remember what their education stood for.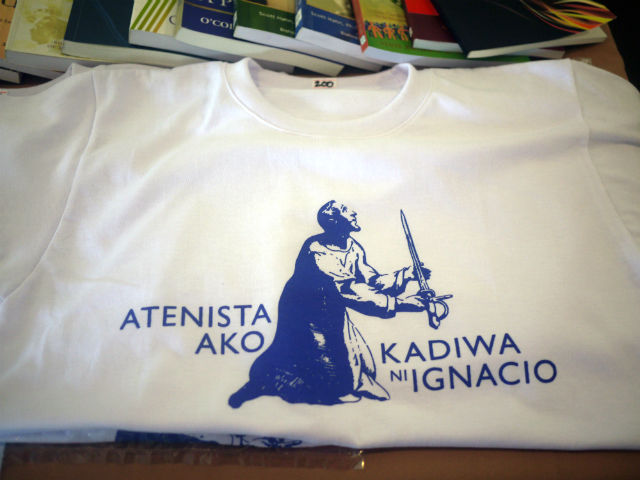 The Ignatian festival shirt is sold at only P200 in the JesCom booth in front of Henry Lee Irwin Theater.
"Kasi kung napapansin, 'yung Atenista nagkakasama-sama lang 'pag may basketball game o 'pag may homecoming. Pero 'yung pinakadahilan kung bakit tinatag 'yung university hindi pa nagkakasama doon," Fr. Nono Alfonso, SJ, director of Jesuit Communications, said in an interview with GMA News Online.
According to Fr. Alfonso, the event was more a whole day recollection than a festival.
"We get hurt when people say 'O, si CJ Corona, Atenista 'yan. 'Yung kalaban niya Atenista rin, so ano na ang nangyayari sa Ateneo? They're supposed to be men and women for others, so what is happening to the Ateneans?' And so we wanted to have a program for alumni so that they will not forget the formation that they went through in Ateneo. To make them not forget the ideals, which is to be men and women of service and faith," he said.
The 'magis'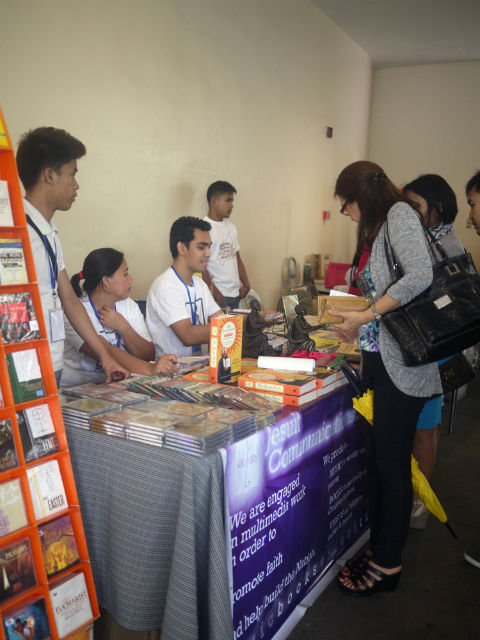 Ateneo alumni check out the books sold at the JesCom booth, while waiting for the plenary session to start in Henry Lee Irwin Theater.
The Atenean education has always stressed the importance of being men and women for others.
Social entrepreneur and Isang Litrong Liwanag founder Illac Diaz, himself an Atenean from grade school all the way to college, credited the immersions and outreaches in depressed areas he participated in school for the career path he is in now.
According to him, the most important lesson he learned in Ateneo was reflecting on one's talents and using those talents for the greater good.
"The definition of success is to bring as many people along with you as possible. I'm talking public service and that public service is emphasized really in how you can use your talents in a greater scheme of things, which is really for public upliftment," Diaz added.
Columnist, sportscaster and communication professor Dr. Severino Sarmenta, who was also one of the moderators in the panel discussions, said that he has always tried to go for the magis in both his work in the media and academe.
"You go for the magis in improving yourself and to be of service to as many people as possible. It's tiring and at the conclusion of one day, you are all tuckered out. But it's a day well spent and I pray to God to give me the strength to do it again tomorrow."
The magis is a Jesuit phrase that means "the more." Taken from Ad majorem Dei gloriam, a Latin phrase meaning "for the greater glory of God," magis is synonymous to going the extra mile and reaching one's fullest potential.
Having mentored students who are now in various communication fields, Sarmenta said graduates could continue to live the Ignatian and Atenean way by making sure that what they do is for the common good.
"Teaching students how to do great TV programs, write well, present well and understand media thoroughly are daily challenges. I hope I plant enough seeds that will grow and help the industry. I just do enough to motivate my communication students because per se they are gifted and they are passionate already about media," Sarmenta said.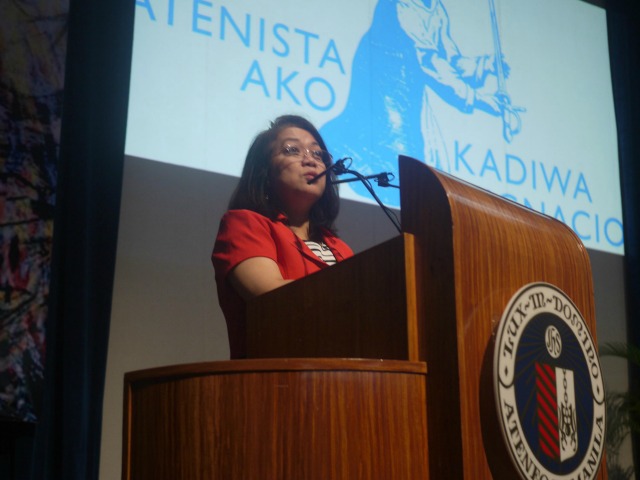 Supreme Court Associate Justice Ma. Lourdes Sereno talked about how her education and faith in God led her to where she is now.
In the field of politics, public service and development, the
guest speaker was Associate Justice Ma. Lourdes Sereno
. Currently one of the chief justice nominees, and who shied away from the media the past two years as a Supreme Court judge, Sereno revealed her lighter side to the audience.
"The Ateneo is very close to my heart cause this is where my eyes were opened to the world and where my heart first learned the meaning of romantic love," Sereno said, referring to her husband, who, like her, was an Ateneo scholar.
"The Jesuits hoped that in turn, we poor students who were privileged to study at such an excellent school, will dedicate themselves to uplifting the poor in the country. I was thrilled at the concept of service. It was at the Ateneo that I learned the value of developing oneself to be a man for others," Sereno said.
The Ignatian Festival also covered other sectors such as business, media and arts. Jollibee Foods Corporation COO Ernesto Tanmantiong and Hapinoy founder Bam Aquino were the speakers for "The Atenean in Business and Development" panel discussion, while artist and musician Jim Paredes discussed his experiences as an Atenean in the field of "Media, Music, Arts and Culture."
The rain was still pouring when the event ended at nine o' clock in the evening, with a concert that featured homegrown talents such as Bukas Palad Ministry and Ateneo Chamber Singers.
Not one drop of rain dampened the spirits of the alumni though.
Illac Diaz couldn't have said it better: "Bagyo, hangin, ulan…this is a special occasion. You always have to go back to your roots." –KG, GMA News