Olympics
:

Barriga reaches final 16, keeps PHL medal hopes alive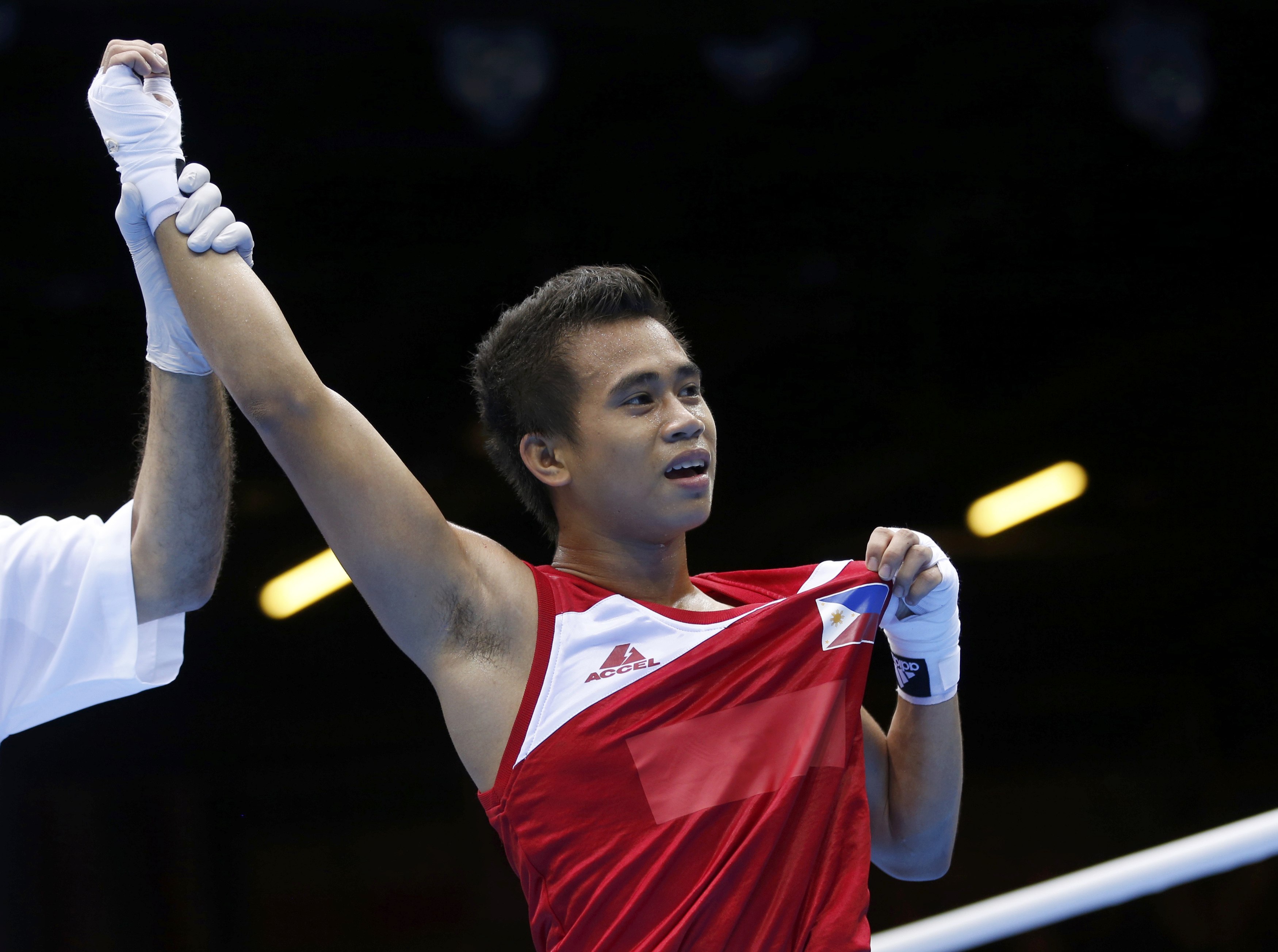 Mark Barriga proudly emphasizes the Filipino flag on his uniform after picking up the win. c/o Reuters
Filipino boxer Mark Barriga capitalized on a strong first round to emerge victorious against Italian foe Manuel Cappai of Italy, 17-7, to advance to the final 16 of Men's Light Fly 49 kgs in the 2012 London Olympic games, Tuesday.
Barriga was effective as a counter-puncher in the first round, forcing the referee to give Cappai a standing eight count in the final 15 seconds. With the knockdown, Barriga won the round, 5-2.
In the second round, Barriga defended well, even with Cappai hooking and locking the Filipino's right hand to win anew, 4-2.
The final round was all about Barriga, who scored on a combination late in the third to seal the win, 8-3.
Barriga now faces Kazakhstan's Birzhan Zhakypov, who won a close bout against Jeremy Baccu of France, 18-17.
The Filipino will meet his Kazakhstani foe on Saturday, 8:45 pm, Manila time.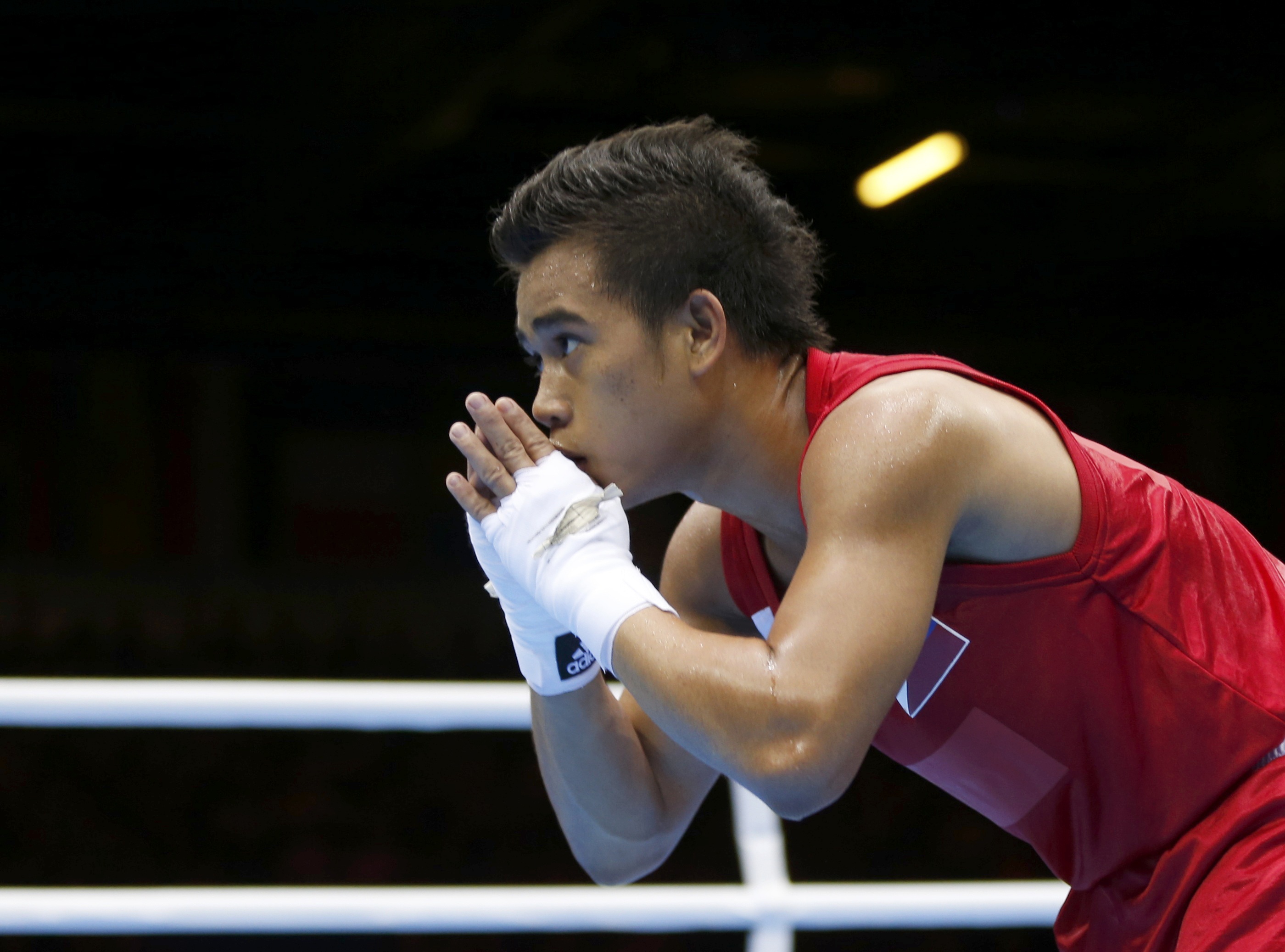 Mark Barriga bows after dispatching his Italian oppponent. c/o Reuters
Main hope for gold
Barriga is the Philippines' main hope for its first Olympic gold, sports officials had said before sending off from Manila its delegation to London.
The 19-year-old, a quarter-finalist at the world championships in Azerbaijan last year, is facing tough odds, said Amateur Boxing Association of the Philippines executive director Ed Picson.
But he added: "We think he has a decent chance of winning. That is why he is there. If we did not think he had a chance, we would not send him."
And Barriga also has a good record, with wins at the annual Sydney Jackson Memorial Tournament in Uzbekistan in 2011 and 2012.
The head of the Philippine Sports Commission, Richie Garcia, said: "He has a very good chance of winning in his weight category. He seems to have the spirit and determination to win.
"He is not somebody who came out of nowhere. He has a track record and he can win."
The country has suffered a long medal drought, with its last podium finish coming in the Atlanta games in 1996, also in the sport of boxing, when Mansueto "Onyok" Velasco took home a silver medal in the light flyweight category. It has never won gold but did bag bronze medals, also in boxing, in 1992 and 1988.
Garcia, whose agency is in charge of funding national athletics programmes, said he favored a proposal to bring in more foreign coaches.
The boxing association is considering hiring a "consultant", possibly from Kazakhstan, the United States or Britain to help upgrade its programme, Picson said.

The Philippines in recent years has produced several world-renowned professional pugilists, including Manny Pacquiao and Nonito Donaire. — with Agence France Presse/AMD/ELR/HS, GMA News