Typhoon Gener kills 10; leaves property damage of at least P2M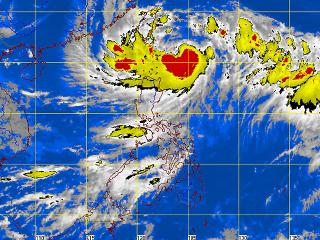 Signal No. 3 in Batanes as 'Gener' heads north. A PAGASA satellite image as of 10:00 a.m. Tuesday shows the center of Typhoon Gener to be 210 km east northeast of Basco, Batanes. Signal No. 3 has been raised over the Batanes group of islands. GMA News
The continuous rains brought by typhoon Gener (international name: Saola) since Sunday has left 10 dead, two missing, and five injured, the National Risk Reduction and Management Council said Tuesday night.
In its 9 p.m.
update
, the NDRRMC said that the typhoon has affected 49,118 families or 234,487 persons.
A total of 1,172 houses have been damaged by the typhoon. Add to this, some 31,457 families or 156,681 individuals are taking shelter in evacuation centers.
Maritime activity in the country has been greatly affected by the typhoon. The typhoon has left 1,514 passengers stranded in seaports. A total of 16 maritime accidents have also been reported since Sunday.
Initial estimates on the destruction caused by Typhoon Gener was placed at P2.130 million, the council said. The government has provided P1.530 million worth of assistance to the different regions affected by the typhoon.
As of Tuesday afternoon, Dagupan City in Pangasinan is still submerged in flood waters. In Metro Manila, Valenzuela City and Malabon City are still flooded, with Cardona and Angono in Rizal likewise submerged in water.
A report aired on GMA 7 program "24 Oras" showed parts of Pangasinan caught in the middle of heavy rains and the rising of the tide.
The report said that residents will have to wait a little longer before returning to their homes as the areas are estimated to remain submerged for two more days.
In the nearby province of Cavite, the towns of Bacoor, Tanza and Ternate were placed in a state of calamity.
Metro Manila
Apart from the floodwaters, Metro Manila has also to contend with other typhoon aftereffects such as washed-up garbage and broken roads.
The same "24 Oras" report showed garbage-floes floating on Manila Bay.
However, nearby residents welcomed the garbage as a windfall. They intend to salvage what they can of the trash and sell what they gather to junk shops.
Also, newly paved roads, which should have withstood the effects of the rain, are now potholed ruins. This is especially true along Roxas Boulevard's south bound section leading to the Baclaran area.
Electricity
Meanwhile, towns in Benguet province identified as Tuba, Tublay and Kibungan, and five barangays in Baguio City are still without electricity, the NDRRMC reported.
Apalit in Pampanga has also been suffering from a power outage since Monday.
Roads and bridges blocked
Since Sunday, a detour bridge in Puerto Princesa City in Palawan has been rendered impassable as a swollen Irawan River has washed over it.
A provincial road in Busuanga, Palwan is impassable after a landslide blocked it with 20 to 25 meters of earth.
The NDRRMC tallied eight incidents of landslides, including one in San Felipe, Zambales, where the roads have not been passable since a landslide occured in Brgy. Balincaguing.
There were also two landslide incidents recorded in Itogon, Benguet, one of which took the life of a person.
Weather forecast
According to the Tuesday 5 p.m. Philippine Atmospheric Geophysical and Astronomical Services Administration (PAGASA) weather forecast, Gener is expected to leave the Philippine area of responsibility by Thursday afternoon.
Until then, it will continue to bring rains to Luzon and the Visayas as it enhances the Southwest Monsoon. It will likewise bring moderate to strong winds in the country's northwestern section.
The typhoon is still expected to bring heavy rains of 10 to 35 mm of rainfall per hour in the areas within its 700 km diameter, PAGASA said.
The weather bureau has alerted residents living in low lying and mountainous areas against possible flashfloods and landslide.
The provinces under a storm warning signal were likewise alerted to big waves or storm surges.
the Batanes Group of Islands, Isabela, Kalinga, and Apayao are under Signal No. 3.
Signal No. 2 was raised in Cagayan, the Calayan Group of Islands and the Babuyan Group of Islands.
"Fishing boats and other small seacrafts are advised not to venture out into the Seaboard of Luzon and Visayas due to the combined effect of Typhoon Gener and the Southwest Monsoon," the weather bureau said. — DVM/ELR, GMA News