Rizalpabeto: Introducing a new generation to Jose Rizal, one letter at a time
Rizalpabeto is a vocabulary lesson like no other. Or is it a history lesson? Or perhaps an art lesson? Author and poet Vim Nadera says it's all three, and more.
A children's book and a coffee-table art piece, Rizalpabeto is a collaboration between visual artist Elmer Borlongan and Nadera, who is considered the Father of Performance Poetry. The full color book was launched at the Center for Art, New Ventures and Sustainable Development (CANVAS) gallery in Diliman, Quezon City on July 20.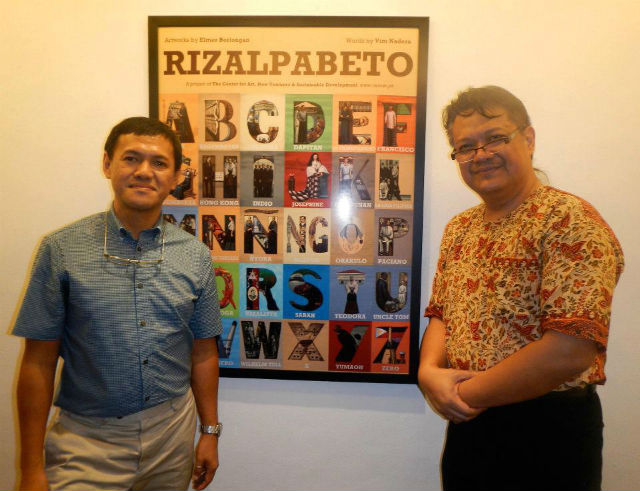 Elmer Borlongan and Vim Nadera at the Rizalpabeto book launch. Photo courtesy of Vim Nadera
In the book, Nadera's poems about Rizal -- one for every letter of the Philippine alphabet -- are brought to life by Borlongan in the style of
letras y figuras
, a uniquely Fiilipino art form that flourished during Rizal's lifetime.
Letras y figuras
featured plants, animals and human figures contoured as letters spelling out words (usually the name of the artist's patron in those days).
On a rainy Friday night, Nadera took five young university students to his book launch, where he said Rizalpabeto was his first foray into children's literature. He is hoping that the book would introduce the modern Filipino youth to a world of literature and art far richer than what a classroom setting could.
And what better way to teach the youth than by showcasing the life and work of the First Filipino?
"This book is intended for young readers, to introduce the National Hero to this present Gen X or Gen Y or Gen teXt generation," he said.
Nadera and Borlongan first crossed paths in the eighties, editing a small newspaper. They met again in 2004, at a GSIS Museum exhibit called "Pitik Bulag," where artists and poets were paired at random to create artwork.
For Rizalpabeto, Borlongan used his iPad to sketch and paint each letter, resulting in an interesting interplay between tradition and technology, literature and visual art. Working continuously, he said he could finish one piece in two hours. Some artworks, however, took as long as two days to complete.
Nadera, who is a professor at the UP Department of Filipino and Philippine Literature, used to teach Philippine Institutions (PI) 100, or what is known as the Rizal Course. He explores the curious place Rizal occupies both in Philippine history and in contemporary Filipino life in his poems.

Rizalpabeto introduces young readers to the National Hero. Photo courtesy of Vim Nadera
"I wanted to use the alphabet to pay tribute to Rizal, since he can be an 'A', artist, to 'Z', a zoologist. But that would be limiting, so I [expanded] the idea to explore Rizal and his influences as well as his life," Nadera said.
He thus started with
Arte at Letra
, to establish the importance of poetry in Philippine society. He styled it after "Arte Mertica de Tagalog," the paper Rizal read to enter an Anthropological Society
B stands for Bagumbayan, or Luneta, where the National Hero was shot. "And so we begin at the end," Nadera said.
And then he ends with a starting point: in the book, Z stands for "Zero," referring to Kilometer Zero at Luneta, where all kilometric measurements in the Philippines originate.
— BM/YA, GMA News
Rizalpabeto is a project of the Center for Art, New Ventures and Sustainable Development. It sells for P550 a copy at the CANVAS gallery, 1 Upsilon Drive, Diliman, Quezon City.