NCAA
:

Kevin Alas shrugs off illness, leads Knights to victory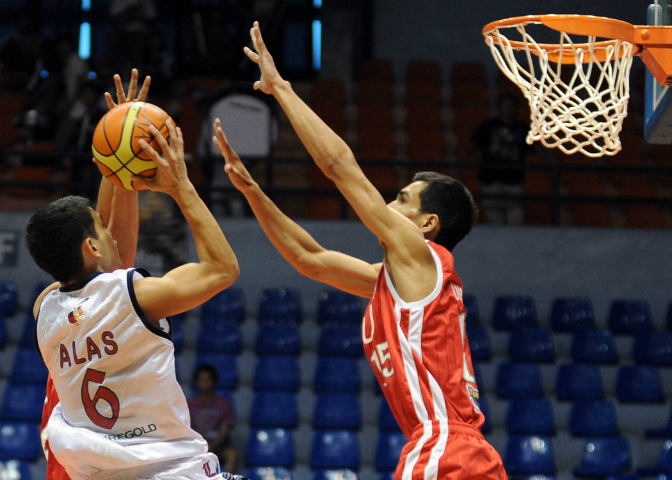 Sickness is no excuse - Kevin Alas (white) shrugged off a fever to lead the Letran Knights.
KC Cruz
Despite being under the weather, Kevin Alas still managed to take matters into his own hands, lifting the Colegio de San Juan de Letran Knights to a 70-60 win and past the .500 mark, Thursday at the FilOil Flying V Arena, in the 88th season of the NCAA.
Kevin Alas, who did not practice for six days prior to this game due to bouts of high fever and dehydration, produced an all-around effort of 16 points along with eight rebounds and five assists.
"I would like to commend Kevin Racal for also playing despite having a flu," Letran head coach Louie Alas, tipping his hat to his duo who gutted out the game. "I was planning to use my other players but they really wanted to win."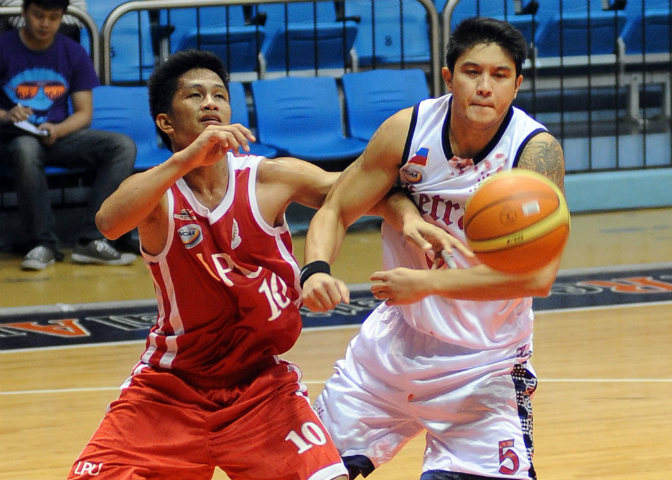 Jame Cortes (right) holds back Lyceum's Mark Francisco as the two try to reach for the loose ball.
KC Cruz
Big man Jam Cortes and point guard Mark Cruz provided some much-needed support as well, with 14 and 11 points, respectively.
The Knights opened up the third quarter with a 6-0 run, with five points coming from rookie McJour Luib for a 43-36 advantage. Letran then boosted their advantage up to 58-47 by the end of the period, and never looked back.
Chris Cayabyab had 16 points for Lyceum, which rounded its first round campaign with a 2-7 record.
The Pirates were able to narrow the gap to 60-54, four minutes gone by in the final quarter, after a basket from Chris Cayabyab, but could not produce enough offense to overcome their foes.
Letran is slated to play the JRU Heavy Bombers next Thursday.
- AMD, GMA News
The scores:
CSJL 70 – K. Alas 16, Cortes 14, Cruz 11, Racal 7, Belorio 7, Luib 6, J. Alas 6, Pantin 2, Gabawan 1, Lituania 0.
LPU 60 – Cayabyab 16, Laude 11, Guevarra 10, Francisco 8, amora 7, Ko 6, Garcia 2, Ambohot 0, Alanes 0, Azores 0, Martinez 0.
Quarter scoring:
19-19, 37-36, 58-47, 70-60
Inboundpass has been covering collegiate basketball for six years. For more NCAA stories and information, check out inboundpass.com and follow Inboundpass on Twitter at @inboundpass