NCAA
:

Rested Red Lions trump Cardinals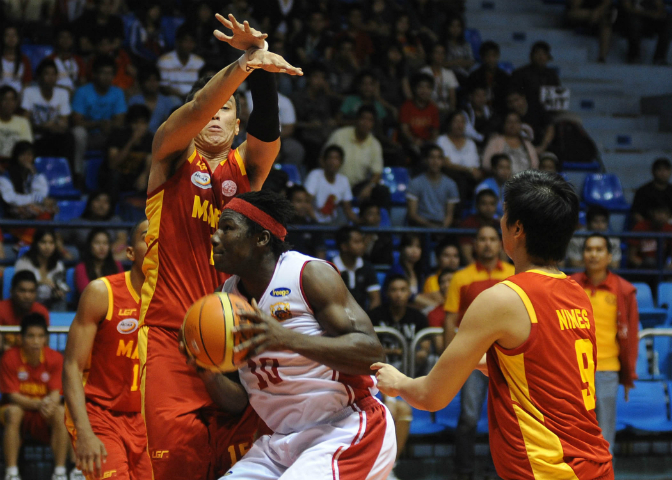 Ola Adeogun (white) draws in the Mapua Cardinals defense.
KC Cruz
The reigning champions San Beda College Red Lions showed no rust after sitting inactive for 12 days, dismantling the Mapua Institute of Technology Cardinals, 64-52, Thursday at the FilOil Flying V Arena, in the 88th season of the NCAA.
Despite a long layoff, San Beda managed to hold their foes under the 60-point mark, while no Cardinals player scored more than 10 points.
"It gives my players the chance to prepare better offensively and defensively," said San Beda mentor Ronnie Magsanoc, who praised his team's defensive effort, which limited last season's Rookie of the Year Josan Nimes and Gab Banal.
Art Dela Cruz top-scored for the Red Lions with 13 points and seven boards, while team captain Jake Pascual powered the Red Lions with nine of his 11 points in the last five-minutes to seal the win.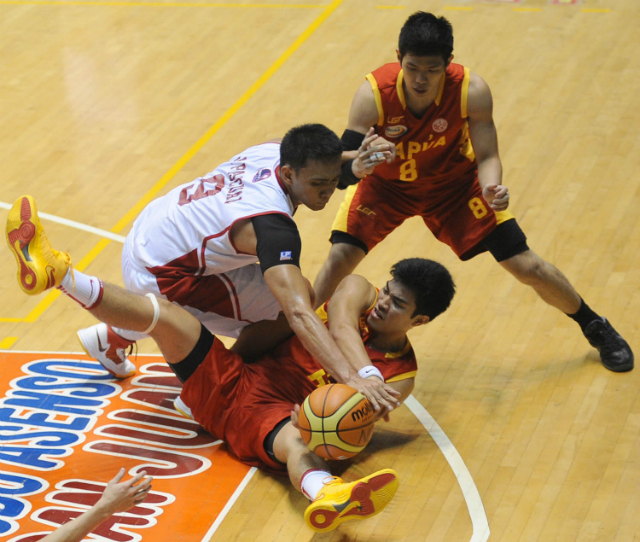 Jake Pascual (white) dives to the floor in an attempt to steal the ball from Mapua's Gab Banal.
KC Cruz
Veteran point guard Anjo Caram added nine points for the Red Lions.
"They [Mapua] played well in the first quarter but we didn't panic," said Pascual, who also hauled down eight rebounds. "We are playing as a unit and that would be great if we keep playing that way."
The Cardinals led 18-17 at the end of the first quarter but failed to sustain their charge.
Guard Baser Amer converted two free throws at the 5:30 mark of the second quarter for San Beda's first taste of the lead at 24-22.
The Cardinals, who were led by 10 points each from Gab Banal and Josan Nimes, absorbed their third straight setback for a 2-5 win-loss card.
San Beda faces a quick turnaround, as they'll be back in action on Saturday, against one of the two league-leading teams, the Jose Rizal University Heavy Bombers, while Mapua will try to end their first round on a high note, when they take on the other team on top of the standings, the San Sebastian College Golden Stags, on Monday.
- AMD, GMA News
The scores:
San Beda 64 — Dela Cruz 13, J. Pascual 11, Caram 9, Amer 7, Adeogun 7, Dela Rosa 6, Lim 5, K. Pascual 2, Mendoza 2, Ludovice 2.
Mapua 52 — G. Banal 10, Nimes 10, Parala 8, Ighalo 7, Stevens 7, Estrella 6, Chien 2, Saitanan 2, J. Banal 0, Cantos 0, Brana 0.
Quarter scoring:
17-18, 35-29, 49-45, 64-52.
Inboundpass has been covering collegiate basketball for six years. For more NCAA stories and information, check out inboundpass.com and follow Inboundpass on Twitter at @inboundpass