Family of another Bedan hazing victim visits Marc Andre's wake, shares tears, advice.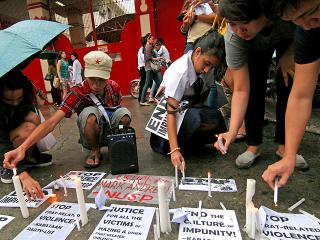 Students cry justice for San Beda frat hazing victim. Student activists stage a picket in front of San Beda College in Mendiola on Friday to protest against fraternity-related violence as they called for justice for hazing victim Marc Andre Marcos, a 1st year law student from San Beda. Danny Pata
They were schoolmates. They were both freshmen, and both were aspiring lawyers. Both also died in the hands of boys they submitted to, in the name of 'brotherhood.' And on Saturday, their families met.
Marvin Reglos died February this year, after sustaining injuries in an alleged hazing incident. Last Monday, Marc Andre Marcos, another freshman of the San Beda School of law,
succumbed
to similar injuries.
On the last day of Marc Andre's wake Saturday, the Reglos' family came all the way from Isabela sympathize with the Marcos clan. "Siyempre, maraming iyakan," Atty. Marmier Rivera, an aunt of Marc Andre said to GMA News Online.
Marvin's parents, two sisters, and some close family friends made the trip to show their support. "They shared tips, and since I am also a lawyer, I shared my opinions on both cases," Rivera said.
In an interview with GMA News TV Live, Lucito Reglos, Marvin's father, said that they wanted to show their support because they know the bitterness and pain that comes with loosing a child to hazing. Lucito also called on lawmakers to strengthen the anti hazing law.
"Most importantly we have talked about the legal cases they have filed in their case, and we will file, in our case," Rivera said. "We also promised to meet each other in the future to talk about our common cause to fight hazing," she added.
In an earlier interview with GMA News Online, Undersecretary Francisco Baraan said the murder case being faced by the suspects in the Reglos case remains
pending
with the Taytay, Rizal Regional Trial Court Branch 97.
— ELR, GMA News