'Weird' essay questions surprise UPCAT takers
"Narrate the conversation when you encounter an alien."
University of the Philippines applicants could write about the new UP admissions exam (UPCAT), where that essay question actually appeared.
There's no correct answer, but examiners are looking for correct grammar, a command of language, and a dose of imagination in this new portion of the exam that generations of hopeful high school seniors have taken. An estimated 75,000 applicants, expected to be a record, took the UPCAT last weekend in various venues around the country.
"If your crush says that he/she loves you, will you say you love him/her, too?" was another question, according to a
post
by blogger Jean Quiambao. Other questions were "What is your favorite study tool?" and "Tell a lie about yourself and prove it," according to some students who took the exam.
There was no word limit for the answers, according to students who took the UPCAT at Assumption Antipolo, one of the testing centers. But they had only 15 minutes to react to the question and compose something coherent. Answers could be written in English or Filipino.
The essay questions were included to show the applicant's leadership competency, an important part of the UP system's original mission for its graduates, a report on GMA News TV said on August 5.
But it appears UP aims to meet this rather serious objective through questions which applicants found "hilarious," "weird," and "twisted."
A day before the first day of the UPCAT, review center Academic Clinic
advised applicants
to prepare for "what would probably turn out to be one of the most grueling portions of the UPCAT... because you weren't expecting an essay question in the UPCAT and thus wouldn't have been able to prepare for it."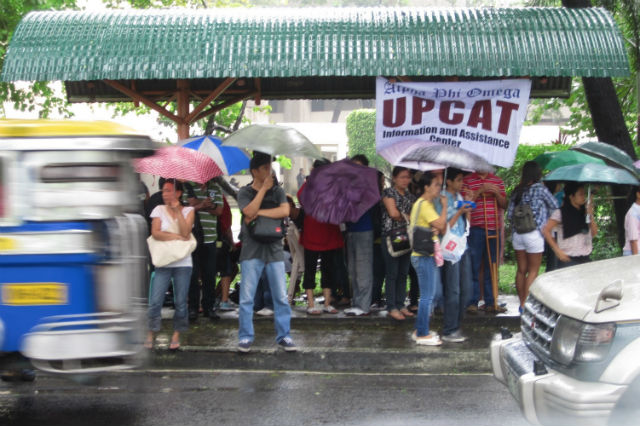 Rain showers UPCAT takers in Diliman on Saturday. The afternoon session has already begun, but students who took the test in the morning are still on campus, waiting for public transportation. Roehl Niño Bautista
Based on the reactions of some UPCAT takers, the essay portion was far from grueling. In fact, it may end up being a favorite feature.
"Sudden realization that the UPCAT essay questions were pretty funny, though I had fun answering mine," tweeted Marionne Sobremisana.
On the other hand, some were not amused. "Sana samin medyo matino tino," tweeted Jan Gallegos.
Some were relieved they had already taken the UPCAT before essay questions were included, while others said they wished they could have answered essay questions, too.
"The UPCAT essay questions are really interesting. Wonder how my friends and I would have fared if we were the examinees now," tweeted Honey Albiso.
Philosophical conversation with an alien
While they found out about the essay portion before taking the test, UPCAT takers were surprised by the kinds of questions they had to answer.
"We were informed about the essay just days before the UPCAT," said Maisie Joven, who made up a ridiculous story about what she would do if she encountered an alien.
"Everyone was talking about the test having an essay part. I was actually surprised because I thought they would have something to do with current events," said Ches Gatpayat, who wrote about going on a bowling date with the alien, and had a deep and philosophical conversation.
"I didn't know if they were looking for a deep and serious answer so I just went with what I had in mind," she said.
Andie Ochoa, who got the same question, said she made up a story about how she was an heiress of a New York mob, who had to move to the Philippines after getting caught doing illegal business.
Mima Cruz shared that she just wrote whatever came to mind. "The question was so simple, and you just have to give a simple answer. I guess that makes sense considering they just gave 15 minutes for it," she said.
"We had an essay portion during our national achievement test and the question there was way better," shared Cruz, who also said they were expecting deeper questions. "I liked the NAT question better. It made more sense, I guess," said Cruz, who had to write about her favorite study tool.
While the students were not told how the essay portion would affect their UPCAT scores, Ochoa said she hoped the essay would be a big part, because she thought she flunked the science part.
Cruz said that perhaps the essay portion was meant to see how lucid they were after the rest of the exam. "They made us answer the questions right after all the multiple choice tests," she said.

Number one trending topic
While applicants may have been thrown for a loop, the questions became the topic of conversation on social networking sites like Facebook and Twitter, prompting netizens to come up with their own ideas for essay questions. By Sunday morning, #RejectedUPCATEssayQuestions was the
number one trending topic
on Twitter, with questions like Jan Ong's "Kung walang kamay ang mga ibon, then why do birds suddenly APIR? Ipaliwanag."
As similar tweets poured in (and compiled in posts like
this
), the last batch of this year's applicants prepared for the afternoon session, which begins at 12:30 p.m. By now, they must have heard about the unusual essay questions. Despite the leakage, these aren't the type you'd want to cheat on.
"Actually natutuwa ako sa mga essay questions sa UPCAT. Hindi kasi siya yung tipong puwede mong idaan sa bola tapos ang bebenta pa," tweeted Eima Clavo de Comer.
Another Twitter user, Angelica Ayuyao, thought the questions were brilliant. "For one thing, it encourages spontaneity and truthfulness from their future students," she tweeted.
Perhaps the most gruelling part is about to begin as UPCAT examiners try to decipher the handwriting of a generation now more accustomed to typing out their thoughts on keyboards rather than with pencils. Penmanship will not be graded, but could influence the judgment of weary examiners trying to evaluate essays by teens on crushes and aliens.
Out of last year's 71,853 applicants, only 12,936
made the cut
.
While it remains to be seen if the essay will make or break many applicants' chances of admission, most students past and present seemed to agree that the questions were a lot of fun. "The first year UPCAT has an essay and all the questions are like this. It's a big plastered sign saying: We're witty yet kalog, sabaw & etc," tweeted Daniel de Jesus.
— BM/HS, GMA News