PBA
:

Governors' Cup Finals Game 7 preview and live-scoring
Game starts at 6pm. Page auto-refreshes every 30 seconds.
Sunday's game between the Rain or Shine Elasto Painters and the B-MEG Llamados crowns a winner in the 2012 PBA Governors' Cup.
After taking a 3-1 lead in the series, the Elasto Painters now find themselves on the verge of losing three straight to the Llamados, after having fallen only once to them in their first six encounters in this conference (elimination round, semifinals, Finals Games 1-4).
Rain or Shine's physical style of play initially caused problems for B-MEG, causing even their head coach Tim Cone to lose his cool in game one of the series. The series seemingly turned though, once the Elasto Painters lost Rookie of the Year Paul Lee in game two to a shoulder injury, but instead, Rain or Shine rallied to take games three and four.
However, on the brink of elimination, the Llamados' famed defense returned, halting Rain or Shine's normally explosive offense from getting on track. Their stopping ability, plus the emergence of "Big Game" James Yap to carry them on the other end of the court, forced this game seven, and put them in a position where B-MEG can win a second straight conference title.
As simple as it may sound, game seven may be decieded by whether or not Rain or Shine will be able to connect from the field. In their three wins, the Painters shot better than 40 percent from the field, while in their three losses, the Llamados held them below that figure.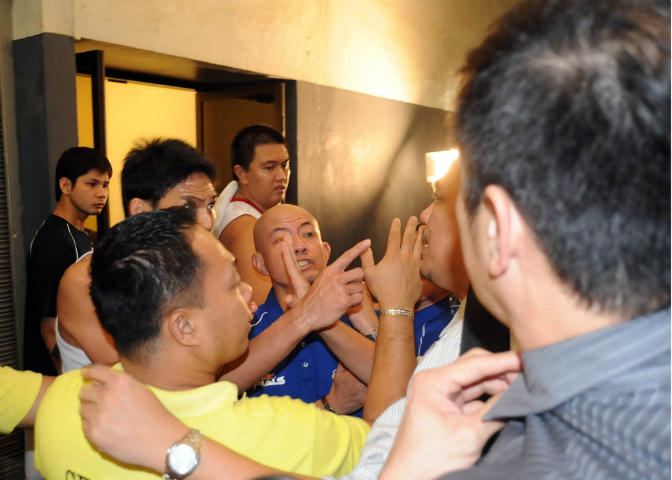 Fiery finish - tensions are high not just between players, but between the mentors on the bench as well, as B-MEG team manager Alvin Patrimonio (foreground, stripes) confronts RoS head coach Yeng Guiao outside the Elasto Painters' locker room after Game Six.
KC Cruz
Whether or not Paul Lee decides to gut it out and play in Game 7, players like Jeff Chan and Gabe Norwood have to be more efficient scorers for Rain or Shine. Chan, judged the league's Most Improved Player, is just 2-of-14 from beyond the arc in their past two games, while Norwood was scoreless in Game 5, before going 3-of-9 for 12 points in Game 6. DLSU alums TY Tang and Ryan Arana have given them some spark, but their mainstays will have to bring the firepower as well.
Meanwhile for B-MEG, it's a given that James Yap will score, but the question is whether or not he can continue to wax hot from the field. In the past two games, Yap has led all players in scoring, but the amazing thing is he's done so while shooting 47.62 percent from the field. Coupled with the consistent play of import Marqus Blakely, and a steady supporting cast, Yancy De Ocampo stepped up in Game Five, while a trio of guards, PJ Simon, Jonas Villanueva and Mark Barroca, brought the firepower in Game Six, and the Llamados have the material on hand to win again, plus the necessary experience of having won a Game Seven recently, against the Talk 'N Text Tropang Texters.
Will Rain or Shine get their first-ever title in the franchise's history, or will B-MEG add another trophy to their collection? We'll find out later tonight, with tip-off at 6pm.
- AMD, GMA NewsProjected RoS starting five:
Jamelle Cornley, Gabe Norwood, Ryan Arana, Jeff Chan, Beau Belga
Projected B-MEG starting five:
James Yap, Yancy De Ocampo, Marqus Blakely, Josh Urbiztondo, PJ Simon
Game track: