Contraception is corruption, really? Lawmaker says bishop's statement should be 'condomized'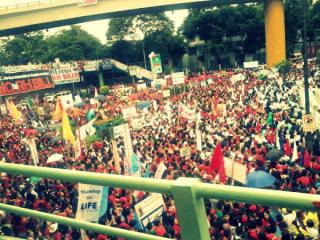 Anti-RH Bill prayer rally participants at EDSA Shrine. Despite intermittent rain, participants to the anti-RH Bill prayer rally crowd in front of the EDSA Shrine in Mandaluyong City Saturday afternoon . YouScooper Analyn Maganda
During a prayer rally led by Catholic bishops on Saturday, Lingayen-Dagupan Archbishop Socrates Villegas made a powerful statement as he assailed the controversial reproductive health (RH) bill: "Contraception is corruption."
"Corruption is the cancer of the Philippines that prevents us from growing. My dear youth, contraception is corruption. The use of government money, taxpayer's money, to give out contraceptive pills is corruption," the Church official said. "We are battling against corruption because we know it can harm your soul. Believe me, contraception harms your soul."
The bishop was taking a swipe at President Benigno Aquino III, who ran under an anti-corruption platform. But Aquino also, last year, characterized the RH bill as priority legislation. Aquino has been endorsing its passage ever since.

Villegas' alliterative parallelism has alluded to a different meaning of the word "corruption" from its more popular definition of stealing from government coffers for private gain.
For Albay Rep. Edcel Lagman, an author of the RH bill, Villegas' statement was nothing but a "play of words purveying misinformation."
"Contrary to the Church's statement that contraception is corruption, it is the denial to women of access to medically safe, legal and effective contraception which corrupts their inalienable right to health and which could lead to maternal death," the lawmaker said in a statement on Sunday.
Lagman added that assertions like those from the clergy should be "'condomized' to prevent the spread of black propaganda, political intimidation and virulent malevolence."
The word war on the RH bill is expected to heat up as the House of Representatives is scheduled to vote next Tuesday whether or not to terminate debates on the measure.
UN data show no correlation between contraceptive prevalence and corruption perception
Statistics show no direct link between contraceptive prevalence and corruption perception in different countries around the world.
China and the United Kingdom registered the highest prevalence of modern contraceptives last year, based on data from the United Nations.
The two countries, however, had very different corruption perception indices, according to Transparency International. China was considered relatively corrupt with a corruption index of 3.6, while UK was the 15th most transparent country.
Three countries with very high modern contraceptive prevalence also landed in Transparency International's top 10 most transparent countries. These are Finland, Norway and Switzerland.
The Philippines, on the other hand, only had a 33.6-percent prevalence of modern contraceptives last year. It meanwhile received the 12th lowest ranking in terms of transparency in government, tied with Syria, Dominican Republic, Honduras and Armenia.
'Put funds to better use'
The RH bill, formally known as House Bill (HB) 4244, endorses the use of both natural and artificial modes of family planning. It is being opposed by the Roman Catholic Church, which promotes only natural family planning methods.
Section 28 of HB 4244 mandates the government to set aside a portion of the national budget for the procurement of supplies for modern family planning methods, which the bill did not specify.
Davao City Rep. Karlo Alexei Nograles, a critic of the RH bill, defended the Catholic Bishops' Conference of the Philippines' (CBCP) assertion that the purchase of contraceptives is a misuse of public funds.
"Our country is faced with many different problems. Given our budget constraints, we should really be putting our funds to better use instead of using them to buy contraceptives," he said in a phone interview.
Nograles added that the government should use funds "to make our people more productive."
"If we have to spend, maybe money will be better used for generating jobs, building schools and addressing problems in education," he said.
Right to choice
Iloilo Rep. Janette Garin, another co-author of the RH bill, meanwhile said that she could not understand why the Catholic clergy is equating the use of contraceptives to corruption.
"Kung titingnan natin, ang contraception, part iyan ng choice of couples. It's their right. I don't know where's the corruption there," she said in a separate interview.
She added that the funds from the national budget to be allocated for the purchase of contraceptives if the RH bill is passed will be transparent and subjected to audit.
"Kung ipapasa natin ang RH bill, couples will be able to help the government by planning their families. The government will help them in return by providing them with the options on how they can do this. Nagkakatulungan tayo," she said. — DVM/HS, GMA News