Mars rover 'tweets' it has landed on the Red Planet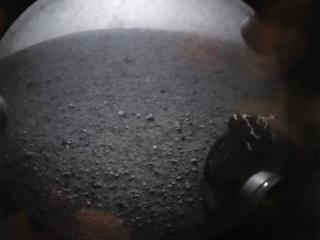 Curiosity rover lands on Mars, takes first photo. A shot from a NASA video screen shows one of the first images from the Curiosity rover (with one of its wheels shown) after it successfully landed on Mars on Monday. Reuters/NASA TV
(Updated 5:29 p.m.)
The $2.5 billion Mars rover "Curiosity" has set foot on the Red Planet, according to its own Twitter account.
I'm safely on the surface of Mars. GALE CRATER I AM IN YOU!!! #MSL

— Curiosity Rover (@MarsCuriosity) August 6, 2012


The Curiosity rover is part of the Mars Exploration Program of the National Aeronautics and Space Administration (NASA). It was launched on November 26, 2011.
Sailing for more than eight months, the "robot lab" covered 566 million kms before getting inside Mars' atmosphere. Its speed was 20,921 kms per hour – 17 times the speed of sound – before it started its descent.
At 1:33 PM (Manila time) Monday, it has landed on the surface of the Gale Crater in the Red Planet.
Curiosity said in another tweet:
You asked for pics from my trip. Here you go! My 1st look (of many to come) of my new home... MARS! #MSL twitter.com/MarsCuriosity/…

— Curiosity Rover (@MarsCuriosity) August 6, 2012


John Holdren, top science adviser to President Barack Obama said, "It's an enormous step forward in planetary exploration. Nobody has ever done anything like this."
According to a Reuters report, Holdren visited the Jet Propulsion Laboratory for the event.
Its main mission is to determine "whether Mars had ever supported life," according to NASA. It is also set to study the red planet's climate, analyze soil and rock samples to determine if it is habitable. It is also meant to determine if we could send human expeditions on Mars.
It is even equipped with a laser gun that can zap a rock seven meters away. The spark that the rock will make will then be analyzed by a special telescope to determine the chemical composition of the mineral, according to a Reuters report.
Among its predecessors, "Spirit" and "Opportunity," "Curiosity" is the heaviest at 3,893 kg. when it was launched.
NASA's Mars Science Laboratory even created a Twitter account which sends tweets from the rover itself. Some of the interesting tweets from the rover:
It once was one small step... now it's six big wheels. Here's a look at one of them on the soil of Mars #MSL twitter.com/MarsCuriosity/…

— Curiosity Rover (@MarsCuriosity) August 6, 2012


Dear @neiltyson, Martians? RODEO BULL? That wasn't in the briefing. But you never know what you'll find on a mission of discovery

— Curiosity Rover (@MarsCuriosity) August 4, 2012


In reply to:
Dear @marscuriosity, What are your instructions if a Martian crawls onto your back and rides you like a Rodeo Bull?

— Neil deGrasse Tyson (@neiltyson) August 4, 2012


Dear @neiltyson, My warranty is 1 Martian year (23 Earth months). @marsrovers were designed for 90-day missions... #8yearslater

— Curiosity Rover (@MarsCuriosity) August 4, 2012


@carrc71 I did get a lot of traveling music song suggestions at launch... but I use my radios to talk to my team back on Earth

— Curiosity Rover (@MarsCuriosity) August 1, 2012


In reply to:
@marscuriosity ground control to major Tom...its been a long long travel for you have u ran out of choice of music yet ?

—chris (@carrc71) August 1, 2012


The rover is set to complete the exploration in one Martian year (687 days) or less than two years on Earth.
However, it is not "Curiosity" who's actually tweeting. A team of three women working for NASA, led by its social media manager Veronica McGregor (@VeronicaMcG), communicates with Twitterverse on behalf of the rover.
According to online news site
TechNewsDaily.com
, the three women behind @MarsCuriosity should be referred to as SHE.
The Twitter account was meant to reach the public, especially space enthusiasts, and raise awareness on the importance of space explorations like this, McGregor said in an interview with TechNewsDaily.com.
This project proved to be successful.
McGregor said she started tweeting on behalf of "Curiosity's" predecessor "Phoenix Lander" since 2008. — With Agence France-Presse /VS, GMA News