Neck-deep floods force Marikina, QC residents to evacuate, flee to rooftops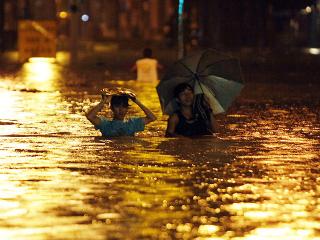 Heavy flooding in QC renders many roads submerged. People wade in chest-deep flood along Araneta Avenue in Quezon City early Tuesday morning as heavy rains continue to submerge many parts of Metro Manila and nearby provinces. Classes in all private and public school levels in the NCR and nearby provinces have been suspended. GMA News
(Updated 10:05 a.m.) - More than 700 families from Bgy. Bagong Silangan in Marikina were forced into evacuation centers, while residents of Bgy. Kristong Hari in Quezon City had to flee to their rooftops as incessant torrential rains inundated many parts of Metro Manila on Tuesday.
Ivan Mayrina reported on the GMA-7 program Unang Hirit that 763 families crowded into Bgy Bagong Silangan's covered courts due to mandatory evacuation in the area.
Because of the floods, the local government had to open four classrooms at the Bagong Silangan Elementary School, and has converted the community church and public market into additional evacuation centers.
The barangay was one of the worst affected areas due to its proximity to the Marikina River, where the water level has reached more than 19.3 meters as of 8:55 am.
Residents have described the water level as "abot bewang" or waist-high, and have also reported that the local foot bridge is now underwater.
Due to the rush in evacuating residents, most of them were unable to bring basic necessities and have asked for food, clothing, and beds.

Quezon City
Meanwhile, Unang Hirit also received a call for help from residents of Barangay Kristong Hari.
"Lubog po ang mga bahay!" cried one resident, Marivic Buenafe, on television. "Dito po kami, nasa taas [on the roof]."
An unidentified male resident added that the area often gets flooded, but this was the worst they had ever experienced. "Pinakamalala," he said.
GMA News Online received a similar report from Anne Hermosa Siping, a resident of Barangay Dona Imelda in Quezon City. She said residents were also forced to seek higher ground, mainly on the roofs of their houses.
Meanwhile, around 30 people remain stranded on rooftops as floodwaters continued to rise in Roxas District, Quezon City, GMA's Unang Hirit reported.
While local authorities have advised evacuation in low-lying areas as early as Monday evening, some people continued to remain in their homes but they are now asking for help and immediate evacuation.
Residents are also asking Meralco to cut power, particularly along Gumamela Street, as houses are now underwater. The bridge from E. Rodriguez Avenue on the way to St. Lukes Medical Center is also underwater.
–Adrian Dy and Patricia Denise Chiu, KG/YA, GMA News