PAL, Cebu Pacific, Airphil allow clients to rebook flights without penalties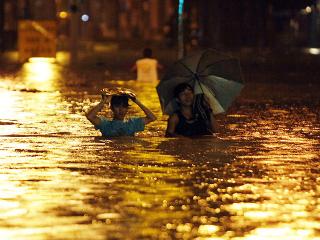 Heavy flooding in QC renders many roads submerged. People wade in chest-deep flood along Araneta Avenue in Quezon City early Tuesday morning as heavy rains continue to submerge many parts of Metro Manila and nearby provinces. Classes in all private and public school levels in the NCR and nearby provinces have been suspended. GMA News
Philippine Airlines (PAL), Cebu Pacific, and Airphil Express announced on Tuesday that they are allowing the rebooking of flights without any penalties due to the heavy monsoon rains that have inundated many parts of metro Manila.
Despite the persistent torrential downpour and floods, however, all three airlines announced that they will continue with scheduled flights on Tuesday, but with possible delays and last-minute cancellations.
In an announcement on its
Facebook account, PAL
said: "PAL will waive rebooking fees of passengers unable to take their flights due to floods today (August 7, 2012). However, rebooking is subject to fare and booking class seat availability."
A similar announcement was made on its official Twitter account (@flyPAL).
Meanwhile,
Cebu Pacific said on its official Facebook
account, "Your safety is our priority. If you have a CEB flight today, but you're not able to head to airport because of flooding or rains in your area, you may take your CEB flight on another day."
On its official Twitter account (@CebuPacificAir), the airline added: "You have the option to rebook your flight up to 30 days from original flight date or store in Travel Fund without penalties."
Both airlines noted, however, that the option to rebook without penalties is only applicable to flights scheduled on Tuesday, August 7.
Inquiries regarding the rebooking of PAL flights may be made at (02) 855-8888, and for Cebu Pacific flights (02) 7020-888.
Meanwhile, Airphil Express said: "Rebooking fees will be waived for passengers departing out of Manila and Clark who are unable to make it to their flights due to floods." However, rebooking is still subject to fare and booking seat availability.
Flights to continue as scheduled
In an advisory, Cebu Pacific announced that while flights remain on schedule, "weather-related cancellations or delays may occur at the last minute."
Airphil Express also issued the following statement: "As of 10:00 a.m. today, scheduled flights of Airphil Express (except those cancelled as of yesterday) will push through, but flight delays are expected."
The
status of PAL flights may be checked here
while the
status of Cebu Pacific flights may be verified here
. -
Kimberly Jane Tan and Marc Jayson Cayabyab/BM/YA, GMA News