'Unprecedented' heavy rain to continue until Thursday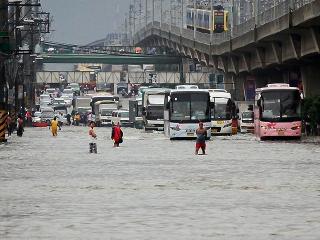 Buses charge into flooded EDSA in QC. Public utility buses try to navigate through a flooded portion of EDSA near Roosevelt Avenue in Quezon City on Tuesday. Many roads in Metro Manila remain submerged as rains continue to affect most parts of Luzon. Eddxer Valenzuela via YouScoop
It's a flood without a name.

Unlike 2009's Ondoy, the deluge of August 7 was not accompanied by a storm, hence the absence of a common handle for a flood that easily recalled its infamous predecessor.

The disaster is far from over, as forecasters say Metro Manila and other parts of Luzon will continue to experience heavy rain until Thursday. The southwest monsoon is being enhanced by a tropical storm near Taiwan.
In a briefing on Tuesday, GMA News' resident meteorologist Nathaniel Cruz said the amount of rainfall dumped by the southwest monsoon is "unprecedented" since no cyclones have been spotted within the Philippine area of responsibility.
Cruz said that based on data from PAGASA (Philippine Atmospheric Geophysical and Astronomical Services Administration), the southwest monsoon has already poured 323.4 millimeters of rain during the past 24 hours — more than half the average rainfall of 504 millimeters for the entire month of August.
"We need to re-analyze what happened. As far as I am concerned, hindi pa ito nangyayari before na purely southwest monsoon lang ang nagpaulan ng ganito karami," he said.

Cruz added that this figure is still below the amount of rainfall brought by Tropical Storm Ondoy as recorded by PAGASA in September 2009.

The weather disturbance poured 455 millimeters of rain over Metro Manila and nearby provinces from 8 a.m. on Sept. 26, 2009 to 8 a.m. the following day.
PAGASA said heavy rains experienced over much of Luzon, including Metro Manila, were caused by the southwest monsoon
enhanced
by Tropical Storm Haikui located 300 kilometers northeast of Taiwan.
The intense rainfall has caused
neck-deep floods
in parts of Quezon City and forced many families to flee their homes.
'Antecedent condition'
Cruz likewise explained that the amount of rain brought by Typhoon Gener, which hit Luzon last week, served as an "antecedent condition" for the southwest monsoon to cause heavy flooding in Metro Manila and other parts of Luzon.
"'Yung sinimulan ni Gener, tinatapos ni Haikui. Kaya kahit walang legitimate weather system sa Philippine area of responsibility, patuloy ang pag-ulan," he said.
He added that while the expected average rainfall for Tuesday night will only be within the normal rate of 4 millimeters per hour, problems with drainage systems and land use may still amplify the effects of the southwest monsoon.
In its bulletin posted at 1 p.m. Monday, the National Disaster Risk Reduction and Management Council (NDRRMC) said over 8,000 people have already been affected by the nonstop rains caused by the southwest monsoon in four regions of the country.
President Benigno Aquino III has assured the public that the government is
exerting its "maximum effort"
to help those affected by the torrential rains.
— RSJ/HS, GMA News