Slideshow
:

Metro Manila's flood without a name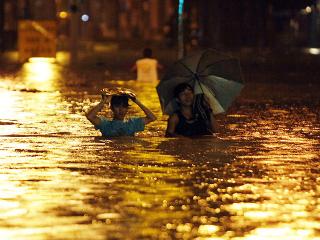 Heavy flooding in QC renders many roads submerged. People wade in chest-deep flood along Araneta Avenue in Quezon City early Tuesday morning as heavy rains continue to submerge many parts of Metro Manila and nearby provinces. Classes in all private and public school levels in the NCR and nearby provinces have been suspended. GMA News

University of Santo Tomas grounds on Tuesday, as photographed by Fr. Dexter Austria
It is Luzon's worst flood since Ondoy nearly three years ago. But the huge volume is unique for a rainfall unaccompanied by a typhoon, thus the disaster still has no commonly used handle.

So what to call this deluge? Ondoy 2 doesn't speak to its abnormality. Its TV branding, "Hagupit ng Habagat," is unwieldy for this space. In the meantime, some stories about the disaster have been tagged "nameless flood" in this site's content management system. It's not over yet, as forecasters see the rain continuing until Thursday. Years from now, victims will surely have a name for it.
As of Tuesday afternoon, the August 7 downpour had dumped over 323 millimeters of rain on Metro Manila, more than half the normal rainfall for the entire month of August.
Photos of the dramatic day also rained on GMA News Online from many sources, including victims, YouScoopers, and intrepid professionals like Danny Pata who risk their safety to deliver the drama to your computer screens. -- Howie Severino, curated by Roehl Niño Bautista, GMA News