Survival tips: what to do before, during, and after the flood
(Updated 5:23 p.m.)
- Even before it starts flooding, it's best to have an emergency kit ready. Pack batteries, a radio, flashlights, ready-to-eat food, drinking water, medicine, as well as clothes in case you need to evacuate. Have a list of
emergency hotlines
and keep this handy.
Wading through floods is not advisable, as this exposes you to Leptospirosis bacteria, which spreads when sewage overflows into the streets during heavy rains.
If you must wade through floods,
wear boots
to avoid cutting or scraping your feet on submerged debris.
There is also the risk of falling, as even just six inches of moving water can make you fall, according to the US Department of Homeland Security's Ready campaign
website
.
"If you have to walk in water, walk where the water is not moving. Use a stick to check the firmness of the ground in front of you," they said.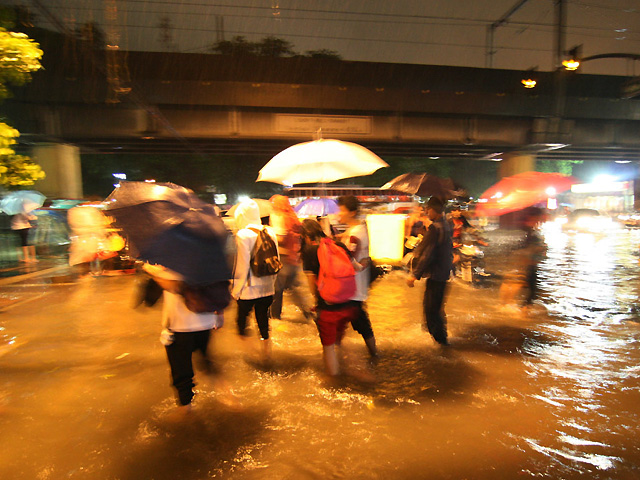 Stranded commuters wade through floods in Metro Manila.
Danny Pata

Cars
When your car is already in floodwater, disconnect the car battery. This will prevent the computer box from getting short-circuited,
Top Gear Philippines said
, citing Concept One Wheels.
For those who aren't able to move their car to higher ground, HP Racing gave these tips:
Remove the car battery.
Remove the computer box.
Remove the head unit.
Spray the alternator with WD-40 and wrap the alternator in plastic.
Cover the tailpipe with plastic, and use a rubber band to seal it tight.
Do the same for the intake manifold.
Spray the sensors from all angles with WD-40.
Top Gear also shared tips from drifter and Car Porn founder Ian King's Twitter account. King advised those using a car with automatic transmission to "shift it to Low (or '1') to keep the engine's revolution up and keep water from entering the exhaust pipe."
Ford Philippines also shared a
Flood Driving Action Guide
based on information from the US Federal Emergency Management Agency and the National Oceanic and Atmospheric Administration.
According to the guide, you should not drive unless absolutely necessary.
"Even if the water appears shallow enough to cross, don't try it. Water hides dips in the road. Worse yet, there may be no road at all under the water. Flooding can scour away the entire road surface and a significant amount of ground beneath," the guide said.
They warned that six inches of water will reach the bottom of most passenger cars, causing loss of control or possible stalling, and one foot of water can already float many vehicles.
"Two feet of rushing water can sweep away most vehicles — including SUVs and pick-ups," the guide added.
"If you have driven through water up to the wheel rims or higher, test your brakes on a clear patch of road at low speed. If they are wet and not stopping the vehicle as they should, dry them by pressing gently on the brake pedal with your left foot while maintaining speed with your right foot," it said.
For cars that have already been submerged in floodwater up to any part of its electrical system, car owners should not turn on the car's ignition, Volvo Philippines said.
They also advised car owners to bring their vehicle to authorized service centers after driving through deep water. "If your car has stalled while traversing deep water, do not attempt to restart the vehicle as this may result in service damage to engine components,"
they said
.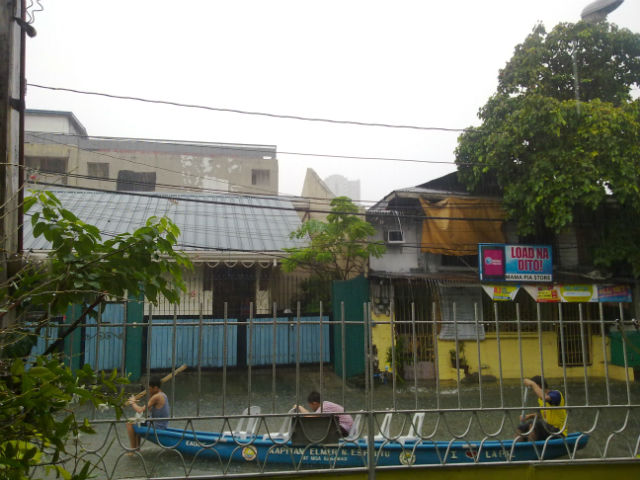 Wading through floods is not advisable. In Barangay La Paz in Makati, residents use a boat to get through flooded streets.

Household cleaning
Dirty pages can be cleaned with running water, or rinsed in a basin. Paper towels or blotting paper can be placed in between pages to help dry the books.
The Department of Health advised residents in areas affected by flooding to
make sure their drinking water is clean and purified
. DOH Secretary Enrique Ona said that "clear" water could still be contaminated. "Purifying it by boiling or disinfection will make it potable," he said in a previous report.
Open windows and doors to remove excess moisture. Dehumidifiers and fans can also help.
Make sure you wear rubber boots when drying out your house.
Keep children and pets away from the affected area.
Use hot water and detergent for cleaning hard surfaces, as well as clothes contaminated by flood water or sewage water.
Throw items that cannot be washed and disinfected.
Wet cellphones
For wet cellphones, Popular Mechanics said the first step is to remove the battery and SIM card. Then you can dry the phone by blowing or sucking the water out.
You can also submerge the phone in a bowl of silica gel packets, or a bowl of dry rice. Do not use a hairdryer or put the phone in the microwave.
"If your phone gets soaked in salt water, you should probably flush the whole thing in fresh water before it dries. When salt water evaporates, it leaves crystals that can damage a phone's fragile components. Just be sure to remove the battery before flooding the device,"
they said
.
–KG, GMA News