Full-Court Press
:

Defining the PBA Governors' Cup Finals
It needed to go seven games, but the Rain or Shine Elasto Painters have finally claimed their first championship in franchise history, toppling the B-MEG Llamados with a big-time 83-76 win last August 5.
The Painters lifting the trophy was a satisfying ending to a season that saw three different teams claim a championship, but how does one capture the essence of a full conference? We found five keen basketball minds willing to give it a try, asking them to describe five aspects of the recently-concluded 2012 Governors' Cup Finals.
1. Rain or Shine is…
Mico Halili, The Final Score columnist, PBA anchor:
Surprising. They defied mainstream expectations. No one expected this team, first of all, to dominate the elimination round, no one expected them to survive the semifinal round, and no one expected them go 3-1 in the series. And when they squandered their 3-1 lead, no one expected them to survive Game Seven. So this whole series was about [them] defying expectations.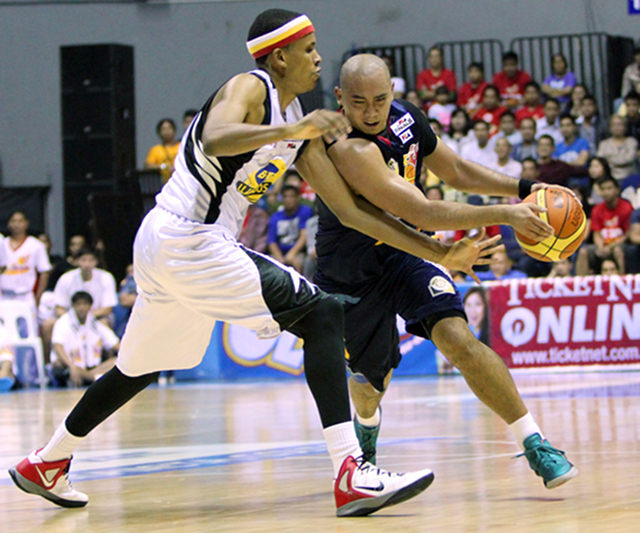 Despite playing without Rookie of the Year Paul Lee (right), the Rain or Shine Elasto Painters overcame the odds to win their first title. Nuki Sabio
Magoo Marjon, PBA anchor, FTW panelist:
Going to be a force to reckon with. The youngest team in terms of average age proved to everybody that a "small (but proud) franchise" can run with the best of them by steamrolling through the elimination round almost unblemished. It's been a long time coming for this franchise as they built their squad from the ground up. And in the process, getting it done "the right way" was proven to equal success on this level as long as great resolve is embedded in their patience. As a basketball junkie, I can't be any happier for team owners Raymund Yu and Terry Que.
Carlo Pamintuan, GMA News Online writer, FTW panelist:
An over-achieving team. Nobody expected them to get this far. I don't think they have a single max-contract player there, but to win against a powerhouse in B-MEG, that's just amazing.
Renee Fopalan, GMA News Online PBA writer:
Fearless. The Elasto Painters went into the series with no championship experience, yet they appeared more calm and composed than their counterparts, who won the Commissioner's Cup trophy just months before. They bumped, pushed, and even tackled the opposition, getting inside the minds of the Llamados. They believed in their bad boy brand of basketball when nobody else did.
Jen Reyes, FTW panelist:
Unexpected. At the start of the season no one expected them to be champions but since
pumasok na sila sa
Finals and they won the championship, you can say that they're a legit team. [In the] next conferences and next seasons, siguro masasabi na natin na pambato ang Rain or Shine.
2. B-MEG is…
Halili:
Talented. They're talented because they still cannot run the system Tim [Cone] wants. The players know this, Tim [Cone] knows this. [But] they've been blessed with enough talent to allow them to win games. Not to say that's a bad thing; that's a great thing because you can just imagine just how great B-MEG will be next season, once they have more time to learn Tim's system, once they have more time to really figure out how Tim Cone's system will work with the kind of players that they have. Next season they'll be even better.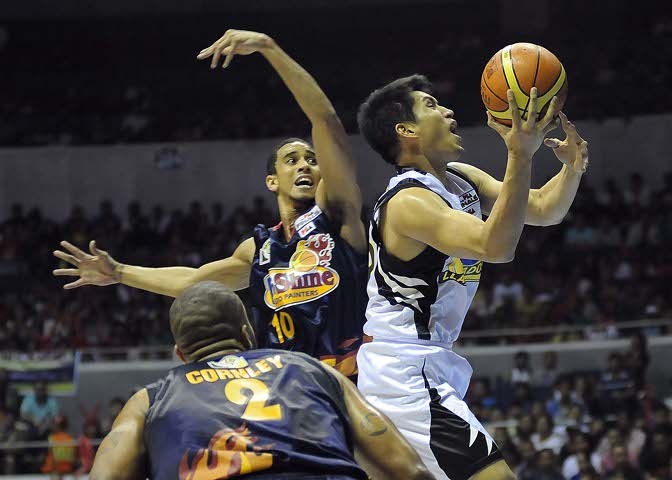 B-MEG was successful, despite still not being 100 percent committed to the Triangle Offense of coach Tim Cone.
KC Cruz
Marjon:
Not done. This past season saw them climb back as a consistent powerhouse. They topped the elimination round of the All-Filipino Cup, conquered the Commissioner's Cup (and in the most dramatic of ways if I may say), and came up just 48 minutes away from another title in the last conference, without completely understanding Coach Tim Cone's system. With a year in and a full offseason to work on it, this is a team that will have a target on their backs every night they take to the floor, but will always have a fighting chance as long as guys like James Yap, Marc Pingris and PJ Simon continue to sport their colors.
Pamintuan:
Still trying to see what team it really wants to be. I think after a year of coach Tim Cone, the old system of James Yap doing whatever he wants, versus the Triangle Offense, is still imbalanced. They'll get there. It's their first year, and they have a championship and another Finals appearance, that's not bad.
Fopalan:
Still not finished in building its "dynasty team." When head coach Tim Cone hopped on board, he brought along the triangle to incorporate into B-MEG basketball. But whether due to choice or habit, the Llamados still found themselves leaning on James Yap isolation plays in crucial situations, instead of running the triangle that keeps everybody involved. The ironic thing is, RoS taught them the value of having several options, when they should have already had that with their triangle offense.
Reyes:
The new powerhouse. We're used to Talk 'N Text and Petron, and now it's B-MEG, especially when you have Tim Cone, who's there to tell the guys what to do and set up everything.
3. James Yap is…
Halili:
One of the best players in the Philippines. He's a combination of everything you want in a franchise player: talent, marketability, charisma, sense of humor. I think his interview skills are underrated. He gives great answers to interview questions even if he maybe doesn't say it in straight English. He gives great, honest, candid answers. He handles his fame well and honestly, I know people who are close to James, and they have nothing but great things to say about James Yap.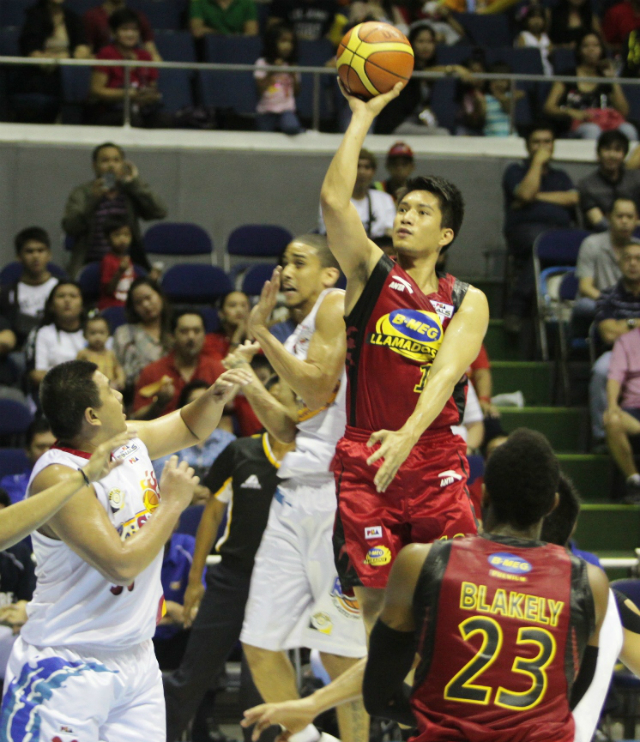 Despite some rough shooting nights, Yap was still "Big Game James" when his team needed it.
Jeff Venancio
Marjon:
Going to be back with a vengeance. Coming off a Finals MVP performance, Yap grasped for form in the season-ending tournament as he battled through with an ailing back. But he still found a way to turn up his shooting and put on spectacular displays when the championship round came. With "Big Game" playing sub-par ball (for his standards at least) and still getting heavy consideration for season MVP, it should be interesting to see how he returns after getting a couple of months to rest his back.
Pamintuan:
Still one of the most dangerous scorers in the PBA. His averages might be a little lower this year but he'll be better once he gets more acclimatized to Tim Cone's system.
Fopalan:
Human. "Big Game" had 20+ points in five out of seven games, including a 23-point performance in game seven, but Yap's last basket came with 4:40 left in the winner-take-all battle. B-MEG would only score once more, while Rain or Shine had six points to seal the win. Yap missed crucial baskets in the end game. With Blakely out and no other local picking up the cudgels, B-MEG's main man failed to deliver when it mattered most.
Reyes:
The love of my life. No, haha, he's the star
talaga
in the PBA. And in the Finals you can see
ang dami niyang ginawa, at siya talaga ang bumuhat sa
B-MEG,
kahit
undermanned
sila, [dahil] wala si
Blakely, he did everything for them. So he's the star and he's "Big Game James."
4. Coach Yeng Guiao is…
Halili:
Intimidating. Because I am genuinely intimidated by that man! He's intimidating because you don't know what he'll say or what he'll do to win a game. You don't know how he'll motivate his players. It's so easy to say, 'ah he'll just curse them out,' but sometimes he'll use silent treatment, sometimes he'll shout at opposing players, so you just don't know what he'll do. If I could ask God for two things, one, give me height so I can play in the PBA, and two, don't make me play under Coach Yeng [Guiao].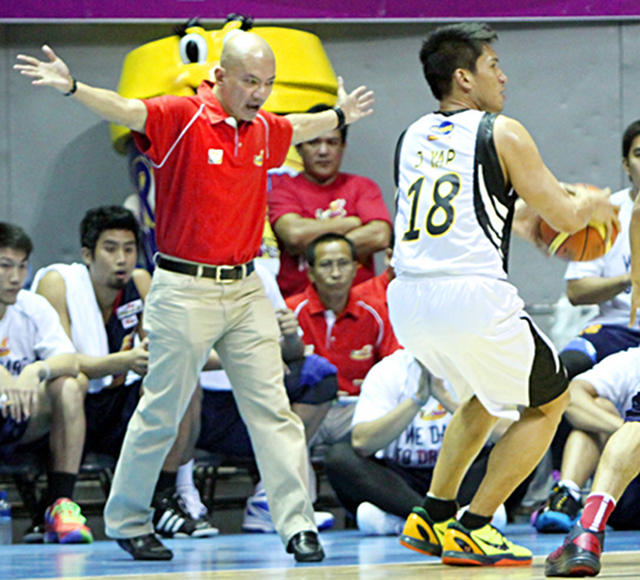 Rain or Shine mentor Yeng Guiao will do almost anything to win, including yelling at opposing players. Nuki Sabio
Marjon:
Truly a master tactician, if and when he gets to pull the strings. Coach Guiao's system is one that is built to endure (case in point: winning without Paul Lee in the last 5 games of the Governors' Cup). They call him the master of reinforced conferences but we have to remember they also almost made the Finals of the All-Filipino Cup with the same inexperienced line-up. Getting back on top for the sixth time is a testament to Guiao's confidence in how he runs things and if his management continues to back him up, this may just be the start of their climb to prominence.
Pamintuan:
A tremendous motivator. If there is one coach who can get the best out of his players, it's Yeng Guiao. Tim Cone is successful, because he had great players. You can't say the same for Yeng Guiao. Even with Red Bull, even with the Sunkist teams, and right now with Rain or Shine, they didn't have the best players, but he still gets every bit of talent from those guys.
Fopalan:
A genius. Guiao led a rag-tag group of individuals who embodied his system. His tough love approach works well on his players, as he balances it out with much confidence in them. Nothing else proves Guiao's genius more than the coach's decision to put the seldomly-used Chito Jaime on a hot James Yap in game seven. Jaime and Yap then got into a scuffle after the latter was caught retaliating after an Ibanes elbow with a punch to the ribs. Little things like that pay big dividends for Guiao, who instigated mind games to throw Yap out of his comfort zone.
Reyes:
The champion coach. He's the coach of the year and
mas maraming
Finals appearances
ang makikita natin sa
Rain or Shine, especially when you have Coach Yeng. And he promised
sa
management
ng
Rain or Shine
na after ilan
years, he's going to get the championship. S
abi niya
, "Give me three years," and finally he got it, so congrats. He's the new Chot Reyes, haha,
loko lang
! (Editor's note: Jen Reyes' uncle is Chot Reyes)
5. The 2012 Governors' Cup Finals series was...
Halili:
Filled with unexpected moments. Did not expect Paul Lee to go out that way; I was expecting him to finish the season and lead Rain or Shine to a championship and that did not happen. Did not expect Rain or Shine to regroup after Games 5 and 6; I thought they would just fold and succumb to inexperience and lack of composure, lack of not knowing what to do in Game 7. I actually did not expect that much contact. I knew Rain or Shine was a physical team. I knew B-MEG could be physical if they wanted to, I didn't expect that it would escalate that way…not that I'm complaining. I think the fans loved it. Did not expect this series to go seven games, did not expect it would produce the amount of drama it created.
Marjon:
The perfect way to end the season. On one hand, you had B-MEG who had just dethroned powerhouse Talk 'N Text the conference before, going up against the inexperienced RoS crew. Then the first-time Finalists served notice right from the get-go, turning numerous heads as they took the opener with steady execution and confidence oozing out of their being. They shocked even more pundits after taking that 3-1 series lead and captured the imagination of many after they did this without prized rookie Paul Lee. B-MEG showed everybody what championship pride was all about by forcing sudden-death but it was RoS who earned the respect and admiration of legions more by showing their resolve to finally bag it in the end.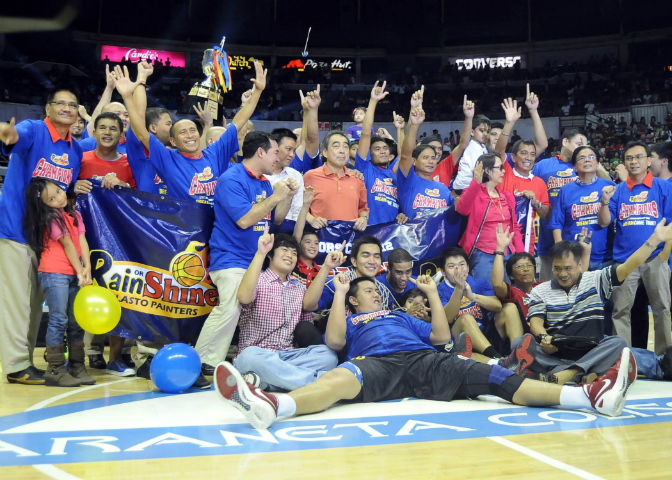 The Elasto Painters celebrate their first title.
KC Cruz
Pamintuan:
Unpredictable. Who could have thought that Rain or Shine would win and win without Paul Lee? And to be up 3-1 with B-MEG, winning the next two to tie? It was a really good story, good for the PBA, and good for Philippine basketball.
Fopalan:
Proof that the PBA is evolving. With the absence of Paul Lee, there was no clear go-to-guy for RoS, but their "take the shot when you're open, whoever you are" policy worked well for their squad. Unlike the other bigger, more popular franchises, the Elasto Painters had no James Yap or Mark Caguioa. They didn't have Gary David or Alex Cabagnot either, but it didn't matter. They had Jireh Ibanes, Ryan Arana, TY Tang, JR Quinahan, and Beau Belga. And for Guiao and the Rain or Shine fans, they were more than enough.
Reyes:
Exciting. It was really tight and alam
natin
fan favorite
ang
B-MEG and
medjo
underdog ang Rain or Shine,
pero
once nanalo
na ang
Rain or Shine and all,
lahat ng mga fans nina
Paul Lee, Jeff Chan,
naging parang pang-masa na sila
. It was really physical, as the refs just let go of everything, and it was another good season, so congrats to Commissioner Chito Salud and to both teams.
- AMD, GMA News