Over 50 homes destroyed in fire in Ormoc City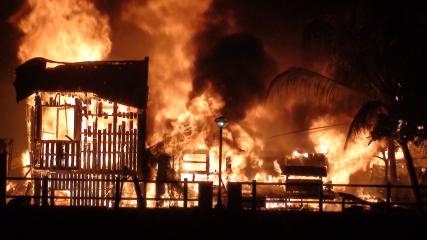 Fire in Ormoc reduces over 50 homes to ashes. At least 50 homes in Ormoc City go up in flames in a fire that took over three hours to place under control Friday evening. GMA News
Fire destroyed at least 50 homes in Ormoc City Friday evening. The dwellings were reduced to ashes in a blaze that took over three hours to put under control. No one died or was reported injured.

Firefighters still had not snuffed the fire out as of 11 p.m. Investigators said they have yet to determine its cause.

The victims have sought temporary shelter at a neighborhood covered court. Their homes were made of light materials.
The Bureau of Fire Protection in Ormoc City is assessing the cost of the damage to property. — ELR, GMA News