Sining PSE topbills national artists as judges
The Philippine Stock Exchange (PSE), in partnership with the PSE Foundation, has gathered national artists in its first ever national art contest dubbed Sining PSE: "Nagkakaisang Pilipino Para sa Maunlad at Masigasig na Kalakalan" (United Filipino People for Progressive and Active Trade).
This competition, which is the first of its kind, has become more prestigious because of the chairmen of the board of judges. No less than National Artists Hon. Benedicto Cabrera (BenCab) and Hon. Abdulmari Imao are leading the board of judges for the Painting and Sculpture categories.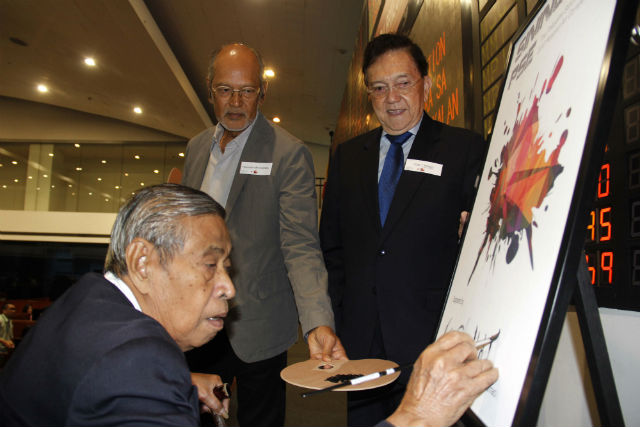 National Artists Hon. Benedicto Cabrera (BenCab) and Hon. Abdulmari Imao at the Sining PSE launch
Sining PSE, which was launched in June, forms part of the activities lined up by the PSE to celebrate its 20th Anniversary. This is in celebration of the year's milestones, which include the Exchange's incorporation, the unification of the former Manila and Makati stock exchanges and the first general membership meeting of the PSE.
Sining PSE is the first competition in the country where a company involved in currency and equities is investing in the creativity of the Filipino people through a nationwide art contest. The competition will also capitalize on budding Filipino talents that could emerge as the next
Philippine master.
For the painting category, judges will be looking at entries sized 3 ft x 4ft, all original works that reflect the best of visual impact and the artist's technique. The sculpture category, meanwhile, should be a free-standing work that is at least 1 foot in size, including base. This
will be judged according to overall impact and the creative use of material, which may include resin, fiberglass, metal, wood of properly fired clay.
"Through this art competition, we hope to portray and showcase how working together can produce positive results towards development of business, livelihood and trade," PSE Chairman Jose T. Pardo said.

Winning entries will be based on originality of the work, overall impact or message and the rendition or use of material. Deadline for the submission of entries is on October 1, 2012. Regional entries sent to the Project Secretariat care of Studio 5 Designs via standard registered package or courier must be postmarked October 1, 2012.
For complete details on the contest rules and mechanics, kindly visit the PSE
website
or
Facebook page
or call the Project Secretariat's office c/o Studio 5 Designs at 8953971/75.
Press release and photo from the Philippine Stock Exchange