Solons want disaster preparedness taught in schools, 'flood summit'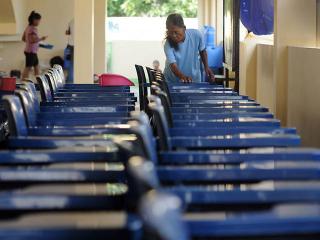 Back to school after the floods. School personnel tidy up classrooms in Malabon City as most students in Metro Manila prepare to troop back to their schools after the floods and monsoon rains. Danny Pata
Lawmakers on Sunday proposed various ways to better prepare the Philippines for future flooding incidents, including the inclusion of a mandatory course on disaster preparedness in the curriculum of elementary and secondary schools in the country.
Aurora Rep. Juan Edgardo Angara said the teaching of disaster awareness and mitigation in schools, which he proposed under House Bill 460, is "a step in the right direction" to minimize the loss of lives and property damage during natural disasters.
"It's about time that we become anticipatory, not just reactionary in preparing for disasters," the congressman said in a statement.
The lawmaker made this statement after torrential rains caused by an enhanced southwest monsoon caused heavy flooding in Metro Manila and other parts of Luzon.
The monsoon floods have already claimed the lives of 85 persons, based on
latest data
from the National Disaster Risk Reduction and Management Council (NDRRMC).
'Flood summit'
Quezon City Rep. Winston Castelo meanwhile urged President Benigno Aquino III to immediately convene a "flood summit" to map out a "coherent and workable" flood control program.
Castelo said the summit should include national and local officials, lawmakers, and representatives from the private sector and civil society groups.
"We have to admit that this is the age of disasters, both natural and man-made… A flood control program could minimize death and injuries for our people and losses to crops and property," he said in a separate statement.
Calamity funds for public schools
Angara also proposed the allocation of calamity funds to public schools which serve as evacuation centers during disasters.
The Aurora congressman said the government should augment public schools' funds for maintenance and other operating expenses because they shoulder the cost of temporarily housing evacuees.
"What is happening today is that after typhoon evacuees have left the school, the latter is left with utility bills to pay, trash to be collected, and rooms and toilets to be cleaned," he said.
He likewise said that the government should allow public schools to reimburse the expenses incurred after serving as evacuation centers.
Angara added that these reimbursements should come from the P7.5 billion the government allocated for calamity funds this year.
- BM, GMA News