Two floods, three years apart: Filipino resilience is now a tiresome cliché
Monday night last week, I arrived home to see my family all bunched up in the living room and worried sick over me. As usual, I had no idea what was going on since I haven't been reading or listening to the news. Apparently, there were reports of
flooding
all over the metro, including Makati, where I just came from a whole day shoot.
Drying my soaked shoes on the rug, I looked at my family's serious faces and I knew memories of Ondoy had begun to haunt them again.
One of my brothers was shivering slightly, his head bowed. He looked resigned to the inevitable. We live just a few blocks from the Manggahan Floodway so it was just a matter of time before disaster struck again.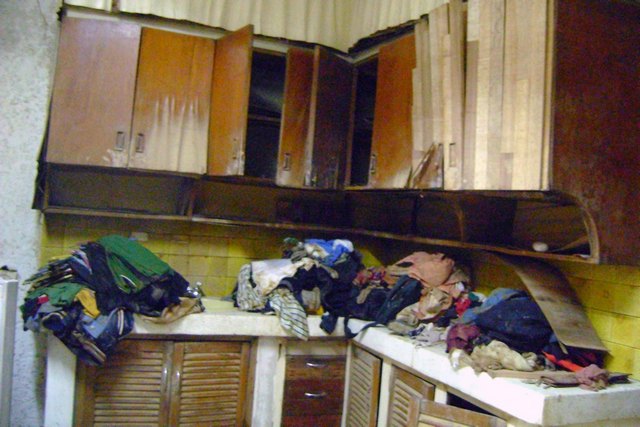 Broken shelves and muddy clothes. What has become of our house after the flood caused by Ondoy subsided.
Photos by Alina Co

From ankle to chest-deep
It has been three years since Ondoy forced my family to swim across a neighbor's house and climb up its second floor. Sure, we've had our share of floods before, but most of them rose only up to knee level.
So earlier that day on September 26, 2009, when the water started rising at around 11 a.m., they merely placed our valuables on the top shelves, the usual routine. They weren't prepared, though, for what was about to come next: in a matter of 20, 30 minutes, the water rose from ankle-deep to chest level.
By this time, it was too late to salvage anything, including food. With only their clothes on their back, they knocked on the door of a Muslim family whom we barely spoke with. Small and cramped though their apartment was, they did not think twice about letting them in.
The first one to be evacuated was my two-year-old niece, then my 66-year-old mom. The last one who swam to safety was my youngest brother, who swallowed some of the brownest, muddiest water you can ever imagine. Before they could settle down at the shelter, the water had submerged our bungalow. All that they could see were the rooftops. It stayed that way for two days.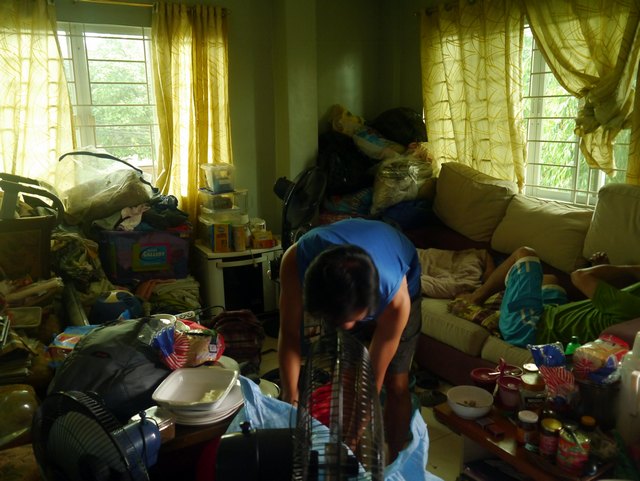 Upstairs, our family's evacuation center during the habagat flood of August 2012

Two floods in three years
I wasn't home when this happened. My sister and I were safe, stranded in a school in Quezon City. Some people say this is a good thing—we were spared of the trauma.
Still, it was a scary experience. By the second day, we could no longer contact our folks by mobile phone. Were they safe? Were they dry? Did they have food to eat, water to drink? What about our home? Would it still be livable when the flood subsided? My sister and I cried in each other's arms. The tears we shed must have been enough to start a mini-flood of our own.
Last Tuesday though, our family was complete and this time, we were more prepared. You see, we managed to build a new, two-story house in place of the Ondoy-ravaged one.
In our new house, we knew we would be safe. Piece by piece, we moved all our stuff upstairs.
And the Muslim family I was telling you about? After Ondoy, they left our village for a few months. When they came back, they occupied, of all places, a rented bungalow.
Tables were turned when they knocked on our door this time. Of course, we were happy to return the favor.
Unlike during Ondoy, when the water rose without warning, this
nameless deluge
moved at a glacial pace. By Tuesday afternoon, our ground floor was quite dry. It was only by midnight when the water started seeping in. At the height of the floods, the water downstairs was below knee level.
Family bonding
Despite being confined in the dark, cramped, second floor all piled up with furniture and stuff, we felt lucky.
We hung out in the balcony with the murky sea below us. We bonded as we have never done so for a long, long time. Normally, as young adults, we have come to go our own separate ways. Suddenly, there we were thrown together. Once again, we were eating together the food that we prepared together, sleeping together, praying together, remembering our shared youth, cracking old jokes.
We shared our food with our neighbors who occupied two of our bedrooms. They ate dinner only for it happened to be Ramadan season and they were on a fast. We were careful to serve them meals without pork.
Constantly, we were thankful we were safe. We listened to the news reports in the radio about
less fortunate kababayans
. Some drowned, some killed in a landslide, countless families evacuated, a few found refuge on their roofs.
My niece, who is almost five years old now, implored the skies, "Sun, sun, come back please!" Tired of that, she spoke to the water instead, "Baha, baha, go away please!" We pleaded with the heavens too, in our own silent way.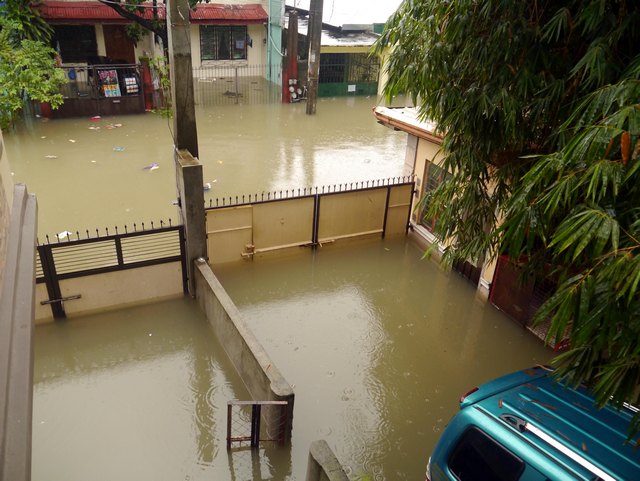 We hung out at the balcony, staring at the open sea below us.

For our families and everyone else
My eldest brother, who is the de facto head of our family, spoke out suddenly, "This will happen again. If not next month, maybe next year. So we just have to be ready every time."
I was bothered. So will we just accept this fact and deal with it year after year?
Can you imagine, in 2030, telling our kids: "It's that time of year again."
I just couldn't accept that.
We can buy all the rubber boats we can afford, be ready with disaster kits, and
be on our toes at the first sign of rain
. We can launch all the campaigns we want, celebrate the Filipino spirit as waterproof, set up the fastest relief operations, make light of the situation by cracking jokes or counting the blessings we have. But does that begin to solve the problem?
It's been three years since
Ondoy
and
Pepeng
, eight months since
Sendong
, and it pains me to think no working plan, except piecemeal measures, has been laid in place to solve this gigantic problem.
It is easy to blame people in government. We pay our taxes and they are supposed to spend the money on facilities and infrastructures that would make us safe and secure, right?
No, we have to take responsibility, too. Have we done our share? Are we dealing with our environment gently enough not to earn its wrath? There's a song that goes: "let there be peace on earth and let it begin with me."
If, like my brother, you feel bowed down, keep your chin up. Stay strong, stay resilient but we must start taking action. Start by taking care of the patch of earth we each occupy. Not only for our own families but for everyone else. –KG/HS, GMA News
It took another flood for the writer to finally come to terms with the problem. She has recently signed up as a volunteer in an environmental NGO.