Filmmaker Carlos Siguion-Reyna turns to zarzuela, directs 'Walang Sugat'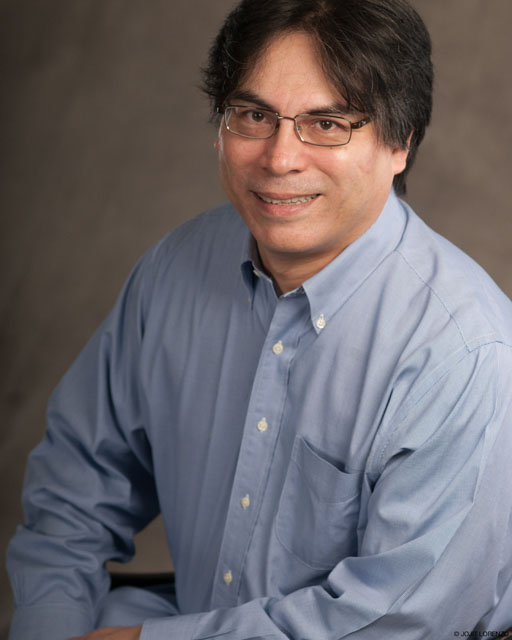 Carlos Siguion-Reyna directs his first zarzuela with his niece playing the lead role. Photos courtesy of Tanghalang Pilipino
Multi-awarded Carlos Siguion-Reyna, famous locally and globally for helming films and teaching graduate film courses at the Singapore campus of New York University's Tisch Asia School of the Arts, makes a giant leap by directing his first zarzuela production, the latest edition of "Walang Sugat" which is Tanghalang Pilipino's 26th season opener for 2012-2013.
In his unprecedented project, the pedigreed Siguion-Reyna is joined by his niece Cris Villonco who plays the lead role of Julia, a woman snared in a web of deceptions, the burden of the love of her life, and the wishes of her parents amid a rising revolution.
In a late evening interview after one of his rehearsals at the Cultural Center of the Philippines' Tanghalang Aurelio V. Tolentino (Little Theater), Siguion-Reyna said he sees no drastic, dramatic divide between directing a film or a stage play or a zarzuela.
"My approach to directing 'Walang Sugat' is basically the same as I would have done with a film project. I want to essentially make sure that the conflicts are visible, the story flows properly, the story points are clarified, and that the story beats and emotional beats of the characters are hit as the story develops," Siguion-Reyna said.
"Walang Sugat," an original zarzuela with a libretto written by Severino Reyes in 1898 and music by Fulgencio Tolentino, is a story about heroism and patriotism inasmuch as it is a love story of Julia and Tenyong.
Siguion-Reyna has won awards for his films: "Azucena" (Grand Jury Award, 2001 San Diego Asian Film Festival), "Kahapon, May Dalawang Bata" (2nd runner-up, People's Choice Awards, 1999 Toronto International Film Festival; Best Foreign Film, 2000 Newport Beach International Film Festival), "Ang Lalaki sa Buhay ni Selya" (Special Jury Prize, Teddy Awards, 1998 Berlin International Film Festival; Best Asian Film, 1998 Newport Beach International Film Festival), and "Aangkinin Ko ang Bukas" (Best Movie for Television, 1996 Singapore International Film Festival).
He has also directed documentaries such as "At All Costs," "Bahay na Pula," and "Payatas: Point Counterpoint."
Siguion-Reyna, however, was careful to point out, in between puffs of a cigarette, that the theater stage is "a bigger or larger canvas" compared with a film screen.

A lot of singing

"Walang Sugat," unlike ordinary films, has a lot of singing by individual characters and by the chorus. For the 2012 edition of "Walang Sugat," UP Prof. Chino Toledo provided musical direction using the scores by composers Fulgencio Tolentino, Constancio de Guzman, and Mike Velarde while retaining its poetic, haunting, but sometimes naughty musical strains that will give the audience a familiar dichotomy between arias and recitatives.
Robust choreography is by Nonoy Froilan, one of the finest male ballet dancers the Philippines has produced and winner of the 2011 Gawad Buhay Lifetime Achievement Awards, the Philstage awards for the performing arts.
UP Prof. Nicanor G. Tiongson, a zarzuela expert, wrote additional text for this year's staging of "Walang Sugat" which was first mounted by TP in the 1990s. Tuxqs Rutaquio designed the set, Ricardo Cruz sketched the costume motif, and Katsch Catoy did the lighting plans.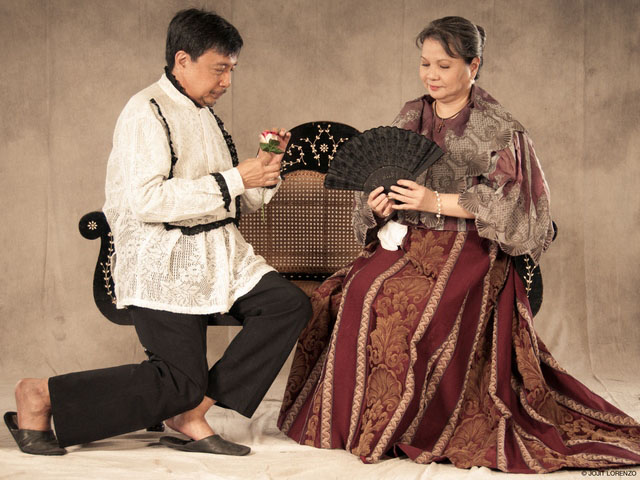 Bodjie Pascua (as Tadeo) and Noemi Manikan-Gomez (as Juana)
Challenging and rewarding
"Although I have learned a lot from directing 'Aawitan Kita,' I am also learning in 'Walang Sugat' to adjust from film to stage directing. I have to focus on zooming in on characters. I find directing 'Walang Sugat,' my first zarzuela project, challenging and rewarding," Siguion-Reyna said.
"Aawitan Kita," a weekly television program which focused on Filipino music such as kundiman and harana, aired in the 1970-1990s and featured Filipino singers trained in classical music.
Armida Siguion-Reyna, his mother, hosted the program, which has now evolved into a monthly show in Makati and sponsored by the Makati City government. It is now called "Aawitan Kita sa Makati."
Siguion-Reyna said he agreed to take on "Walang Sugat" upon the invitation of Fernando C. Josef, TP artistic director, after reading its libretto and listening to its musical score because he had always wanted to direct a full-book musical, an opera, or a zarzuela.
"'Walang Sugat' is a challenging material. It has two strands going on: the love story and the revolution, which are basically two separate stories. The challenge for a director is to integrate the two strands without the love story diminishing the revolution. Integrating the nationalistic plot and the love story plot, without diminishing the other, is challenging for me," Siguion-Reyna said.
"In this zarzuela, I am exploring the idea that people deceive each other or manipulate each other to get what they want, be it for personal gains or for altruistic goals such as for the love of country," he added.
In a separate interview, lead female character Villonco said she has been working with her uncle Carlitos, Siguion-Reyna's nickname, since she was 10 years old in the television shows and drama specials that he had directed, adding they continue to work together in "Aawitan Kita sa Makati."
"I am a bit nervous these days because I've never done a full-length zarzuela or opera. 'Walang Sugat' is so different from the musicals that I've done. It is so different from 'Noli Me Tangere: the Musical' that I did for TP last season," said Villonco, in between breaks during rehearsals.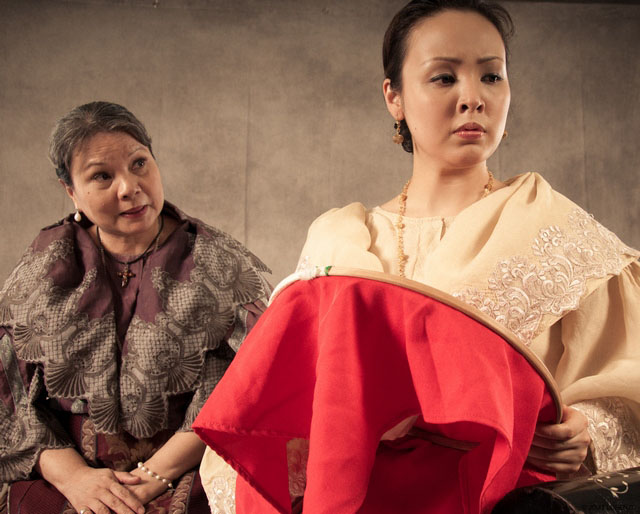 Noemi Manikan-Gomez (Juana) and Cris Villonco (Julia) play mother and daughter.

In "Walang Sugat," the role demands that she experiments with the higher range of her voice. "It is a struggle for me, in this sense," she said.
Villonco won the 2011 Gawad Buhay Award for Outstanding Female Lead Performance in a Musical for her role as Maria Clara in TP's "Noli Me Tangere: the Musical."
Asked whether she has awkward moments in delivering what her uncle wants in "Walang Sugat," Villonco said: "I've said this every time I am asked how it is to work with him. Every time he asks an actor or an actress to do what he wants in a particular scene, he manages to get it out from him or her. He exactly knows how to break down a particular scene or emotion."
Villonco said his uncle and godfather, unknown to many, is a mean piano player and an opera-lover. "He has inherited my grandmother's ear. He is a stickler for excellent music and sound. When he hears something off, he looks at you intently. He has introduced me to certain genres of music and dance that I did not even pay attention to."
Adjusting to different roles and working with different directors with different styles and attacks "are always a big leap," she added. Among her latest projects were Jaime del Mundo's "Shakespeare in Hollywood," Anton Juan's "Joy Luck Club," and Audie Gemora's "Noli Me Tangere: the Musical."
She jokingly said that she regrets being typecast as "the perpetual ingenue or the virginal one" and not given roles such as a slut. "No one will ever see me as bombshell slut. One of my dream roles is just to be one of the character actresses in a teleserye. But there are so many extremely talented people who have the talents for the various roles in teleseryes."
Josef, in a separate interview, said that "'Walang Sugat' is an invigorating reminder that the past helps shape the future and as long as we can love who we are and where we come from, the future is ours to define as we see fit."
He said "Walang Sugat" sums up TP's guiding principles of fusing "what is good, beautiful, and true while believing that theater artists must be prophets who replicate reality but makes a better copy of the truth."
"The theme of truth and consequence is central to 'Walang Sugat.' And this theme is also reflected in all the shows for this TP season, namely 'Walang Kukurap,' 'Stageshow,' and 'Ibalon,'" Josef added.
Villonco partners with Noel Rayos and Antonio Ferrer who alternately plays Tenyong. Julia's mother Juana is Noemi Manikan, Tadeo is alternately essayed by Bodjie Pascua and Lou Veloso, Lukas is either Red Nuestro or Jonathan Tadioan, while Monica is either Jennifer Villegas or Jean Judith Javier.

Other lead cast members are: Gino Ramirez (Miguel), Lou Veloso and Jelson Bay (Padre Teban), Joseph Perez (Pedring), and the TP Actors Company. –KG, GMA News
Due to the cancellation of the August 9 opening night and several performances last week, "Walang Sugat" will open on August 16, 8 p.m., at the CCP Little Theater. Ticket holders may contact Cherry Bong Edralin at 0917-7500107, Lei Celestino at 0915-6072275, and Enzo Marco at 0935-378.4781, or contact the TP office at (02) 832.1125 locals 1620 or 1621. For tickets, call TicketWorld at (02) 891-9999 and 0917-7500107. TP also has a Facebook page.