Sotto to Cabral: Anti-RH stand is based on research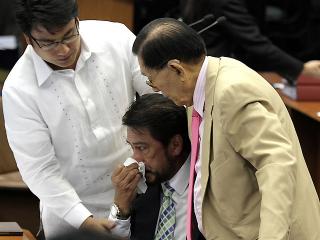 Sotto delivers anti-RH bill speech; gets emotional. Majority Floor Leader Vicente Sotto III is comforted by Senate President Juan Ponce Enrile and Sen. Ramon Revilla Jr. after Sotto became emotional while delivering his privilege speech on the RH bill on Monday. Sotto was in tears as he told the story of his firstborn son who died five months after birth. Joseph Vidal
A day after his impassioned speech against the reproductive health bill, Senate Majority Floor Leader Vicente Sotto III on Tuesday defended his contention about the alleged ill effects of contraceptives and said it was based on research.
"Based on [s]tudies yes those on pills who got pregnant have more abnormal children and lower IQ. From the book 'Greatest experiment ever performed on women' by Barbara Seaman. Tell them to read it. [It's] available on line or order from amazon.com," he said in a text message to reporters, in reaction to critics who expressed doubts about his arguments.
On Monday, Sotto had delivered the first part of his Turno En Contra against the controversial Reproductive Health (RH) bill, putting the
blame
on the death of his infant son to his wife's use of contraceptives 37 years ago.
Former Health Secretary and cardiologist Dr. Esperanza Cabral, however, said Sotto offered scant evidence to prove that the contraceptives were indeed the cause of his son's illness. She also
dared
the senator to release his son's medical records and death certificate.
In response, the senator said in a text message: "If Dr. Cabral is challenging me then I am ready to declare war! Her reaction speaks about her more than about me. Will she lie if she lost a child? Sobra syang callous [and] insensitive."
Sotto will deliver the second part of his Turno En Contra on Wednesday.
Earlier, the senator had said the second part of his speech will show that the RH bill is the work of international groups that have allegedly hatched a "sinister plot" against Third World countries.
- BM/YA, GMA News