Movie review: The stillborn Bourne Legacy
Just to get it out of the way, Jason Bourne (Matt Damon) is nowhere to be found in the fourth entry of his eponymous franchise. Also absent from this installment is director Paul Greengrass ("United 93"), who helmed the previous two entries (Doug Liman directed the first).
"Avengers" and "Hurt Locker" star Jeremy Renner receives top billing this time around, with direction by Tony Gilroy, who has scripted all four of the "Bourne" cinematic adventures. Of course, Renner's introduction to the series notwithstanding, the biggest point of interest for Filipino moviegoers is seeing how their nation's capital is portrayed in the film.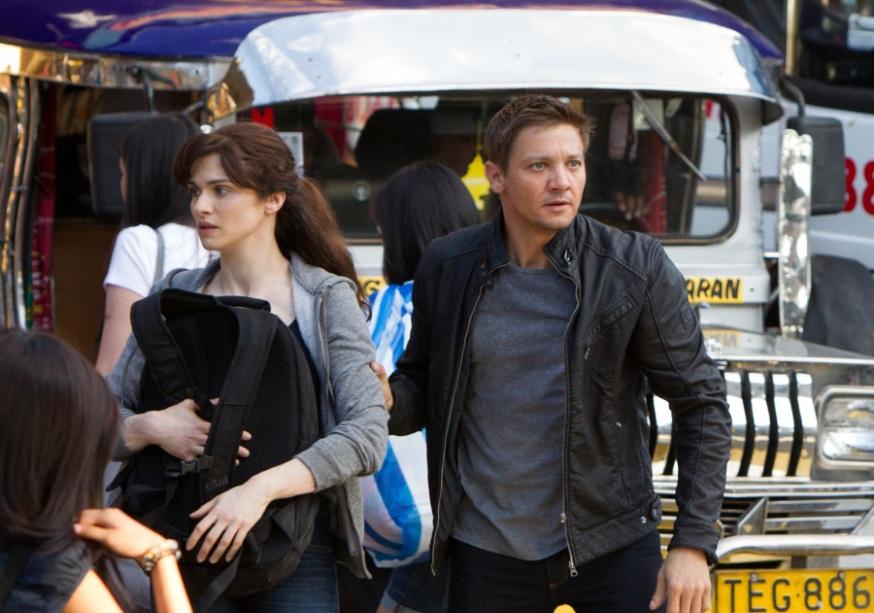 Aaron Cross (Jeremy Renner) and Marta Shearing (Rachel Weisz) evade their pursuers on Manila's busy streets.
"The Bourne Legacy" opens with extended sequences of Renner's Aaron Cross assigned to a remote CIA safe house for a training exercise, displaying snowbound survival tactics that would put Bear Grylls to shame. Cross is subject #5 of Operation Outcome, a top-secret super-soldier program along the lines of Operations Treadstone and Blackbriar, the clandestine organizations that created—and later tried to eliminate—Jason Bourne. Cross's breed of super-soldier differs from Bourne's in that he requires regular doses of designer drugs (administered as pills referred to as "chems" throughout the film) to enhance his strength, reflexes and mental acuity.

When the consequences of "The Bourne Ultimatum" expose Blackbriar and Treadstone's activities to the world, government agent Eric Byer (Edward Norton) decides it's time to eliminate his genetically-altered loose ends. Naturally, Cross manages to prevent his premature demise with the help of a little ingenuity and a lot of aluminum foil. As it turns out, without the intelligence enhancers, Cross has a below-normal IQ, and he desperately wants to keep on thinking the way he does. His quest to retain his mental faculties leads him to Doctor Marta Shearing, played by the ever talented Rachel Weisz (an actor who, after wisely dodging the bullet that was "The Mummy 3," thought that this role was a good idea).
By now, we're 40 minutes in, and what follows is essentially a retread of the first film, with Renner filling in for Damon, and Weisz as a brainier, more beautiful substitute for original love interest Franka Potente ("Run, Lola Run"). The pair plays cat and mouse with their pursuers, including a seemingly-indestructible Thai agent from
yet another
CIA super-soldier program that, conveniently enough, wasn't shut down (a BPO, perhaps?). Eventually, the story takes us to the much ballyhooed final third of the film, set (and famously-shot) in Manila, where Cross' precious pills are manufactured.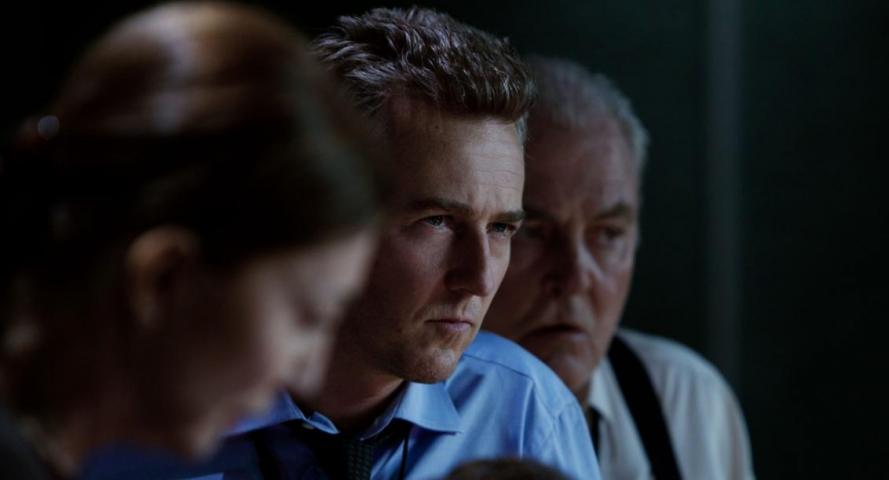 Eric Byer (Edward Norton) will stop at nothing to undo the damage done by Jason Bourne.
Manila residents will chuckle at the liberties taken with their hometown's geography, especially during an extended motorcycle chase sequence, but this reviewer must admit to a sort of visceral thrill at seeing familiar locales in a major Hollywood production. While the Manila portions don't exactly paint a pretty picture of the city as a whole—sticking mostly to the slums—it is worth noting that this is one of the few times Manila has portrayed itself in a foreign film, rather than standing in for, say, Bangkok ("Brokedown Place") or war-torn Saigon ("Missing in Action").
Regardless of what some reviewers have claimed, there is no shortage of fistfights, shootouts and foot/motorcycle/car chases in this film (you just have to get through a tedious amount of repetitive expositional dialogue to get to them). For the most part, these are well-staged, with far less of the excessively-shaky camerawork that characterized "Supremacy" and "Ultimatum." Having proved his action hero cred earlier this year in "The Avengers," Renner acquits himself well with the prerequisite fisticuffs, proving himself to be an adequate substitute in the cinematic super-soldier department.
What the film does lack, however, is a sense of urgency. Where Jason Bourne started out as an amnesiac running for his life while slowly unraveling the threads of his past, Cross isn't anywhere near as interesting or sympathetic a character. He knows who and what he is and, aside from a brief flashback with Norton's Byer, makes no bones about being very good at murdering people. Where Bourne's search for the truth gave his trilogy an emotional component usually absent from films of this type, Cross just wants to avoid being the mouse in "Flowers for Algernon."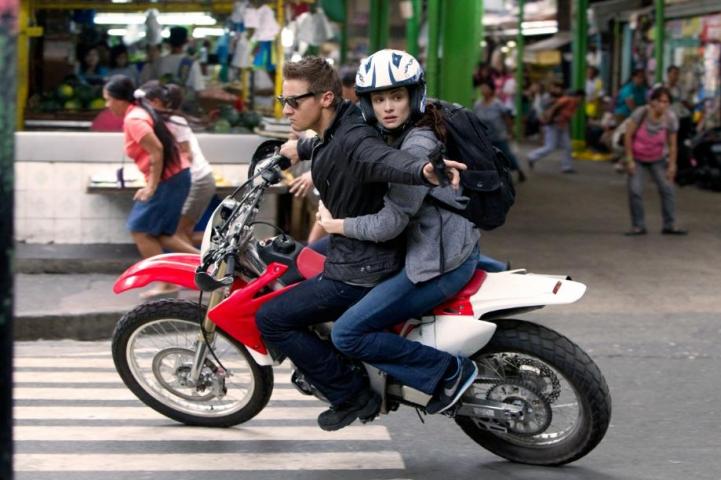 Despite liberties taken with Manila's geography, there is a visceral thrill to seeing the city represented in a major Hollywood motion picture.
Despite a gifted cast doing their best with the material, the single most glaring aspect of "The Bourne Legacy" is how unnecessary it feels, especially given the ending of the previous film (which this one pretty much negates with throwaway dialogue). Adding insult to injury, connections to the previous films are tangential, at best, with efforts at shoehorning Aaron Cross's existence into previously-established continuity being about as subtle as a brick through a plate glass window. Indeed, aside from flashing Damon's picture onscreen and saying his character's name as many times as contrived storytelling will allow in 130 minutes, many sequences in "Legacy" are shown to take place concurrently with those of "Supremacy," complete with a photo of Julia Styles and cameos by previous stars Albert Finney, Joan Allen and David Strathairn.
Long after the novelty of seeing Jeremy Renner weaving through Manila traffic wears off, what people will be talking about is the film's "ending." Put simply, right when things get interesting, it just ends. In an age when franchises rule the box office, there is literally no shortage of examples on how to integrate some semblance of a narrative resolution while priming viewers for the next installment ("The Fellowship of the Ring," "Kill Bill," and "The Empire Strikes Back" come to mind).
As it stands, the abrupt manner in which the film closes had most audience members scratching their heads at the screening this reviewer attended. It's one thing to get people excited for a sequel, and quite another to arbitrarily cut a story in half (which is what this felt like). Given the sheer audacity needed to make such a decision, one can't help but think that maybe the filmmakers should have stopped at three.
With time, this fourth entry may find its place in that limbo reserved for unnecessary sequels that cineastes like to pretend don't exist ("Grease 2" or "The Matrix" sequels, anyone?), but one thing's for sure: Jason Bourne deserves a better legacy than this. –KG, GMA News

Photos courtesy of Universal Pictures