Enrile: Robredo may have been ill-advised in taking small plane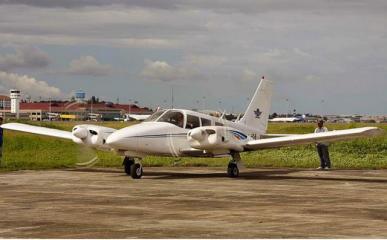 File photo of Piper Seneca plane carrying Robredo that crashed in Masbate. File photo of the Piper Seneca RP-C4431 plane that DILG Sec. Jesse Robredo boarded, which crashed Saturday afternoon in Masbate. A portion of the right wing was recovered Saturday night, with the numbers 431 visible. Courtesy of Aviatour Air
Interior Secretary Jesse Robredo may have been ill-advised in taking a small propeller-driven plane whose route would include bodies of water, Senate President Juan Ponce Enrile said Sunday.
Enrile, who served as Defense Minister under Ferdinand Marcos, said using such a plane is a "no-no," especially over bodies of water at this time of year when the weather is unpredictable.
"I know how it is, you are a member of the Cabinet and you have to do your duties, you travel. What I cannot understand is why he has to use a small plane like that to travel at night. It's a no-no," he said in an interview on dzBB radio.
On Sunday, search operations intensified for Robredo and two others, after a plane they were riding crashed off Masbate Saturday afternoon.
Robredo, aide Senior Inspector Jhun Abrasado, pilot Capt. Jessup Bahinting and Nepalese flight student Kshitiz Chand were aboard the plane.
The plane was en route to Naga from Cebu.
Robredo, Bahinting and Chand remained missing as of Sunday morning.
"I don't know who are his advisers in the DILG but when I was in the Cabinet, I had to travel at night, I had to be sure that I used a plane that is adequate for the purpose... To travel in a propeller-driven small airplane over bodies of water is inadvisable. (And) you cannot predict the weather in this country at this time of year. You can run into foul weather," Enrile said.
"I think it's a lesson that must be learned by people like us who are serving in various capacities in government," he added.
For now, he said he could only pray that Robredo miraculously survives.
He said past experiences had shown that after so many hours and a person is not found, "no human being can swim that long" even if he extricated himself from the plane.
Enrile said one can quickly develop cramps in saltwater, and then face exhaustion and dehydration, "especially if you gulp salt water, (and) you just sink."
"I pray that he's alive, miracles can happen... That is my honest opinion, I hope I'm not misunderstood that I'm unfeeling," he said.
— LBG, GMA News