Robredo's flight plan recovered, may help locate plane –Roxas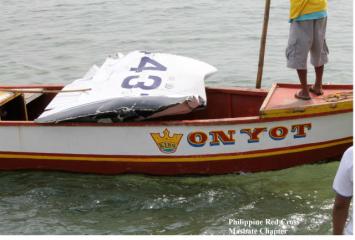 Debris of Piper Seneca plane that carried Robredo. A portion of the right wing of the Piper Seneca plane, which carried DILG Sec. Jesse Robredo and crashed in the waters off Masbate airport, was recovered Saturday night. Courtesy of Red Cross Masbate
Divers managed to recover on Sunday afternoon a copy of the flight plan of the plane carrying Department of Interior and Local Government (DILG) Secretary Jesse Robredo, which crashed off Masbate province Saturday.
Transportation and Communications chief Manuel "Mar" Roxas II said on his Twitter page that the document was found on the seabed at a depth of 150 feet, and is considered the "first more definitive sign of the location" of Robredo's plane.
A flight plan is a document filed by a pilot before the departure of an aircraft containing basic information about the flight such as the number of passengers, and departure and arrival points.
The DILG chief and two of his companions—veteran pilot Jessup Bahinting and co-pilot Kshitiz Chand—remain missing after the four-seater Piper Seneca they were riding
crashed
in the waters off the shoreline of Masbate City at about 5 p.m. Saturday, supposedly due to engine trouble.
Robredo's aide, Jun Abrasado, survived the crash and is currently undergoing neurological observation at a hospital in Masbate.
Portions of the right wing of Robredo's plane were recovered on Sunday morning. The body of the plane, however, has yet to be located by search-and-rescue teams that have been scouring the crash site since Saturday afternoon.
- BM, GMA News