Search operations for Robredo resume, harness advanced tech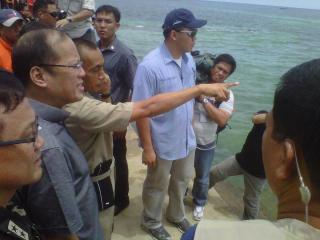 PNoy near Robredo plane crash site off Masbate coast. President Benigno Aquino III arrived in Masbate Sunday morning to monitor the progress of the search for DILG Secretary Jesse Robredo and two pilots of the plane that crashed Saturday afternoon. Robredo's security aide survived the crash. Official Gazette
For the second straight morning, search operations for Interior Secretary Jesse Robredo and two companions resumed in Masbate early Monday.
Transportation Secretary Manuel Roxas II said on his Twitter account early Monday that the day's search pattern will be based on
sonar searches
from Sunday night.
He also said a US plane with forward-looking infrared (FLIR) had also done
fly-by passes
in the area.
Search teams converged on a beach resort used as a command center before 5 a.m. Monday, amid tight security, dzBB's Benjie Liwanag Jr. reported. Divers from the Philippine National Police, Philippine Coast Guard, and Philippine Army were joined by professional divers from Bicol, who were to alternate with them.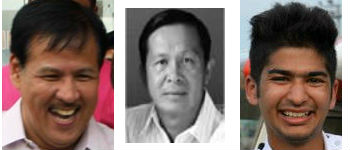 DILG Secretary Jesse Robredo, pilot Jessup Bahinting, and Nepali co-pilot Kshitiz Chand
Aside from Robredo, the two others missing are veteran pilot and flight instructor Jessup Bahinting and his Nepali co-pilot Kshitiz Chand. Bahinting is also the chief executive officer of the Mactan-based aircraft rental company and flying school Aviatour, which owns the plane that crashed. According to Chand's Facebook page, he graduated from Aviatour Flight School in 2011 and identified himself as a commercial pilot.
Interactive image of crash site below, location based on coordinates found on Pres. Aquino's Facebook page. Pilots of the Robredo plane aimed to make an emergency landing at Masbate Airport. They were less than a kilometer short.
Underwater search plan
The government is deploying technical divers as well as underwater search techniques used last May when an
Air Force trainer jet went missing
off Mariveles, Bataan.
Jake Miranda, a technical diver familiar with both the Mariveles search and the current one in Masbate, says a side-scan sonar device is being employed to create images of large areas of the sea floor in the vicinity of the crash.
Once the plane's wreck is located, "then get the (geographical) coordinates, and bring down an ROV (Remotely Opreated Vehicle)," Miranda says via text, describing the plan. "When we have video, technical divers will go down."
GMA News' John Consulta reported Monday morning that the ROV is still being shipped from overseas.
Robredo, his aide Senior Inspector Jun Abrasado, Bahinting, and Chand were aboard a Piper Seneca plane heading for Naga from Cebu when the
plane crashed
off Masbate Saturday.
Abrasado was rescued by local fishermen and insisted on helping rescue workers look for Robredo.
On Sunday, search teams
recovered a flight plan
of the plane, along with debris from the ill-fated aircraft.
–KG/HS, GMA News