A day in the life of a weatherman
Jori Loiz is a familiar face on television when a storm approaches, often assigned by his superiors at PAGASA to inform millions of anxious viewers what to expect.
But before the weather forecaster faces the cameras, he is like those legions of citizens who must commute long distances to get to work.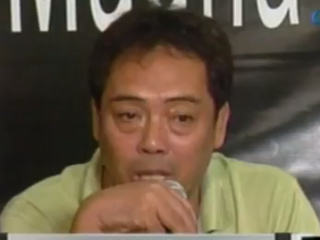 Jori Luiz Screengrab from Saksi
Loiz takes a two-hour bus ride every day to PAGASA Central Weather Bureau on Agham Road in Quezon City from Balagtas, Bulacan.
"I usually leave at 4:30 a.m. since I have to be at PAGASA before 6 a.m.," said Loiz.
Loiz has been a PAGASA weather forecaster for 16 years.
Every morning, he drinks coffee as he monitors the news while waiting for the data needed for their forecast.
On a normal day, he analyzes maps—surface maps and upper air maps—for the 5 p.m. weather bulletin and the tourist advisory. Loiz usually discusses with fellow forecasters the map analysis and combines them with the other data on satellite and radar images early in the afternoon.
Whenever a storm is about to affect the country, they do four bulletins within the day.
Loiz leaves PAGASA at around 4 p.m., boards a German Espiritu Transit bus on EDSA to Balagtas, Bulacan, and arrives home between 6 and 7 p.m. to have dinner with his family of five—he and his wife have three children.
Compensation not enough
Loiz has been with PAGASA for the past 17 years, and he gets a monthly gross salary of P23,000 per month.
Under the law, his salary falls under Salary Grade 14. A typical weather observation aide in PAGASA is under Salary Grade 4 with compensation of at least P11,181, according to the Salary Schedule for Civilian Personnel. It could go up to P31,339 for a weather specialist who is under Salary Grade 17.
Together with the basic pay, a weather forecaster like Loiz is also entitled to a number of benefits like laundry and subsistence allowances and longevity pay, as prescribed by the Magna Carta for Scientists or Republic Act No. 8439.
In the Magna Carta, all science and technology workers are entitled to subsistence allowance which is equivalent to three meals a day—or P150, according to the recent press release of the Department of Budget and Management (DBM).
Loiz spends an average P50 for lunch of rice and a viand in the PAGASA canteen. This comprises a third of his daily living allowance for fare and food.
PAGASA workers, like other science and technology employees, are also entitled to a monthly laundry allowance of P500.
They also receive longevity pay equivalent to five percent of the monthly basic salary for every five years of continuous service.
Loiz, for one, receives 15 percent of his total basic salary for longevity pay, and another 15 percent for hazard pay.
Hazard pay, as prescribed in the Magna Carta, covers science and technology workers whose work are hazardous in nature, or work in one of the following areas:

Radiation-exposed laboratories and service workshops
Remote/depressed areas
Areas declared under a state of calamity or emergency
Strife-torn or embattled areas
Laboratories and other disease-infested areas
Budget Secretary Florencio Abad said in a statement that PAGASA violates the Magna Carta.
"For example, PAGASA currently provides hazard allowances for its employees across the board—whether or not they are exposed to risks in the course of their duties—in clear violation of the law and their own guidelines. We need to confirm which employees, by the nature of their work, are entitled to hazard pay, as well as when they're supposed to receive this," Abad said.
However, Loiz said that their laundry and subsistence allowances, including longevity and hazard pay, have been suspended since March.
Loiz is one of the PAGASA weather forecasters who joined a protest action last Aug. 14 against the suspension of their longevity and hazard pay.
Loiz said that his current monthly take-home pay of P12,000, after the payment for loans and other deductions are taken from his salary, is not enough to support the education of his children—one in college, and another one in high school.
Two weeks ago, when the southwest monsoon caused floods in many parts of Metro Manila and the rest of Luzon, Loiz said he was not able to go to work as floods prevented him from even going out of their house.
Loiz also said that there was a number of times in the past when he could not go to work because he does not have enough money. He spends around P200 for his daily living expenses.
Meanwhile, Abad announced on Aug. 15 that PAGASA employees will receive the "Magna Carta perks due them for the first semester of the year." –KG/YA, GMA News