PNP releases sketch of 1 of 4 Rolito Go 'abductors'
Police on Monday released a sketch of one of four men who allegedly "abducted" convicted killer Rolito Go from the New Bilibid Prison last week.
The sketch by the Philippine National Police Crime Laboratory referred to the supposed leader of the abductors, radio dzBB's Glen Juego reported.
It described the suspect as 5'5" to 5'6" tall, dark-complexioned, medium-built, and 35 to 38 years old.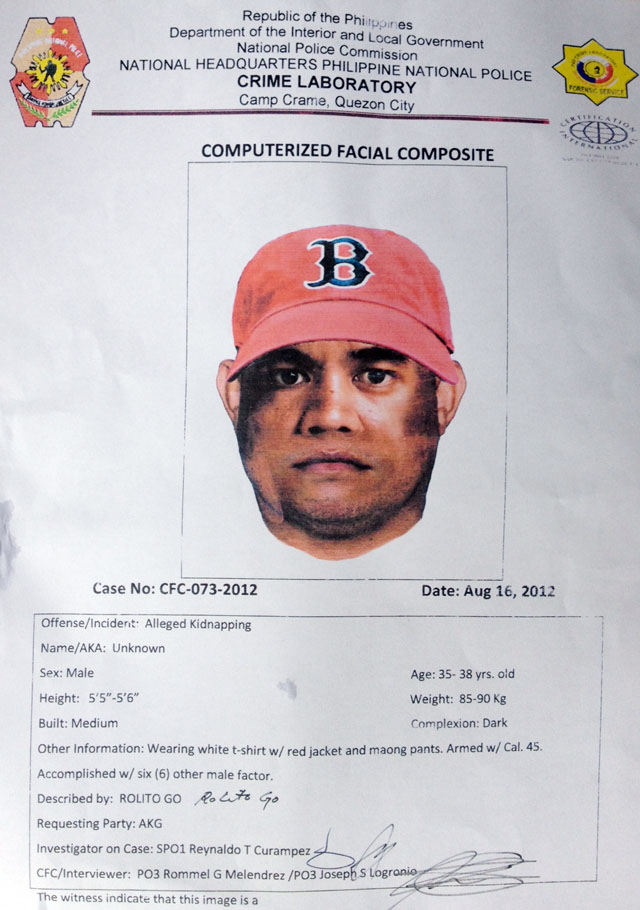 He was supposedly wearing a jacket and denim pants, and was allegedly armed with a handgun, the report said.
The dzBB report said the PNP expects to come out with sketches of the other suspects soon.
Last Aug. 14, Go was discovered to be missing from the New Bilibid Prison. He resurfaced Aug. 15 and claimed he and nurse-nephew Clemence Yu were abducted by men who claimed to be with the National Bureau of Investigation.
Go, who was convicted for the road-rage killing of Eldon Maguan in 1991, claimed the abductors demanded ransom and threatened to kill him and Yu, but eventually gave them bus fare to return to Metro Manila.
But the relatives of Maguan were not convinced with Go's claim he was abducted.

Authorities are still investigating the incident. — RSJ, GMA News