Despite March crash, company that flew Robredo allowed to continue air services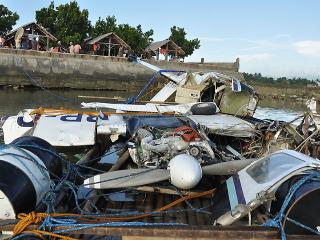 Wreckage of Piper Seneca pulled from depths after 3 bodies retrieved. The twisted metal of the ill-fated small plane that Sec. Jesse Robredo and two pilots rode to his death was extricated from the Masbate seabed on Thursday. PH2 Brixx Ebreo, PN
(EXCLUSIVE)
Before Masbate, there was Camiguin. The crash that killed Interior Secretary Jesse Robredo was the second fatal incident in 2012 involving the same company that owned and operated the ill-fated small plane that apparently malfunctioned in the air before plunging into the sea off Masbate City.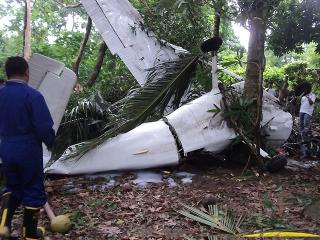 A Camiguin policeman eyes the wreckage of a small plane belonging to Aviatour that crashed in Mambajao, Camiguin Island on March 4, 2012. A Norwegian tourist and her Filipino pilot were killed and three other foreigners injured. Allowed to continue operating, Aviatour provided the plane that crashed with Sec. Jesse Ribrado on board. AFP/PNP Camiguin
Mactan-based Aviatour Air has been ordered suspended by government regulators while they probe the August 18 crash that Robredo and its two pilots, including Aviatour's chief executive Jessup Bahinting, rode to their deaths.
But after the March 4 crash in Camiguin that killed the pilot and a Norwegian tourist, the government allowed the air charter company to continue flying.
Interviewed on Thursday, Transportation Secretary Mar Roxas said he had ordered the regulatory agency Civil Aviation Authority of the Philippines (CAAP) to suspend Aviatour after the Camiguin crash, following transportation policy.
"Nung nangyari ito at napaabot sa akin, inutos ko 'yung pag-ground ng Aviatour at ang sinabi ko sa CAAP ay sundin nila ang patakaran na ginagawa natin sa mga pambarko na mga sasakyan na 'pag may kaso na natrouble ang isang barko, 'yung buong fleet ay grounded hanggang mapatunayan nila na safe sila," Roxas said.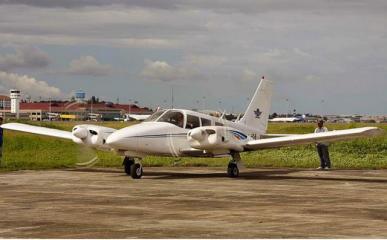 File photo of Piper Seneca plane carrying Interior Secretary Jesse Robredo that crashed in Masbate. Courtesy of Aviatour Air
Apparently defying Roxas' order, CAAP failed to suspend the air charter services of the company. Instead, it only suspended Aviatour's flying school license.
Aviatour has two licenses under its wing: an Air Operation Certificate that allows the company to operate its charter services, and an Approved Training Organization license, which allows its aviation school to operate.
In an interview with GMA News Online, the head of CAAP's Aircraft Accident Investigation Board, Amado Soliman, explained that the agency opted to suspend only the company's school license since the co-pilot of the flight was Indonesian flying student Dewi Nurmala, who was injured in the crash. It is against aviation rules for flying students to pilot commercial flights during their training.
"Flying school din kasi [ang kumpanya] kaya nga hindi mo alam kung training lang or charter flight ['yung insidente]," CAAP investigator Soliman said.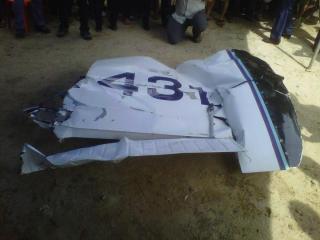 Debris of the plane that carried Interior Secretary Jesse Robredo last Saturday recovered after the crash off Masbate. Gov.ph Official Gazette FB page
However, a family of Norwegian tourists was also in the four-seater Cessna 172, part of a fleet of small planes operated by
Aviatour
, which offers to fly customers to various tourist destinations in the Philippines ("Explore paradise at your own pace").
Pilot Christian Cebrecos and Norweigian tourist Rachelle Sandre were killed when the low-flying plane crashed into coconut trees in Mambajao, Camiguin. In addition to Nurmala, Sandre's husband Lance and three-year-old child Jensola were injured.
According to news reports and blogs after the Camiguin crash, there was bad weather on that day and visibility was low. Other pilots refused to fly.
Last May, even while the government was supposedly
probing
possible violations of aviation regulations, Aviatour's flying school was able to secure a temporary permit to operate from CAAP, after the agency an appeal from the Embassy of Indonesia.
The embassy argued that some 80 Indonesian students training under Aviatour needed to continue their education.
In the meantime, despite nagging questions about its Camiguin crash, Aviatour's charter services were never interrupted – until these were finally suspended in the wake of the death last Saturday of one of the nation's most respected public servants, Jesse Robredo.
– HS/RSJ, GMA News