CAAP probe shows Robredo plane's emergency locator 'off'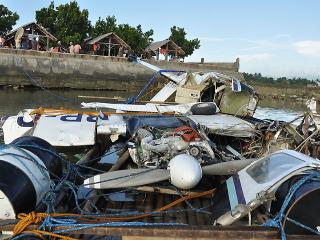 Wreckage of Piper Seneca pulled from depths after 3 bodies retrieved. The twisted metal of the ill-fated small plane that Sec. Jesse Robredo and two pilots rode to his death was extricated from the Masbate seabed on Thursday. PH2 Brixx Ebreo, PN
The Civil Aviation Authority of the Philippines (CAAP) on Friday said that the emergency location transporter (ELT) of the Piper Seneca plane that crashed killing Interior Secretary Jesse Robredo was in the off position that was why it did not active automatically when it hit the waters off Masbate Island last Saturday.
CAAP director general William Hotchkiss III said that based on a routine check the plane's ELT was functional before Saturday's plane crash.
Also called tracking transmitters that detect the location of boats, aircraft, and people in distress, an ELT automatically turns on when a plane goes into emergency landing or is involved in a disadter.

CAAP last checked the Piper Seneca's ELT Nov. 21, 2011, which validated the device's functionality for a year.
"It is too early to speculate, our investigating team is still examining the plane wreckage to determine the cause of the accident," Hotchkiss added.
The ELT was recovered with the plane last Wednesday, but the right engine is yet to be found. The wreckage is now under tight security at Masbate airport.
"The engine is a key part of our investigation. This will determine if indeed it was due to technical or mechanical problem that caused it to fail," Hotchkiss said.
The director dismissed speculations that the plane was fueled with diluted aviation gas that caused the fatal crash.
A former elite fighter jet pilot, Hotchkiss said they will investigate the fuel in the engine and trace where the plane last refueled before its Cebu-Naga City flight.
The CAAP's Aircraft Accident Investigation and Inquiry Board (AAIIB) is likewise reconstructing the flight path of the plane as well as the communication between the control tower and the pilot.
"It will not be an easy investigation but as directed by Secretary Roxas, we will not leave any stone unturned to find out the real cause of the accident," Hotchkiss said.
Hours after Saturday's accident, Department of Transportation and Communications chief Manuel Roxas II ordered CAAP to dispatch a Go Team aviation experts as investigating body to probe the crash.
CAAP on Wednesday also formed the AAII – specifically for the incident – headed by Captain Amado Soliman – an aviation industry expert in flight safety of over four decades – with Captain Ramon V. Flores, and Captain Elmer F. Pena.
On Sunday Roxas directed the CAAP to suspend Aviatour Air, the operator of the Piper Seneca plane. —
MJC/VS, GMA News