NCAA
:

Generals whip Chiefs, notch third straight win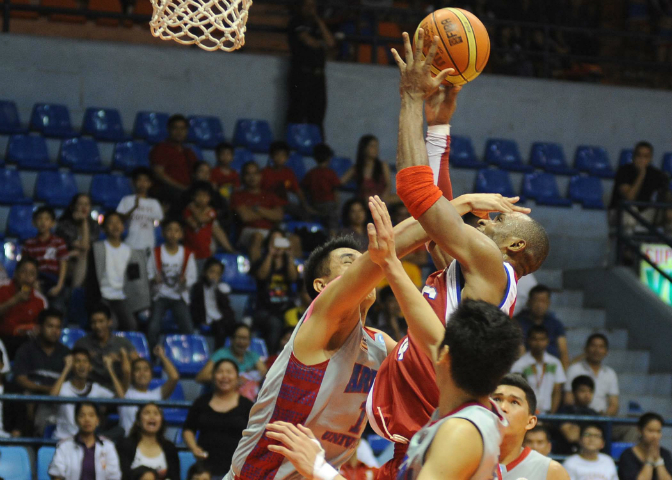 A hand in his face did not stop Noube Happi (center) from getting his shot off against the Arellano defense.
KC Cruz
The Emilio Aguinaldo College Generals had momentum on their side when they dispatched the Arellano University Chiefs, 76-57, Saturday at the FilOil Flying V Arena, for their fourth win, third straight, in 11 outings, in the 88th season of the NCAA.
"We have sustaining power in the several past games," said Esplana. "I told them that conditioning is very important particularly in the fourth quarter to keep them intact with mental toughness."
Center Noube Happi scored 25 points and hauled down 15 rebounds, his eighth double-double performance, which included a jumper seconds before the final buzzer, to arrive at the final score.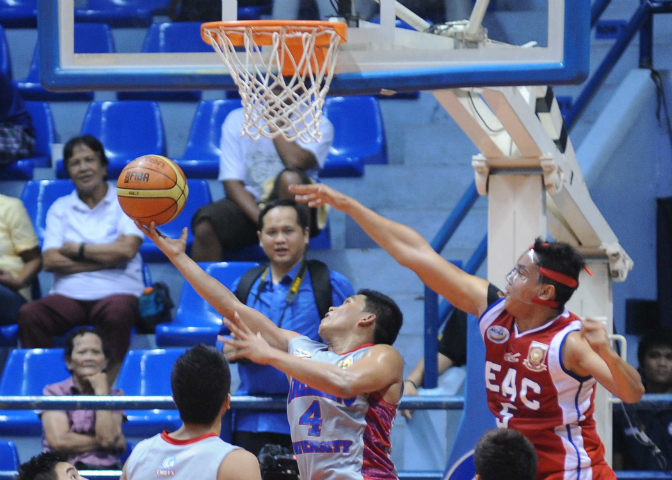 Nard Pinto (left) avoids the defense of Jolas Paguia with a reverse lay-up.
KC Cruz
John Tayongtong previously chipped in a clutch basket that made it a 63-47 lead, in favor of EAC, and finished with 11 points, while backcourt partner Franz Chiong dropped 10 markers for the Generals.
"We are playing now at different level. This is history because we made three straight wins. Before, it's all losses," said Esplana. "In the second half, I told them let's go for the boards and run. In first half, we have a low percentage."
John Pinto and James Forrester had 12 points each for the Chiefs.
The Generals unleashed a blistering 18-10 barrage to build a 43-35 lead entering the fourth quarter. Happi, Tayongtong, and JOlas Paguia combined for 20 points in the final quarter while Chiong, converted all four of his free throw attempts in the last two minutes to seal the win.
The Generals shot an impressive 40 percent from the floor to inflict the seventh loss on the Chiefs in 11 games.
- AMD, GMA News
The scores:
EAC 76 — Happi 25, Tayongtong 11, Chiong 10, Paguia 9, Jamon 7, Yaya 4, Munsayac 2, Monteclaro 2, Morada 2, King 2, Sanchez 2
AU 57 — Pinto 12, Forrester 12, Caperal 7, Acidre 7, Zulueta 5, Hernandez 4, Cadavis 4, Salcedo 4, Bangga 2, Espiras 0
Quarter scoring:
9-15, 25-25, 35-43, 55-76
Inboundpass has been covering collegiate basketball for six years. For more NCAA stories and information, check out inboundpass.com and follow Inboundpass on Twitter at @inboundpass