The ebook: still in its 'early days' in PHL, but a growing option
In 2001, Reileen Tan discovered ebooks — the large resource of literature available for download online. "Once I realized there were [many] books to be had, I started downloading them to read," she said. It was the beginning of a habit that she keeps to this day.
More than 10 years later, says the National Book Development Board 2012 Readership survey, the number of ebook readers in the Philippines is around three million.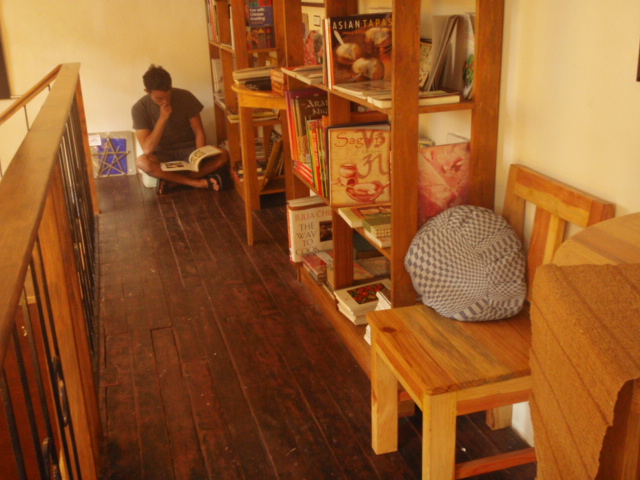 Some bookworms like being able to turn the pages and smell the books. GMA News
Still, the majority of Filipino book readers prefer their books in print — 90 percent of the 80 percent of Filipinos who read books prefer printed books with original covers, the NBDB survey said.
Honey C. de Peralta, VP & Gen. Manager of Flipside Publishing Services, Inc. said that based on Flipside's monthly increase in registration, Filipinos are definitely becoming more aware of ebooks. But while there seems to be a clamor for it, she admitted sales are a different matter, especially for trade. "Ebooks in the Philippines is very much in its early days, but we're excited to be in the frontier so we can test things out."
Some bookworms are hesitant about ebooks, as they enjoy the experience of turning pages and the smell of paper as much as they enjoy the content.
"I'm not sentimental about that. I do still buy books, but I try to limit them to authors I really care about. I collect books by nature, and I'm trying to restrain the urge since books take up space," said Tan, who says that in general ebooks were now a more practical choice for her, especially when she got a Kindle.
The right reader
When it comes to ebooks, said Tan, it's important to find a reader that feels natural to you.
"The pleasures of smell and touch aside, you're at the mercy of the interface. A Kindle Touch lets you flip pages by swiping your finger across the screen. Better than pressing buttons," she said. Tan said that if she buys ebooks from Amazon, they cost about the same as a paper book. But because the shipping charges are zero, they're effectively cheaper.
"There's no difference. The information is the same. The only hassle is if your reader isn't as intuitive as a book. You can't flip pages quickly. I have the original Kindle, not the Kindle Touch — you have to press buttons, or type in a page number. But that's just technology! I work in IT and I know the tech is improving all the time. I can wait," she said.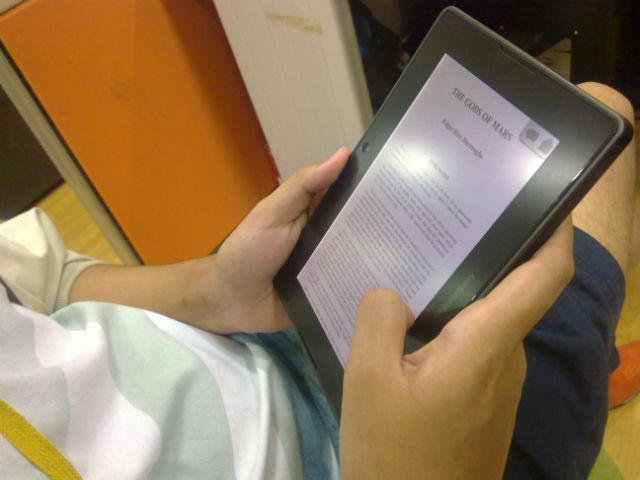 Ebook readers can store hundreds of titles in a single device.
Photo by Amanda Fernandez
De Peralta said that the greatest advantage of ebooks is convenience.
"You can find the ebook online and, provided the right payment gateways and means to read it, you can immediately get your copy. Also, it's a treat to carry, say, 200 books in one single device," she said.
"If, when I was in high school and I carried ten cassettes with my walkman, and then I was blown away by the iPod, then what more with my Kindle and the hundreds of books I've got loaded on it?" said author Carljoe Javier, whose books "And the Geek Shall Inherit the Earth," "The Kobayashi Maru of Love," and "Geek Tragedies" are available in digital format.
'Democratization' of distribution
Javier said that he was eager to publish his work digitally. "I am a total tech nerd and I saw this as a new way that people could read, and I wanted to be part of the spearhead. I rushed into it as soon as I saw an opportunity," he said.
In retrospect, Javier said this was a mistake, as his initial digital publisher failed to pay him any royalties or even provide a sales report. "But I learned from that mistake, worked with a more professional publisher, and continue to work in and promote digital," he said, adding that his next two books will be published in digital formats before print.
Javier said that for authors, the first and best advantage of ebooks is distribution. "Think of the cost of moving physical books around. It is massive, which is why local publishers have such trouble with international distribution, and a big reason why local [authors] are mostly only read locally. But with digital distribution you are on the storefronts of the biggest online stores, such as Amazon, Apple, and B&N, as well as on our own local store Flipreads.com," he said.
He said that digital is also cheaper, since production and distribution costs are lower. "While some books might run for around the same price as print counterparts, I've made an effort to make my digital copies cheaper" — as well as making the print versions of the book the "premium" versions, he added.
"We talk a lot about how difficult it is to find a publisher or perhaps how we don't see wide distribution of regional literature. Well, ebooks make all of those issues moot. Authors can self-publish; writers and publishers of regional literature can sell their content on different ebookstores. It's a wonderful democratization of publishing and reading," said de Peralta.
She said that whenever they tell an author that their ebook is live on Flipreads or — in the case of the few authors that they publish themselves — on Amazon, Apple iBookstore, Barnes&Noble.com, or Kobo, they get profuse thanks.
"I think because it really is exciting for authors to see that their book is being sold on an international scale and that, basically, it's there for people to access, if they want it. So that would mean more potential readers, and what author wouldn't like that?"
There are, of course, still many authors who prefer to hold their print book in their hands, said de Peralta.
"Nevertheless, an ebook, as we say, is not a replacement of the print book. It's another option. So authors who have both can reach more readers because they provide a variety of formats and options," she said.
Top ebook genres
Unsurprisingly, free ebooks have the highest downloads, de Peralta said.
"I think it's a matter of people always loving something free and of people testing out both ebooks and the downloading process," she said.
As for the paid books, Flipside's highest number of downloads comes from the SciFi & Fantasy category — specifically, the speculative fiction titles, such as the "Philippine Speculative Fiction" series anthologized by Dean Francis Alfar, Nikki Alfar and Kate Aton-Osias and Eliza Victoria's "Lower Myths."
"If we're tracking trends, I think it's only logical that these are the categories that have the most number of downloads. Popular fiction always seems to do well as ebooks, and right now, we have more books up in the SF & F category," she said, adding that young speculative fiction authors know how to maximize social media in order to promote their books, which translates to more downloads.
She added that Komix is also a popular category. Apart from Filipinos loving comics, she said it's also because comics creators themselves aren't afraid to launch into ebook publishing, because they've been self-publishing for a long time anyway. "So, we have more komix to offer and, again, these creators know enough to point their fan base to where their works can be accessed, including our ebookstore," she said.
Perceptions and misconceptions
There is still a common perception that ebooks are inferior to those in print, said Javier. The author, who is also in the academe, added that "a lot of older academics see digitally published books as inferior, and some even refuse to acknowledge digital publishing at all."
This might be due to a misconception, he said. "[P]ublishing on blogs, digital publishing via digital publishers, and throwing stuff up in a website are sometimes mistaken for each other."
Javier said the problem is not the format, but the execution. "Lots of people and institutions are rushing into digital haphazardly, [so] a bad perception is being created about the form and format," he said, adding that people need to study and understand it before they go in.
"Also we can't expect to break down the international market immediately. Granted there have been a number of successes, but as a Filipino market, it will take time to build up and establish our place," he said. For Javier, the only question that authors who want to publish their work digitally need to ask themselves is, "Why haven't I done it yet?"
— BM, GMA News