The word of mouth's on Wildflour Café + Bakery
Pinned, rolled, molded and sliced. The sight, smell and texture of soft, light dough always make me think of home.
For back in the days, our house help made us baked goodies in batches – muffins, cookies, and brownies. Even our pizza was homemade! I instantly transformed into Santa's little helper when it was time to roll the dough for the crust. The dough smelled so good I was tempted to bury my face in it and breathe deeply. But scared of being scolded, I contented myself to rolling, rolling, rolling until it was thin and circular and the edges were even. Arms crossed, I stared impatiently at the oven, a reddish light illuminating my beautiful dough.
For me then and now, dough is divine. In this day and age though, everything is ready-made and pre-packaged that something seems lost in translation, from the maker to the mouth.
Thus, it is a breath of fresh air whenever a restaurant makes something from scratch. Rule of thumb is: if it is baked fresh, you could never go wrong. Or so I hoped.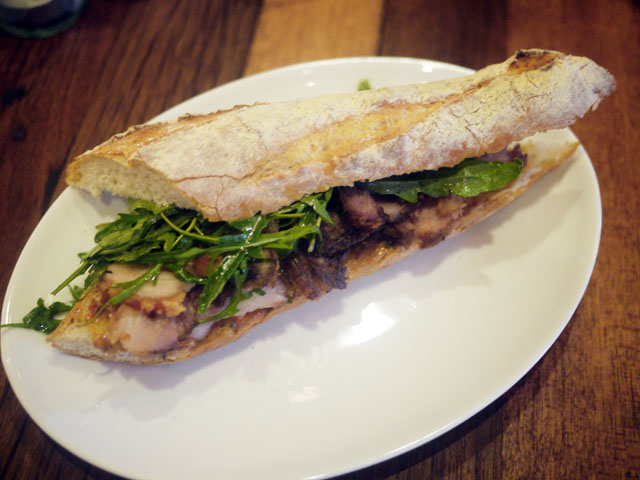 Porchetta
Sophisticated ambiance
When I dropped by Wildflour Café at Bonifacio Global City, I expected to find home.
Alas, it wasn't the kind of bakery-café I envisioned. The interiors were done in good taste obviously – the high ceiling, the menu blackboards, the wooden tables and chairs. The four sides of the restaurant consisted of very clear and transparent glass panes. Outside, passersby can see the diners and vice versa. It kind of felt like being in a fish bowl with a "see and be seen" atmosphere. But I guess that was part of the strategy so that curious onlookers might take a second look and hopefully, dine in Wildflour too.
For a bakery café that's supposed to be homey though, Wildflour ironically has this sophisticated, bordering on uppity, ambiance. As I took a seat, I noticed as well that I couldn't even smell bread being baked. I found out later on that that all the baking was being done in another partition, much to my disappointment.
Nevertheless, I smiled as the waitress served me complimentary two slices of ciabatta bread, which was on display at the restaurant. It was just two slices, far from a basket of bread that I expected (which I think diners deserve for their high prices) but it will do. I filled my lungs with its aroma. My bread was warm and crunchy on the outside. I spread butter on my bread generously. I smacked my lips and braced for more.
The 'breadspread'
For our appetizer, I ordered tempura vegetables (P260) simply because I read about it in a blog. However, the breaded asparagus, squash flower and onions had a bitter aftertaste the garlic dip couldn't even balance out. Looking back, the blogger simply mentioned the appetizer but didn't praise it. So now, I am telling you the truth. Do not waste your hard-earned P260 on that dish.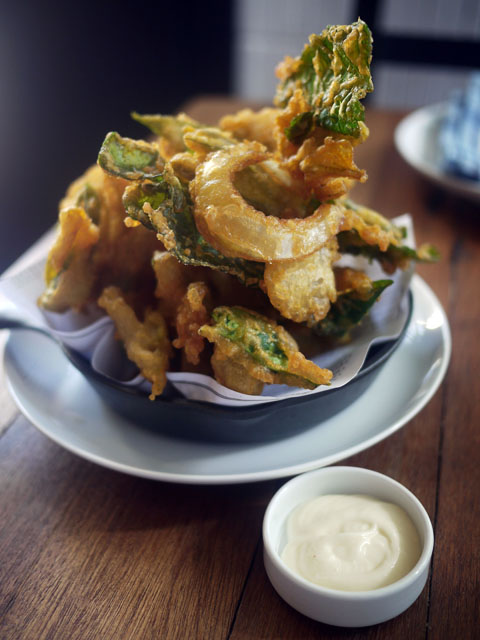 Tempura Vegetables
But soon, the aftertaste of the tempura vegetables was washed away by the crunchy, mouth-watering bites of their tart flambé (P425), which is caramelized onions, bacon and Gruyère cheese on a bed of flat brioche. It was similar to pizza, except that the brioche gave it a flaky texture. And believe me, the first bite, you can hear the crunch echo in your head and on your second, you'd hear your lip-smacking echo instead. This dish is good for two to three persons.
If you want to skip bacon, you can opt to order the other tart flambé with caramelized onions, brie, apple and wild arugula instead. I wish I can tell you how this tasted but since it would have caused us another P420, you will have to find out yourself.
If you love sandwiches, try their porchetta sandwich (P380), which is large enough for sharing. It's a 10-inch ciabatta filled with Italian-style braised pork belly and arugula. The pork belly is heavenly crunchy, as sinful as crispy lechon. And combined with the nutty flavor of the arugula, it's one lovely sandwich. But if you're recovering from a toothache or if you have braces, it's best to stay away from this sandwich as the ciabatta is hard to chew. In the interest of balance, ciabatta is not the best bread to use since the pork is already too crunchy. Maybe something softer?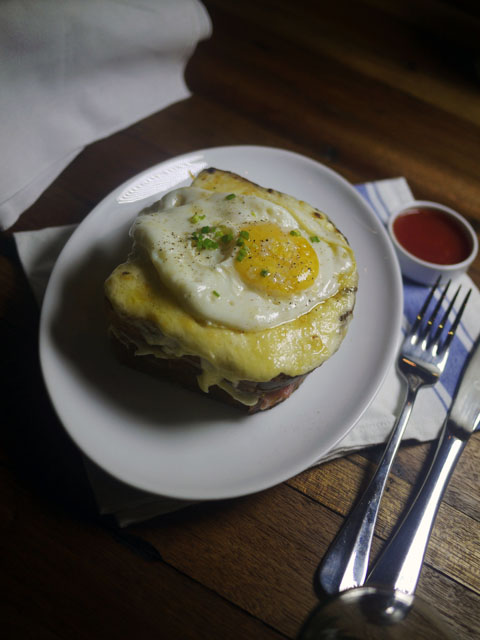 Croque Madame
Wildflour's best-seller though, is their croque madame (P380). Basically, it's a ham and cheese sandwich with fried egg on top. In essence, it's calories on calories. I wouldn't mind a large dose of calories, except that there is nothing spectacular about this dish. Sure, it has Gruyère cheese and béchamel sauce. But for its price? I can make a downgraded version at home, no thanks.
Our dining experience went downhill from there.
My friend ordered the soup, salad and sandwich (P370) for a balanced meal. We loved the light, almost sweet vinaigrette of the green salad. But the grilled cheese sandwich and the tomato soup were both bland, not to mention the soup portion was a tad too small (the size of a coffee cup).
For dessert, the waitress recommended the valrhona chocolate pot au crème, sea salt caramel and peanuts (P220). It sounded good and even looked good on the menu so we went ahead and ordered it.
To our dismay, we were presented with this teeny tiny cup filled with chocolate pudding. Sure, it was valrhona, an expensive chocolate. But I couldn't shake off the feeling that I've been had.
The verdict: The word of mouth's on Wildflour. Everybody's talking about this happening place. It's been blogged, tweeted, instagrammed and featured on various sites.
And foodies take cue from the raving reviews. And that's why I went there.
But to this writer, other restaurants can do the same job, but at more affordable prices–of course, in a less upscale location.
Frankly, there's a reason why a restaurant is as flashy as this. It's to make up for a lack.
Perhaps, it lacked heart. As they say, home is where the heart is. And Wildflour felt more like a hip and happening place you see and experience from outside its glass panes instead of inside in a home. My divine dough deserves better. –KG, GMA News
Wildflour Café + Bakery is at the G/F, Net Lima Bldg on the corner of 4th Ave. and 26th Streets, Bonifacio Global City, Taguig.