UAAP first round wrap-up
:

NU, UE, UP, DLSU
With each team's first seven games of UAAP Season 75 in the books, it's now time for squads to maneuver themselves into position for the Final Four, or if they're on the other end of the spectrum, accumulate enough wins to avoid the cellar position.
Is your team capable of continuing their winning ways? Or have opponents figured them out? Maybe now is when they turn things around? Part one of a two-part series takes a look at the NU Bulldogs, the UE Red Warriors, the UP Fighting Maroons and the DLSU Green Archers, and examines what has been making them tick after the first round.
Part two featuring the AdU Falcons, the FEU Tamaraws, the ADMU Blue Eagles and the UST Growling Tigers can be found here.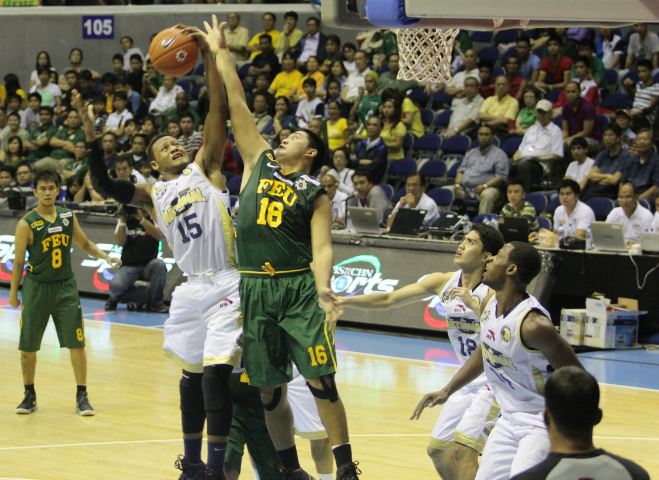 Reigning MVP Bobby Ray Parks (center, jumping against Mark Bringas of FEU) continues to be the focal point of the NU team.
Jeff Venancio
National University Bulldogs
After a 45-point blowout of UE on opening day, a 24-point drubbing at the hands of the defending champions ADMU Blue Eagles sent the Bulldogs back to earth. That said, they came out of the first round with a 4-3 mark, which isn't a bad place to be. Their other two losses, namely a fourth-quarter collapse against UST and a double-overtime thriller against DLSU came at an average of just -3.5 points.
It goes without saying that Bobby Ray Parks, the reigning MVP, and Emmanuel Mbe are still the one-two punch of this team, responsible for 33.8 points at an efficient 47 percent clip and 17 rebounds a game. However, this team is not going to make the post-season if their supporting cast doesn't step up to the plate.
One guy who has done exactly that is Troy Rosario, a transferee from the Technological Institute of the Philippines. The sweet-shooting big man became the starting power forward after four games coming off the bench, and has responded well, going from 3.3 points per game as a reserve to 11 as a starter.
The bigger piece of that puzzle for NU is their outside shooting. Parks is tied for fifth best in the league from deep with a 33.3 percent mark, but the team as a whole has taken a league-high 168 triples in round one, only to connect on a paltry 22.2 percent. Without Parks' numbers, that figure plummets to 19.4 percent. Jeoff Javillonar (4/20), Gelo Alolino (2/17) and Mark De Guzman (2/27) need to find their range to give Parks and Mbe the spacing that they need.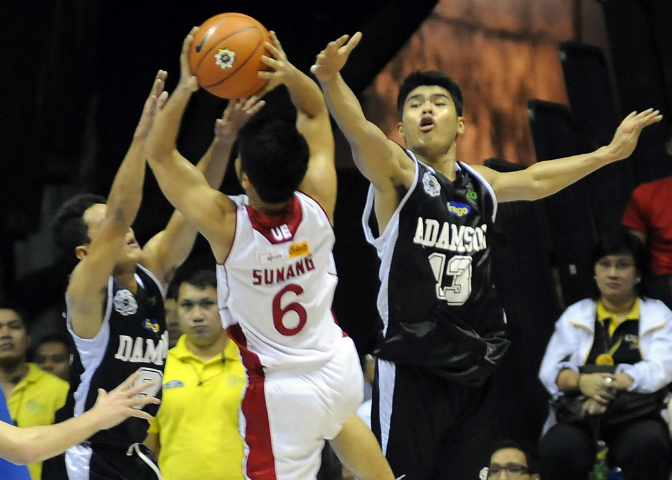 Roi Sumang (center) has been the one constant for the UE Red Warriors.
KC Cruz
University of the East
Red Warriors
In the win-loss column, UE is tied with Adamson and UP, all of whom boast of a single victory, but the Warriors happen to be the team that both scores the fewest points (59.9) and gives up the most to opponents (75.9), a fatal combination to say the least.
In their sole win of the first round, versus Adamson, the team needed Roi Sumang to play the entire fourth quarter, and he delivered by carrying them late. It goes without saying that he's been a godsend for UE. The offense, whether he's firing up his own shots or setting up his teammates for baskets, lives and dies with him. He has averages of 16.6 points, 4.6 rebounds, 3.7 assists and 1.7 steals through the first seven games.
Sumang simply can't do it on his own though. The next two best scorers on this squad are JR Sumido (8.4 points in 19 minutes) and Chris Javier (8.1 points in 25.3 minutes). And yet, one gets the feeling
that coach Jerry Codinera, who was eventually replaced
, squeezed as much production as he could from this roster.
Without a consistent interior game from their bigs, it's easy for opponents to dare the Warriors, especially Sumang to beat them from the perimeter. The tactic has worked. UE is at the bottom of the field goal category, shooting 33.6 percent, 36.9 percent inside the three-point line.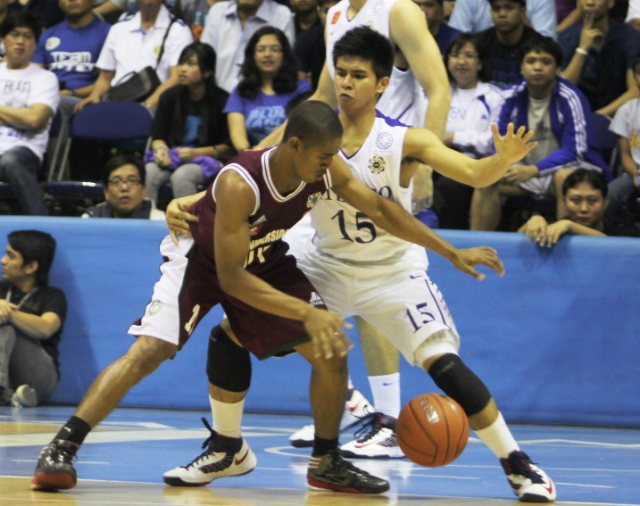 The returning Mark Lopez (foreground, versus ADMU's Kiefer Ravena) has yet to affect the fortunes of UP.
Jeff Venancio
University of the Philippines
Fighting Maroons
Although it took them seven games to reach sweet victory, the Maroons have delivered on their preseason promise: a match against the Maroons is no longer an automatic "W." Four of their defeats came within just six points, including close calls against Final Four hopefuls Ateneo, FEU and DLSU. While the win-loss column might not show it, Coach Ricky Dandan deserves a lot of credit for finding ways to maximize his talent.
All of a sudden, the front court is a bit tougher to score against. UP is second best in both offensive rebounds allowed (15.42 per game) and blocked shots (6.1 per game).
Similarly, the team has found legitimate backcourt threats apart from Mike Silungan, such as the returning Mark Lopez and rookie Henry Asilum. The Maroons are tops in bench scoring (28.7 points per game) and are the only team besides UST which has seven players averaging at least five markers a game.
It's a shame really that a team as exciting as this — first in steals (7.0 per game) and turnover points (17.6 per game), and third in fast break points (11.9 per game) — will lose multiple players to graduation. But for their next seven games, they've established that they're not a team to sleep on. If they can better their paltry two wins from Season 74, the Maroons' campaign can be called a success.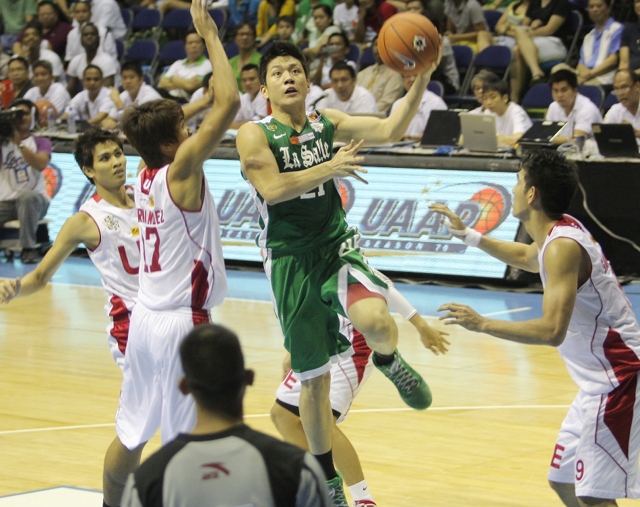 Jeron Teng (center) has been the go-to guy DLSU has been lacking in the past few seasons.
Jeff Venancio
De La Salle University Green Archers

At 4-3, the De La Salle Green Archers are right where most fans predicted they'd be, if not possibly better. Notwithstanding two-point losses to UST and FEU, the Archers easily could have been the ones to tie Ateneo for the first seed. Credit goes to new head coach Gee Abanilla, who has done a good job getting his players to buy into his team philosophy.


Blue chip rookie Jeron Teng has proven to be a man amongst boys. Few people projected he would assume an alpha-dog role so early, but given LA Revilla's health, Teng did what he had to do. The rookie is the third-best scorer in the league, averaging 16.7 points on 45.9 percent shooting.


However, center Norbert Torres is on the other end of the spectrum. Shooting just 34.8 percent from the field, he's the worst-performing starting center. His performance seems to be an indicator of his team's outcome: when he's held to lower percentage shots, teams have a better chance of stopping the Archers.
| | | | | | |
| --- | --- | --- | --- | --- | --- |
| Norbert Torres | Points | FGM | FGA | FG% | FTM |
| In losses | 8.66 | 3.67 | 11.0 | 33% | 1.33 |
| In wins | 10.25 | 3.75 | 9.25 | 40.5% | 2.50 |
What else is holding them back? Free throws. La Salle is third best in free throw attempts but has the worst percentage, making only 95 of 171 from the charity stripe, or 55.6 percent. Their worst offenders? Jeron Teng and Norbert Torres, who have shot 47.8 percent and 51.7 percent, respectively. To put that into perspective, NBA center Shaquille O'Neal, who is infamous for his misadventures at the free throw line, has a career mark of 52.7 percent. In the second round, DLSU needs to make teams pay for sending them to the line.
- AMD, GMA News