At Fabella hospital, moms are human incubators
Ward four of the Dr. Jose Fabella Memorial Hospital in Manila is as crowded as they come, with two, sometimes three pairs of mothers and infants to a bed.
The airy hall with high ceilings is home to some 300 mothers who have just given birth. But not all births are equal.
"'Pag may tag na ganyan na iba sa 'min, alam mong sa kabila sila dadalhin," said 21-year-old Maricel Vega Pique, a new mother confined at the normal delivery ward.
"Kabila" here refers to Fabella's Kangaroo Mother Care section, three rows at the rightmost side of the ward where premature and underweight babies are strapped to their mothers for at least 18 hours a day.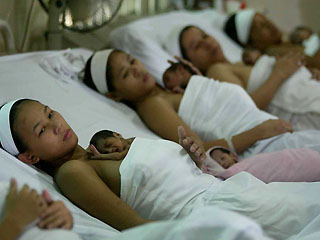 "Human incubator sila, kumbaga," nurse supervisor Cherry Anne Roque told GMA News Online earlier this month.
Kangaroo Mother Care (KMC) is a caring method to help premature and low-birth-weight newborns until they are able to survive without intensive care.
The technique is mostly used in developing countries, said the Bless Tetada Kangaroo Mother Care Foundation website. It allows a higher chance of survival for the infant through the use of skin-to-skin contact and increased interaction with the mother and father.
KMC in the Philippines was initially adopted at the neonatal care unit at Fabella in 1999, during the directorship of Dr. Ricardo Gonzales. "I sent Dr. Socorro Mendoza to train in the Kangaroo Mother Care in Bogota, Colombia," Gonzales said.
The Bless Tetada Kangaroo Mother Care Foundation, Philippines, Inc. was established in 2008. The Foundation's goal is to develop, monitor, and accredit KMC centers and also encourage continued application of KMC as a standard practice in neonatal care.
To date, the KMC program at Fabella has helped not only in maintaining a higher survival rate of infants but also in propagating sustained breastfeeding among mothers. "Mas malakas talaga ang daloy ng gatas pag naka-Kangaroo," Gonzales said.
Lack of facilities
Recognizing the lack in available facilities, Gonzales pioneered the technique, believing that the best caretaker for a premature infant is its mother.

"Nakita ko nun, mga tatlong baby sa isang incubator [sa Neonatal Care Unit]. Sabi ko, 'ipag-aakyat niyo na 'yan sa mga nanay,'" Gonzales said.

Along with the staff, Gonzales designed a stretchable tube top that allows a mother to cradle her baby between her breasts, while sharing body heat with him.
Nurse Roque admits that the technique is necessary for a government hospital like Fabella. "Wala naman kasi kaming mga high tech na incubators dito," she said.

KMC allows hospitals lacking in equipment and resources like Fabella to send patients home faster, while also minimizing the family's expenses, according to the Bless Tetada KMC Foundation.
But Gonzales stressed that the newborns and their mothers have to stay within the care of Fabella until they reach a certain threshold of weight. "Basta dapat sunod-sunod 'yung pagbigat bago sila i-discharge," he said.
In the KMC ward, there is no ideal weight to be reached. The continued weight gain of underweight and premature infants is closely monitored, however.
Nineteen-year-old Rhea Bantosila says the method is highly effective. She has just given birth to underweight twins and has been nursing them in the KMC ward for more than a month.
"Effective po talaga. Nakita ko 'yung paglaki nila. Itong si Justin 1.4 (kilos) nung lumabas. Ngayon 1.8 na," she said. The twins have had return trips to the Neonatal Intensive Care Unit, but periodically get brought up to Bantosila when they are stable.
"Nung una po nahirapan ako, kasi dalawa sila. Kaya kailangan akong tulungan nung mga nurses na ipasok sila sa tube. Pero ngayon madali na. Maginaw lang minsan," she said. Donning the tube means leaving her back exposed to the elements, something the former office secretary is willing to endure for her babies. "Nagkukumot na lang ako," she added.
Bantosila says the technique also helps her get to know her babies better—she can strap the twins to her chest while she talks with other mothers in the ward to pass the time.
At 19, Bantosila said she was surprised when she first got pregnant. "Sabi po kasi namin ng papa nila, 'pag 25 na 'ko tsaka kami magbe-baby," she said. "Ewan kung anong nangyari kung bakit ang aga. Pero sobrang thankful pa rin ako kasi siyempre blessings sila," she added.
Teenage moms, underweight babies
Gonzales explained that the trend of young mothers, especially in the KMC ward, is nothing new—or surprising.

"Sa KMC ward, mga bata talaga 'yung mga nanay. Kasi 'yung mga nanganganak ng premature at underweight, mga teenage mothers na 'di pa developed ang mga matres," he said. "Kasi 'yung normal na babae na dapat kaya nung uterus 'yung nine months na pagbubuntis, 'di kinakaya 'pag teenager pa lang," he explained.
Roque lamented the fact that the median age of mothers in Fabella has been steadily going down. "Pabata talaga ng pabata 'yung mga nanay," she said. "Kahit dito sa Fabella, na meron kaming counseling tungkol sa family planning, mahirap pa rin eh."
In Fabella, Roque explained, mothers who go in for their prenatal checkup also go through counseling sessions on family planning. If a couple should decide to avail of artificial family planning methods, the hospital provides them with pills or condoms, for a minimal charge of P40 per visit. Counseling services for natural family planning are also available.
Despite the educational campaigns, there are still mothers who are unresponsive to these seminars. "Minsan pag ayaw talaga, wala kaming magagawa. Right naman nila 'yun eh," Roque said.

She noted, however, that those who regularly went to Fabella for checkups prior to giving birth have been more receptive to the seminars, as compared to those rushed to the hospital immediately before delivery.
Gonzales likewise bemoaned the lack of a national reproductive health law. "Kung meron lang reproductive health law, mas gagaan ang working environment naming mga child care practitioners," he said.

An RH law would mean better education of mothers, which could lower the incidence of unplanned teen pregnancies in the country, he added.
'Up to God'
For her part, Bantosila does not see anything wrong with her pregnancy—or the fact that she got pregnant early.

"Ngayon naman po, mga mature na 'yung kasing edad ko eh," she said, explaining that she was in a better position than her own sister, who, at 18, has had two children herself. "At least natapos ko 'yung vocational course ko bago ako nagbuntis," she said.
Despite the fact that she and the 21-year-old father of her children did not plan this first pregnancy that has resulted in twins, Bantosila, who was rushed to Fabella from a provincial hospital in Cavite following complications of her pregnancy, is adamant that she will not be using any artificial family planning method, and is distrustful of their safety.
"Hindi ko po kasi alam 'yan. At 'di ba maraming parang side effects sa family planning?" she said. "Yung condom po na gawa sa mga factory, baka madumi 'yun, tapos ipapasok sa 'kin," she says warily. "Baka mag-calendar na lang kami."
When asked if she wants any more children, she said,"Sana 'wag kaagad kasi mahirap ngayon ang buhay, tapos kambal pa 'yung unang anak ko. Pero bahala na po kay God."
Despite some setbacks, Gonzales maintains that education can only do good. "If there is information and education, mas mainam kasi mababawasan ang mga teenage mothers natin sa ward," Gonzales said. –KG/YA, GMA News