PCCI supports Sereno's appointment as Chief Justice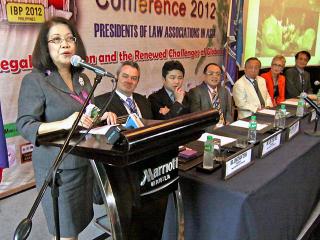 CJ Sereno vows judicial reform at law meeting. In her first speaking engagement since assuming her post, newly appointed Chief Justice Maria Lourdes Sereno tells the delegates to the 23rd Annual Presidents of Law Associations in Asia conference in Pasay City on Wednesday that she will reform the judiciary during her 18-year term. Danny Pata
The Philippine Chamber of Commerce and Industry (PCCI) supports the appointment of Associate Justice Maria Lourdes Sereno, a former trade and business lawyer, as the new Chief Justice of the Supreme Court.
PCCI, the largest business organization in the country, previously worked with Sereno in advocating judicial reforms, promoting judicial competence, and the creation of a judicial academy.
"The appointment of Maria Lourdes Sereno as the new Chief Justice brings stability, legitimacy and will restore confidence in the Supreme Court that underwent a serious political stress test unprecedented in its history," Miguel Varela, PCCI president, said in a statement on Thursday.
Varela said PCCI will continue to work with Sereno and the Supreme Court on issues related to judicial reforms, especially those on speedy resolution of business cases, mediation and further training of judges on business and economics. — AF/VS, GMA News