Fernandes, Pulver, ready to ignite "One FC: Pride of a Nation" MMA event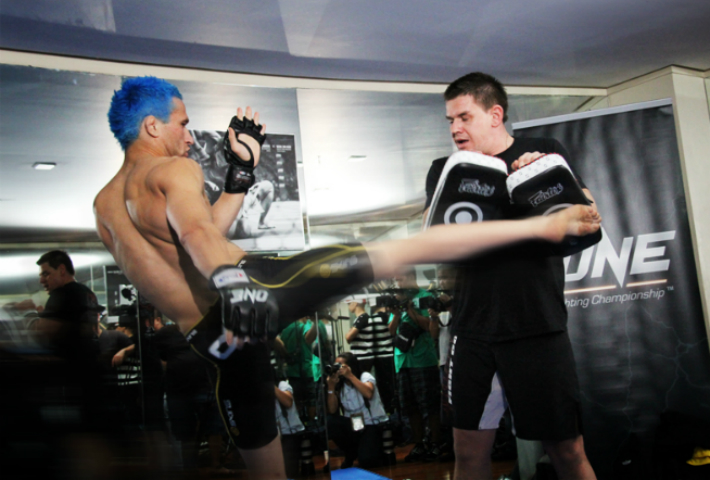 Gustavo Falciroli nails a 45 degree kick against his trainer. Joser Dumbrique
With the August 31 fight night imminent, those about to compete in "One Fighting Championship: Pride of a Nation" at the Smart Araneta Coliseum are set to ignite what will be a mixed martial arts extravaganza.
The sports press meanwhile was allowed a sneak peek at the special skills and feats that each fighter brings to the table at an open workout, Wednesday.
While Gustavo Falciroli, the bantamweight champ of CFC Australia, showed remarkable power and technique, his opponent for the main event, Bibiano Fernandes, displayed truly astounding dexterity.
In training, the current DREAM Bantamweight Champion from Brazil, "The Flash" Fernandes is like watching a speed demon gearing up for combat.
"This is good heat for work out!" Fernandes declared, as he practiced his Brazilian Jiu Jitsu (BJJ) and his striking with two different coaches. He displayed effective, aggressive takedowns done with ease, his grappling movements flowing like water. His precise way of finding openings in his enemy's guard was terrifying to behold.
This is what a BJJ natural looks like, what makes him, as One FC CEO and owner Victor Cui exclaims in awe, "pound for pound, one of the best fighters in the world," whose rise into MMA stardom began with him simply hanging outside a Brazilian dojo and observing fighters do submission and grappling.
"If [Falciroli] wants to go to the ground I'll beat him and even standing up," said Fernandes in his Portuguese-laced English. "I don't care about what he's going to do. I know what I'm going to do."
Aside from DREAM, Fernandes has also competed for K-1 and King of the Cage.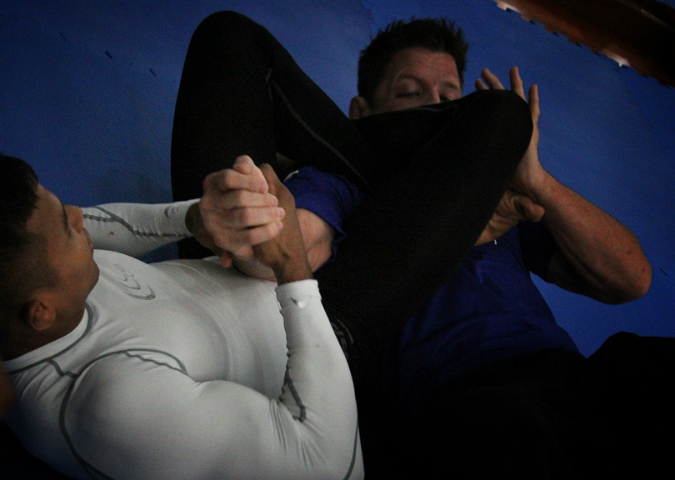 Bibiano Fernandes practices the arm bar maneuver during training. Joser Dumbrique
'Driven' Jens Pulver
Meantime, it was Ultimate Fighting Championship legend Jens "Li'l Evil" Pulver, who thrilled those in attendance with his candidness and politesse.
"I may not be the smartest, but I come to fight," he jokingly said. He later added that his erratic rise, fall and resurrection, were due to getting to grips with his inner demons. "Depression and anxiety, they're hard to beat."
Up close and in conversation, the former UFC lightweight champ is a genuinely jolly guy with a charming grin, who talks a mile a minute. With his condition known as occular heterochromia, Pulver's right eye is blue, and the left one is brown. He has a deep Washingtonian-native accent; a softer kind of Southern twang where the vowels are round and the sentences roll out in sing-song.
"If people have seen the documentary and know a little bit about my life, they know I grew up badly beaten as a kid.... I used the sport to help me change my life and defend myself and my family from my father, who was a wife-beating, child-abusing P.O.S.," he said.
Pulver is referring to the 2011 documentary "Jens Pulver: Driven," that was about his training camp, personal life and difficult childhood. One of the most extreme scenes narrated therein is the incident where his father threatened Pulver (seven years old at the time) with a gun in his mouth. Later, his father removed the gun, shook his head and said, "Ain't worth the bullet."
With his upcoming fight against Pinoy fighter Eric "The Natural" Kelly, Pulver hopes to once again reclaim his days of legend. "I know that Eric is fast and I need to hit him hard right away," he said.
On a confessional note Pulver continued, "I spend a lot of time remembering what I was like. Remembering the world champion. Remembering the guy who had no fear. Remembering this individual who took on anybody. Nowadays, it's a little different. I remember what I was and know what I can still be, and knowing that is why I still do it. For me it's about that motivation."
Other MMA superstars who are competing on "One FC: Pride of a Nation" include former UFC heavyweight champions Tim Sylvia and Andrei Arlovski. Pinoy pride is raised high by Universal Reality Combat Championship's welterweight champ Eduard "The Landslide" Folayang, who battles Japan's Felipe Enimoto in the co-main event.
Formerly on the main event was submission wizard Shinya Aoki. But it has since been announced that the Japanese master of flying submissions dubbed "Tobikan Judan" and former DREAM champ is now slated to fight Arnaud Lepont on October 6, at the Singapore Indoor Stadium, in "One FC: Rise of Kings."
"One Fighting Championship: Pride of a Nation" is slated to take place on Friday, August 31 at the SMART Araneta Coliseum. For details go to www.onefc.com.
- AMD, GMA News