Senators feeling pressure over lobbying for CamSur split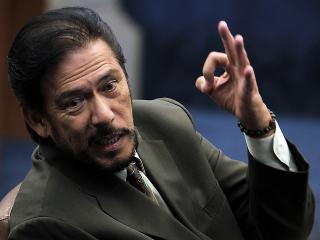 Sotto hits back at detractors, calls it 'cyberbullying' . Senate Majority Leader Vicente Sotto III on Wednesday decried as cyberbullying the flak he got for allegedly plagiarizing a part of his speech against the controversial Reproductive Health bill, saying it is part of a demolition job against him. Joseph Vidal
Some senators are feeling pressure from the intense lobbying of some members of the House of Representatives who wish to pass a bill seeking to divide Camarines Sur into two provinces, Senate Majority Floor Leader Vicente Sotto III said Thursday.
"We're talking here of members of lawmakers who are eagerly pushing for it and awaiting the Senate approval of their bill.... Normal [naman yun] kaya lang 'pag madalas medyo nape-pressure ka," Sotto told reporters during a weekly forum at the Senate.
The senator was referring to House Bill 4820, which seeks to divide Camarines Sur into two provinces and create the new province of Nueva Camarines.
In an interview with GMA News Online after the forum, Sotto revealed that two of the House lawmakers who are aggressively asking him, Senate President Juan Ponce Enrile, and local government committee chair Sen. Bongbong Marcos Jr. to tackle the bill at once are Rep. Arnulfo Fuentebella of Cam Sur's fourth district and Rep. Luis R. Villafuerte Sr. of Cam Sur's third district.
"[There is] contant appeal, constant call on the phone, visiting the office," said Sotto.
He said Villafuerte was even invited into an all-senator caucus last July 24 to explain his reasons for pushing for HB 4820.
"Napapasok lang si Cong. Villafuerte habang nag-uusap [ang mga senador] para lang malinawan ano ba itong inaapela ninyo... ano ba itong sinasabi ninyo, sabihin ninyo sa mga kasama namin," he said.
According to Sotto, senators want to tackle the bill on the floor already as a show of respect to their fellow lawmakers but he noted that the bill was too controversial.
"Gusto naman namin pagbigyan [sila pero] itong mga senador na kasama namin eh may problema," he said.
At least two senators, including Senators Antonio Trillanes IV and Joker Arroyo, have manifested their objection to the measure.
Sotto said Trillanes, a Bicolano, expressed his "displeasure" over Villafuerte's participation in their caucus.
Trillanes had said there was no compelling reason to divide Camarines Sur.
Joker Arroyo, on the other hand, said the division will only
serve
the interests of feuding families in the province.
Backers
In previous interviews, Camarines Sur Governor Luis Raymond "LRay" Villafuerte Jr. had said the division was a political maneuver meant to ensure the poll victories of its backers.
One of the "backers" is his father, Rep. Villafuerte, who is on his third term as a congressman.
Rep. Villafuerte said he has plans of running for governor in their province. But if Camarines Sur is divided, he wouldn't have to run against his son.
The main proponent of the bill in the House of Representatives is Fuentebella. The district would be part of Nueva Camarines if HB 4820 is passed into law.
Also supportive of the bill are Camarines Sur representatives Diosdado "Dato" Arroyo of the second district and Rolando Andaya Jr. of the first district.
Both Arroyo and Andaya had benefited from the creation of an
additional district
in Camarines Sur in 2010 as they were supposed to run against the other in a single district.
HB 4820 was to be considered on the Senate floor on Tuesday after the committee on constitutional amendments, revision of codes and laws submitted its report on the measure.
But Marcos blocked its consideration, saying his panel the local government committee was the primary committee hearing the bill. He said they are already working on the report.
Should HB 4820 be passed into law, the new province will only be created after it gets ratified in a plebiscite.
Sotto said, Congress had passed a bill seeking to divide Isabela into Isabela del Norte and Isabela del Sur but that it lost in a plebiscite.
— LBG, GMA News