RM awardee Dr. Romulo Davide believes farmers can be scientists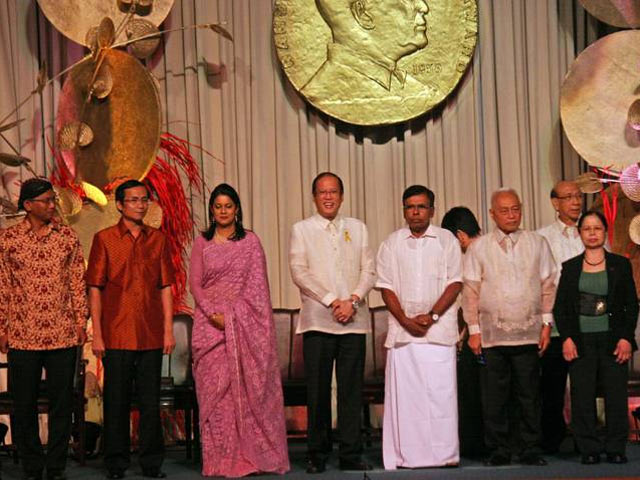 Dr. Romulo Davide (3rd from right), is the lone Filipino awardee at the 2012 Ramon Magsaysay Awards.
Danny Pata
Scientists are often stereotyped as lab rats wearing white gowns and unkempt facial hair. Think Einstein.
Dr. Romulo Davide is one scientist who is just as comfortable in the mud as he is in a sterile laboratory.
Davide is the lone Filipino awardee at the 2012 Ramon Magsaysay Awards.
Environment-friendly pesticide inventor
Ramon Magsaysay Awards Foundation cited Davide's innovation, BIOCON.
It is the first Philippine pesticide that can be used against roundworms or nematodes infesting crops. BIOCON is also considered as a "practical substitute for highly toxic and expensive nematicides."
The success of BIOCON, which first came out in 1992, went beyond the Philippines as it is now
being sold worldwide
.
Ramon Magsaysay Awards Board of Trustees chairperson Dr. Cynthia Bautista said that BIOCON did not only effectively eliminate pests in crops like banana, corn, rice, and other vegetables.
She said it is also an "environmentally-friendly nematicide. It has kept our environmental integrity intact."
Father of Plant Nematology
Davide's BIOCON, together with his other studies on roundworms, gave him the title the Father of Plant Nematology. This title was given by his peers in agricultural science for his "groundbreaking research on nematodes… and his many years of teaching and mentoring students," according to the National Academy of Science and Technology (NAST)
website
.
NAST also cited his contributions to nematology—the study of roundworms—which include researches on host-parasite relationships, national survey and identification of roundworms infesting economic crops, and their cultural and biological control.
Davide is also the first Filipino to be included in the international list of the "Who's Who" in nematology.
Mentor of farmer-scientists
More so, the Ramon Magsaysay Foundation recognized Davide's initiatives in teaching upland farmers how to make their business more lucrative.
His project titled "Farmer-Scientist Training Program" (FSTP) started in Cebu—Davide's hometown—reached out to the upland corn farmers and helped them increase their yield and sales overtime.
Dr. Agnes Rola of the University of the Philippines Los Baños said, "Recent findings still show that most of the research programs focus on irrigated farmers… Upland farmers are difficult to reach."
Rola added that these farmers are mostly subsistence farmers and that they are "a hit-and-miss."
Bautista described the program as promoting "the idea that farmers can be scientists… the idea that once the farmers become scientists, they can move up the social ladder."
In his lecture delivered on Aug. 30 at the Ramon Magsaysay Center in Manila, Davide said, "We have so many studies on rice but there are not so much studies on corn even if 20 million Filipinos are eating corn. Even I am still eating corn."
Davide believes that farmers are mostly poor because of low income, low education, limited resources, and politics.
He saw that farmers in the Philippines remain poor, and have to rely on loans to get by.
"Plant now, pay later. But what happens is plant now, forget forever," Davide said.
Because of FSTP, he was able to make the farmers independent by teaching them how to increase their production.
"Ang average income nila [noon] ay nasa P4 million, 'yung 45 farmers [in total]. Ang annual income nila, after 2-3 years ay P9 million [in total]. Marami ng farmers sa Cebu ay nasa P200-300,000 ang annual income [each]. We're grouping them into agri farmer-scientists in Cebu," Davide shared in his lecture.
Formula of success
Davide believes in the formula KKAA or kugihan, kusog, antos, ampo in Cebuano. This translates to hard work, strength, sacrifice, and prayer.
He believes that with this formula, the farmers will soon rise from poverty.
"I came here to teach you how to improve your living conditions," said Davide.
Rola mentioned that because of Davide's FSTP program, "Upland farmers that they engaged in felt that they are important."
Davide also shared that factors such as values formation, technology, knowledge on the market, together with KKAA, will make farmers succeed.
Replication of the project
In his lecture, questions were asked on how the FSTP can be replicated all over the country.
Davide was proud in saying that his program has reached farmers in parts of Mindanao and Luzon.
Bautista said, "Dr. Davide's work can only be replicated with streams of people sharing the same views and the feeling that they could achieve their goal."
Davide even commented, "We are so focused on climate change. We should focus on farmers' change."
Not stopping
Davide, 78, is a retired professor of the University of the Philippines Los Baños. However, he still performs research, development, and extension programs in his laboratory.
"Wala na akong salary. I am an emeritus professor without salary. I enjoy my work as a volunteer but there is more work to be done. Please pray for me," said Davide.
He is the older brother of another Ramon Magsaysay Awardee, former Chief Justice Hilario Davide. The younger Davide was awarded in 2002 for government service. –KG, GMA News