NCAA
:

Stags massacre Blazers in return of 'The Beast'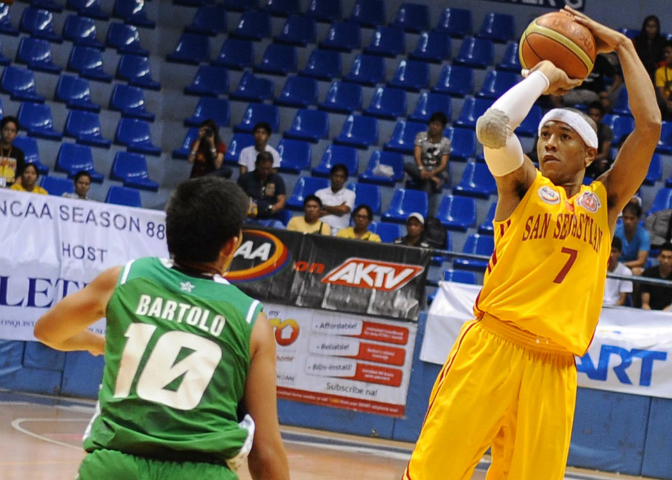 Calvin Abueva (right) elevates against CSB's Roberto Bartolo.
KC Cruz
After a one game lay-off
, Calvin "The Beast" Abueva returned with a vengeance.
Last season's MVP completed a one-game suspension and posted a triple-double to announce his comeback, lifting the San Sebastian College-Recoletos Golden Stags to a 92-72 blowout win against the College of Saint Benilde Blazers, Monday at the FilOil Flying V Arena, in the 88th season of the NCAA.
Abueva, who was the second overall pick in the 2012 PBA Draft posted 17 points, grabbed 13 rebounds, and dished out 13 assists to power the Stags to solo second place with 10-3 record.
"I will play very hard, harder than what I do previously. I will double my effort this time because I want a good exit in the NCAA. I want to be a champion," said Abueva, who was all for putting in the past a punch he threw at a Lyceum player, which resulted in his one-game ban and the removal of his chance at a second MVP citation.
CSB couldn't duplicate their first round encounter against San Sebastian, when they lost by just two points, 95-93.
Abueva, together with the other two-thirds of the "Pampanga Trio," Ronald Pascual and Ian Sangalang, accounted for 57 of his team's 97 point output, and added 32 rebounds.
A no-look pass by Abueva to big man Dexter Maiquez with 7:44 left in the final period cemented his triple-double performance and provided the Stags with their biggest lead at 75-50.
"I challenged the boys and I told them to treat this game as a tune-up game, but the boys treated [it as] the game of their lives," said San Sebastian interim coach Allan Trinidad in Filipino.
"We never give up," said Sangalang, who posted 20 points along with 12 rebounds and two blocks to keep his lead in the MVP race. "We adjusted so well in this game."
Ronald Pascual added another 20 markers on an 8-of-16 clip from the field.
Shooting guard Carlo Lastimosa finished the game with 22 points to lead the Blazers. CSB was without the services of point guard Joel Tolentino, who was suspended.
The loss put St. Benilde at 4-9 in the standings, good for ninth place.
The runner-up in the last two NCAA Finals led CSB in the rebounding department, 49-37, and in assists, 24-13.
- AMD, GMA News
The scores:
SSCR 92 - Sangalang 20, Pascual 20, Abueva 17, Gusi 11, Maiquez 10, Miranda 6, Juico 4, Antipuesto 2, Dela Cruz 2, Rebollos 0, Binuya 0
CSB 72 — Lastimosa 22, Taha 13, Grey 9, Onteco 6, Altamirano 6, Tan 6, Sinco 4, Bartolo 2, Deles 2, Dela Paz 2, Maconocido 0, Garcia 0, Romero 0, Carlos 0
Quarter scoring:
18-12, 43-28, 69-48, 92-72
Inboundpass has been covering collegiate basketball for six years. For more NCAA stories and information, check out

inboundpass.com

and follow Inboundpass on Twitter at

@inboundpass